Executive Chef Colin Bedford wastes no time putting us and our knife skills to work on a pile of shallots. Before the six-hour class is over, we'll be served five different dishes we helped make by one of the waiters in the upscale dining room at this Relais & Chateaux property located amid rolling hills a few miles outside Chapel Hill, North Carolina.
Course by course, we pat ourselves on the back over how delicious our creations are: local corn soup with apple and bacon remoulade and smoked scallop; steamed striped bass with Israeli couscous, escabeche of vegetable and oven-dried tomato dressing; seared halibut with potato gnocchi, clams, pickled baby beets and dill fish cream; plus a dessert of yoghurt and lemon thyme panna cotta with summer berry soup.
Chef Bedford's easy-going instructions make learning the right way to cut an onion and filet a striped bass actually kind of fun. He peppers his notations with the occasional story of how kitchen staffs play tricks on one another, telling how he required a newcomer once to take the lobsters for a walk before cooking them. He and sous chef Tom Whitaker say they've been on the receiving end of such pranks, too.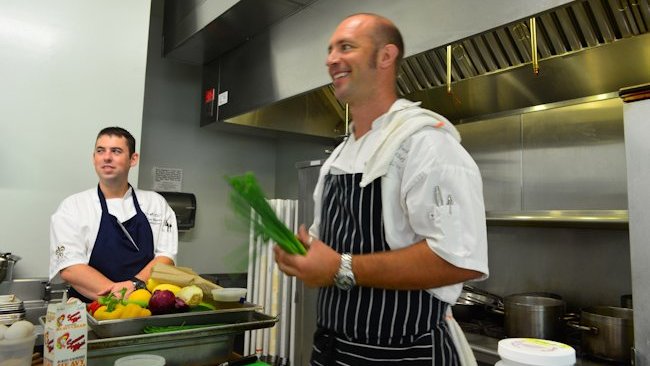 Other cooking school themes have included The Herb Kitchen, Grilling, and Fall Harvest.
The cooking class is a package retreat that includes an overnight stay at the Fearrington House Inn, afternoon tea, a wine and hors d'oeuvres reception, dinner, full breakfast and then the extensive hands-on cooking instruction. All skill levels are accommodated; our group had three couples and a solo participant enjoying the class as a birthday gift from her husband. It would be a great girls' getaway activity, too.
That evening meal the night before is beyond memorable. From the restaurant's main menu, we sampled creative dishes beautifully presented featuring duck breast, foie gras, royal red shrimp ceviche, roasted scallops with sea beans and black quinoa, and more. The hot chocolate souffle alone is worth the visit.
Maximilian Kast, Fearrington's wine director, is one of only five Advanced Sommeliers in North Carolina. He oversees an 800-item wine list, some bottles priced at more than $1,000.
It's not just standout food that awaits. Fearrington House Inn consistently earns "best small hotel" honors in magazine readers' best lists. With suberb service and a small, well-conceived spa, it's the centerpiece of Fearrington Village, a planned residential community with nearly 2,000 residents.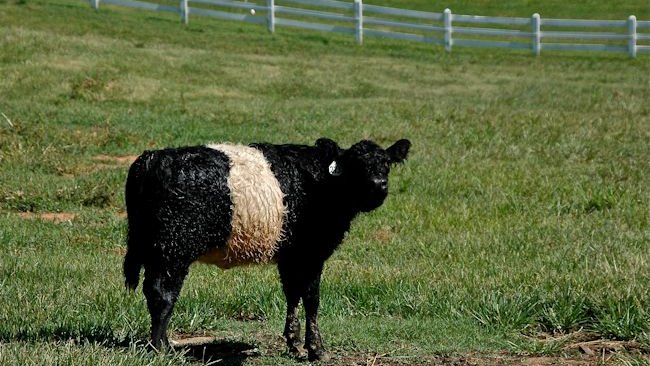 The village sits just beyond a long, white fence that lines pastures where "Oreo cows" graze alongside the main entrance road. The bovines are Belted Galloways - dark on both ends with a band of white in the middle – and a rendition of them is found on tote bags and T-shirts for sale.
This upscale community was once farmland; a dairy barn and silo still dominate the landscape that's also dotted with whirlygigs spinning in the breeze.
The Village Center has a coffee shop/wine bar, one of the South's best-known independent bookstores, extensive gardens, the casual Granary Restaurant plus the inn and fine dining restaurant.
The inn has a decidedly European feel. There are 32 elegantly appointed guest rooms clustered around a courtyard or overlooking the gardens, 17-acre park or the Village Center.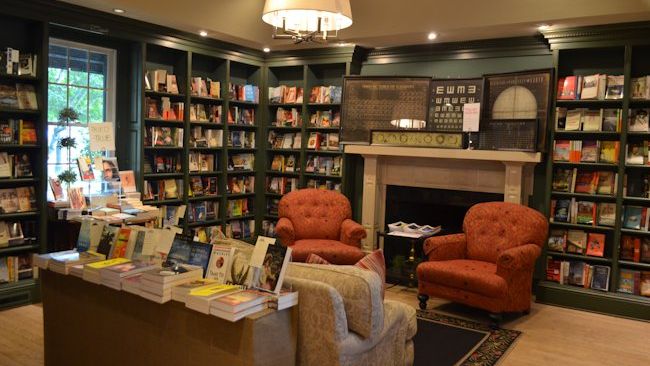 Our suite's large bath has his-and-hers sinks with Molton Brown amenities, a Jacuzzi tub, separate oversized shower and heated towel rack. The sitting area sports a gas fireplace along with upscale chintz furnishings. The bedroom has a roomy walk-in closet.
Some of the Inn's pine floors came from a workhouse along England's River Thames.
The stereo system in the sitting room and the iPod docking station in the bedroom, plus a flat-screen TV in both rooms make relaxing easy, but there's far too much to see to stay indoors especially when the sky overhead is the perfect shade of Carolina blue.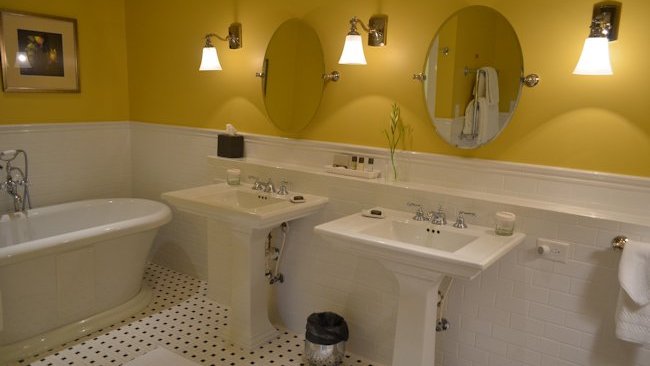 Bikes are available for touring the community, but you'll also want to meander along the sidewalks and into the park-like setting where a lake and streams are fringed by well-manicured shrubs and trees.
One easy stroll will take you near the woods where a pen holds a herd of Tennessee Fainting Goats. These amusing, Satyr-like critters make for great photos – but they are used to seeing people so they no longer faint.
The Belted Goat is the name of the little coffee shop selling snacks, coffee, wine, hand-made chocolate truffles, breakfast pastries and desserts from the restaurant. The Dovecote boutique has resident doves Myles and Buster who'll woo you with their cooing.
A must-do is the elegant afternoon tea with 14 tea choices served in white, ceramic pots, plus tiered trays of finger sandwiches, traditional English scones with homemade jams plus homemade pastries.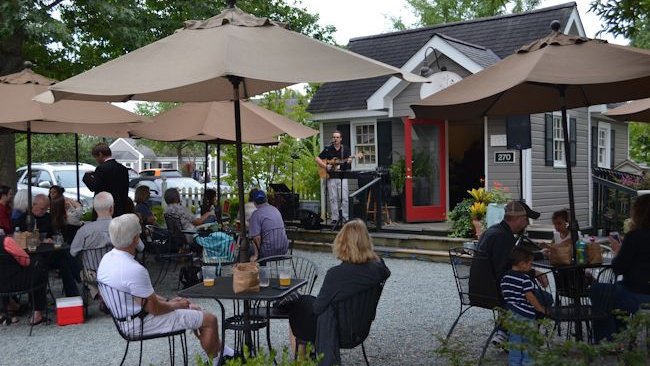 The Roost is a popular gathering spot to hear a live performer while enjoying wine by the glass and beers from notable Carolina Brewery. There's a Ben & Jerry's here, as well, plus a bank, beauty shop, post office and weekly Farmers Market in season.
Fearrington's roots can be traced to the 1770s when 640 acres here were purchased for $80. Residences now sell for $250,000 and up.
With fall and the holiday season approaching, Fearrington House Inn and Restaurant is perfect for a romantic getaway, and a reservation for a future cooking class would be a thoughtful gift for any culinary fan.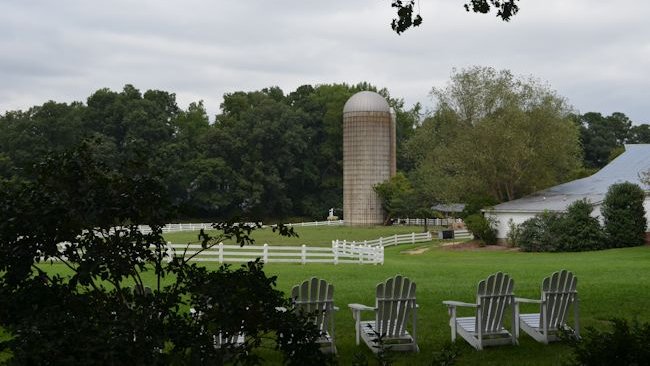 Details:
Call (919) 542-2121 or visit
www.fearrington.com/house
. Ask about the Fall Getaway Package that includes a one-night stay, a three-course dinner at The Fearrington House Restaurant, afternoon tea, a full breakfast and a $25 gift card for shopping. Rates start at $435 per couple, and do not include tax and gratuity. In addition to cooking classes, Fearrington House Restaurant also offers several Winemaker Dinners throughout the year.
Husband-wife team J.S. Fletcher and Kathy M. Newbern are award-winning freelance travel journalists based in Raleigh, NC. They often incorporate their travels into their other business, www.YourNovel.com, where they put you and your sweetie in your own personalized romance novel "wild" or "mild." They are also the creators of the award-winning travel blog, www.YourSpaReport.com.