The half-acre Nobu Garden is home to a wide variety of herbs and vegetables, including baby lettuce, tomatoes, squash, scallions, watermelon radish, red beets, carrots, green beans, asparagus and cilantro. Ingredients particularly relevant to the menu at Nobu include daikon, Japanese eggplant, edamame, shishito peppers, cucumber flowers even sesame. Produce is harvested daily to ensure freshness.
More than 65 percent of what is used on the menu is from the garden. Dishes such as the Lobster Salad with Spicy Lemon Dressing and the Bigeye Tuna Sashimi Salad with Matsuhisa Dressing incorporate 100 percent of produce grown on island. The produce is grown organically with no herbicides or pesticides and the garden is cared for by Four Seasons' staff led by Executive Chef Sean Mell. Guests can even take a tour and see up close how the garden grows.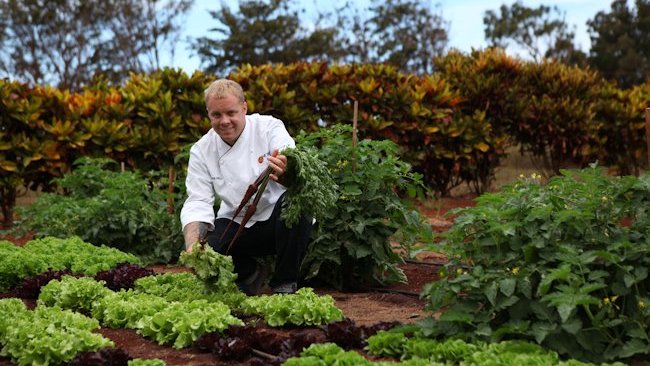 Chef Sean Mell. Photo is courtesy of Four Seasons Resort Lanai.
The resort sources approximately 65 percent of its ingredients locally, from the state of Hawaii. Most of the produce comes from farms on Maui, the Big Island of Hawaii and Oahu. While Lanai has an agricultural past, the majority of the produce farmed was pineapple, and present-day farmers are looking to diversify their offerings. The goal for Four Seasons Resorts Lanai is to have 80 percent to 90 percent of Nobu's produce home grown, and then as agriculture expands on island, the farms can supply the resort's other outlets.
Four Seasons Resorts Lanai, located on a pristine island a few miles west of Maui reflecting a simpler pace of life and the spirit of old Hawaii, features Manele Bay and The Lodge at Koele. Guests can enjoy two exceptional experiences on one private island – a quintessential beach resort and a charming upcountry lodge offering unique cultural adventures, myriad water and land activities, tennis and world-class golf. For more information, or to make a reservation, please contact Four Seasons at 1-800-321-4666 or visit
www.fourseasons.com/lanai
.