At first glance, Tokyo's glamorous Ginza neighborhood seems like all glittering high-rises. Everything seems larger than life. Every internationally renowned fashion brand has a flagship store here from Armani to Zegna. But there is also a "secret" Ginza to be discovered within all of the bustle.
We are staying at the chic new Hyatt Centric Ginza Tokyo which opened in January this year and is the very first Hyatt Centric property in Asia. The Centric lifestyle brand was created by Hyatt for travelers who wish to be right in the middle of the action of urban centers. The lobby lounge and library is a launch pad providing guests with information about the most sought after food, nightlife, and activities the destination has to offer and the staff is always available to recommend local hidden gems.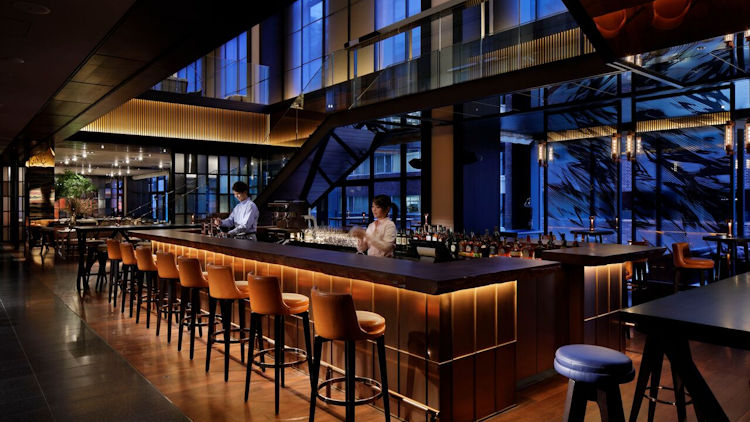 Photo of NAMIKI667 Bar courtesy of Hyatt Centric Ginza Tokyo
We settle into our suite and then head to the hotel's NAMIKI667 Bar & Lounge which is a local hot spot to enjoy signature cocktails with a great ambiance. The bar features six original cocktails that feature Japan's own Roku craft gin, so I order a refreshing gin and tonic to celebrate our arrival in Tokyo.
After cocktails, the hotel's restaurant, NAMIKI667, provides oven-based slow-cooked specialties that feature the freshest local Tokyo ingredients. Chef Hayasaka showcases a range of delicate flavors in dishes that feature Akigawa Wagyu Beef, fish from the world-famous Tsukiji Market, and even visually stunning desserts served fresh from the oven.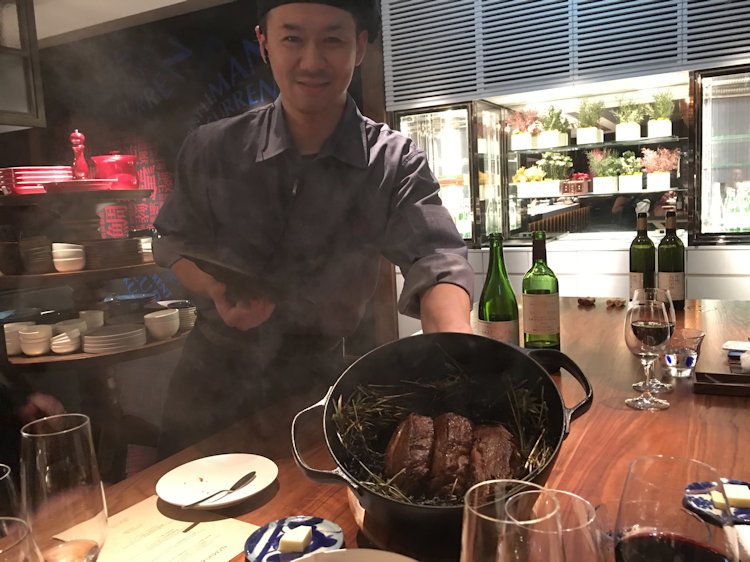 The Ginza area has flourished in Tokyo for hundreds of years as a symbol of "civilization and enlightenment" thanks to the presence of newspapers and magazine companies, which helped spread the latest trends of the day. Hyatt Centric Ginza Tokyo is a 12-story building which occupies the former site of the Asahi Shimbun newspaper company, one of Japan's five national newspaper publishers, established in 1888. The hotel features Instagram-worthy newspaper-inspired artwork and design in its public spaces, as well as in the guestrooms that echo the spirit of the streets outside and feature the use of printing blocks as a nod to the hotel's history.
After a good night's sleep, we enjoy an amazing breakfast included at the hotel before setting out to discover the neighborhood. There is an expansive buffet with the expected choices and many unexpected surprises. You can even try out a Japanese-style breakfast. The restaurant also offers a terrace overlooking Namiki-dori street, one of the Ginza's best shopping streets, and a perfect spot to linger awhile.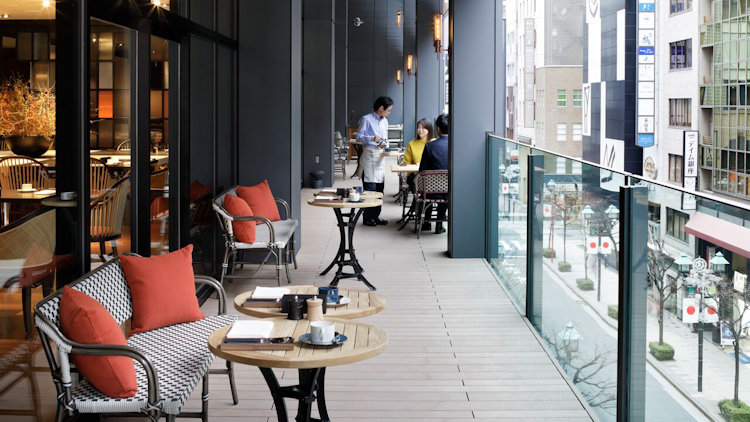 One of the shopping recommendations from the hotel staff is the Itoya stationery store just a three minute walk from the hotel, so that's where we start our day of exploration. It turns out Itoya Ginza is the company's impressive 12-story flagship store that has a history dating back to 1904. Each floor features a different theme. We found luxury writing instruments on the third floor with some hand painted, one-of-a-kind fountain pens costing over $10,000. We also found traditional Japanese items such as washi paper, origami, delicate umbrellas, fans and postcards. The rooftop café serves organic vegetables cultivated in the store's own garden. Many high-rise buildings in Tokyo have roof gardens, like the famous Hakutsuru sake company which grows rice paddies on their rooftop.
Ginza is a part of the original downtown center of Tokyo when the city was known as "Edo" and Japan was under the rule of the Tokugawa shogunate from 1600 and 1868. The name Ginza comes from the silver coin mint that was established here in 1612 (gin = silver, za = mint). After a devastating fire in 1872 burned down most of the area, the new Meiji government designated the Ginza area as a "model of modernization." So today Ginza is a mix of the ultra-modern and the historic -- from neon-lit towers to traditional tiny shops that have existed for over 100 years -- such as Nakumara Katsuji, a local letterpress printing company that has its roots in Ginza since 1910. Here they still do printing the traditional way with individual printing blocks and we order a unique souvenir to take home -- business cards with our names printed in both Japanese and English. The small storefront used to be surrounded by other printing shops and newspaper offices, but is now the only traditional letterpress company that still remains.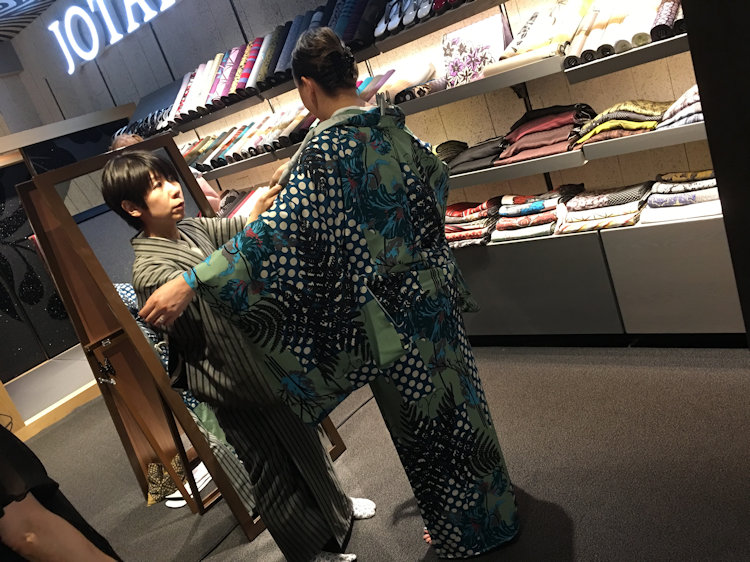 The Ginza neighborhood is just two square kilometers in size and is divided into 8 vertical sections, so as you walk down the streets you'll notice signs that say Ginza 1, Ginza 2, etc. to help you navigate around and not get lost. Hyatt Centric is in Ginza 6 along with the impressive new GINZA SIX department store which is a fashionista's and foodie's paradise. We browse the Ginza Food Stage in the basement level offering high-end gourmet products not found anywhere else. From there we work our way up a few levels to designer Jotaro Saito's kimono shop, the only Tokyo store of this Kyoto brand which features the famous designer's contemporary patterns and bold prints. Here, you can be fitted for your own custom-designed kimono – the ultimate souvenir!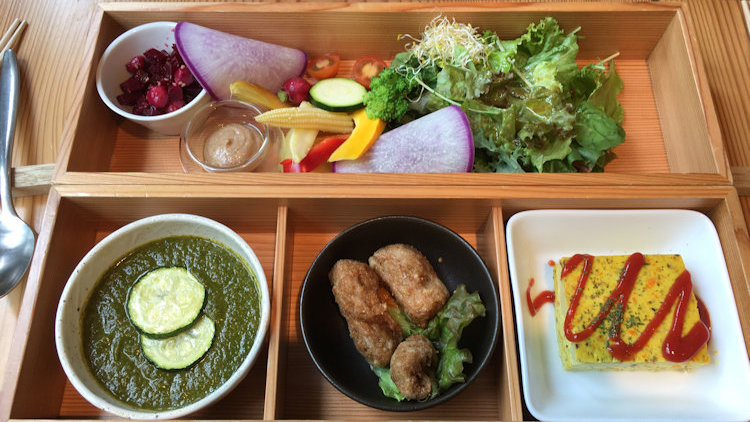 Local ramen shops behind GINZA SIX are a Japanese favorite choice for a quick lunch. There are different types of ramen. Our hotel recommends Jangara for "tonkotsu" pork ramen, Ramen Takahashi for fish broth-based ramen, and Mugi & Olive for clam broth-based ramen. We are actually vegan, and found a cute vegetarian restaurant, Ain Soph, where we had an amazing Bento Box filled with vegan delights. We were told that when it comes to excellent vegan cuisine in Japan, to look no further than a Buddhist temple where the monks prepare elaborate vegan meals for visitors. Buddhism and Shintoism are the major religions in Japan, with less than one percent of Japanese being Christian.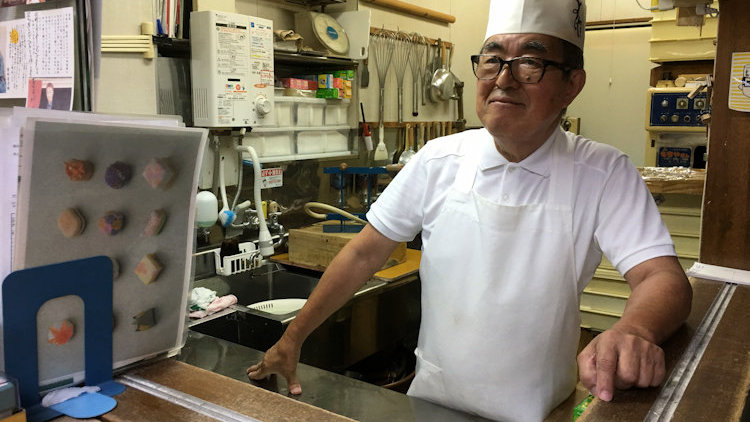 For dessert, we stop by Kobikicho Yoshiya located in a small street behind the Ginza's Kabuki-za Theater, where they have been making traditional dorayaki, a type of Japanese pancake with sweet filling, since 1910. This year their dorayaki was selected as one of the 2020 Tokyo Olympics' official souvenirs. Along with the dorayaki, we are treated to a traditional Japanese matcha tea ceremony. My new favorite drink!
After some more browsing around Ginza's many shops, we top off the afternoon at The Mixology Salon, a stylish little bar we find back at GINZA SIX on the 13th floor where their specialty is matcha tea-infused cocktails as well as other unique Japanese spirits served very creatively. One cocktail was even topped with gold flakes.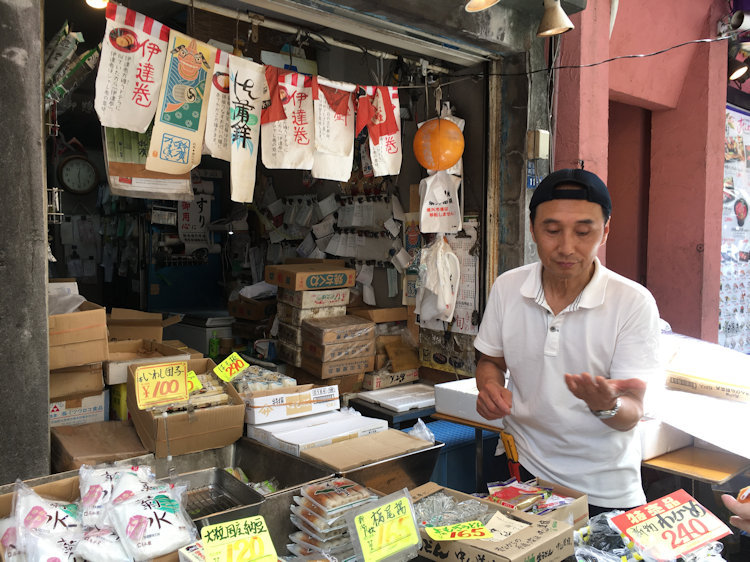 In Ginza 5, the two main shopping avenues of Ginza, Harumi-dori and Chuo-dori intersect at Ginza Crossing, and it is here you will find the world's most expensive real estate. If you follow Harumi-dori one way you will arrive at the Imperial Palace where the Emperor and Empress of Japan currently live. If you follow it the other way, you will arrive at Tokyo's world famous Tsukiji Fish Market.
Tsukiji is the world's greatest fish market, selling the freshest fish, fruits and vegetables. At the daily auction, one single tuna can go for up to 3 million yen (about $30,000). The surrounding stalls sell many other things like housewares, sake, desserts, and souvenirs. After wandering the stalls for a while, we find an informal restaurant, Ban-ya Seafood Barbeque, with picnic-style tables where you can gather your own fresh ingredients – vegetables, seafood and meats - to barbeque right at your own table. Very fun!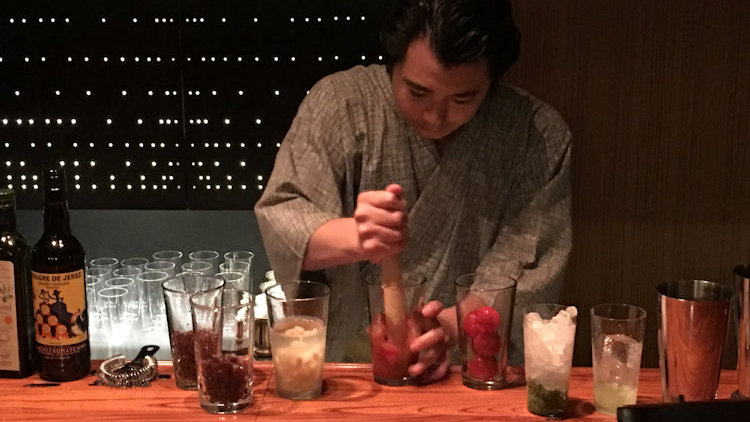 Ginza is regarded as a cocktail bar mecca and we find another secret little establishment owned by bartender Toshiyuki Kamiki just around the corner from our hotel. The entrance outside is marked by a gorilla climbing the building. We enter the small room and Toshiyuki is dressed in a traditional yukata – a casual summer kimono – in his dimly lit modern bar. The focus at Bar Yu-Nagi is on top quality seasonal local fruits and vegetables that form the base of his drinks. We have found that in cocktail-crazy Tokyo, bartenders approach their craft with the artistry and focus of Michelin-starred chefs!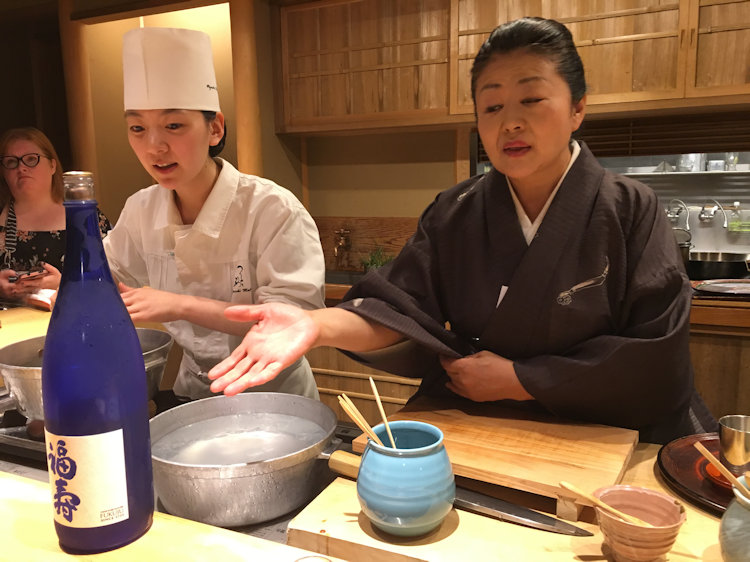 Speaking of chefs, our dinner tonight is at Tsurutokame, a kaiseki restaurant right across from our hotel featuring all female chefs. We have an eight-course "omakase" style dinner which loosely translates to, "I will leave it up to you." We are surprised and delighted with each adventurous course they bring us. We also enjoy sake in overflowing cups. A highlight of the evening is when all the chefs sing us a lovely song at the end of the meal!
After all this wonderful eating and drinking, we make our last morning an active one starting with a 5km jog around the Imperial Palace grounds just 5 minutes from the hotel and then head to the hotel gym which offers the latest workout equipment including free weights, treadmills, exercise bikes, yoga mats, resistance bands and exercise balls. (There is no spa at the hotel, but spa treatments can be arranged nearby.)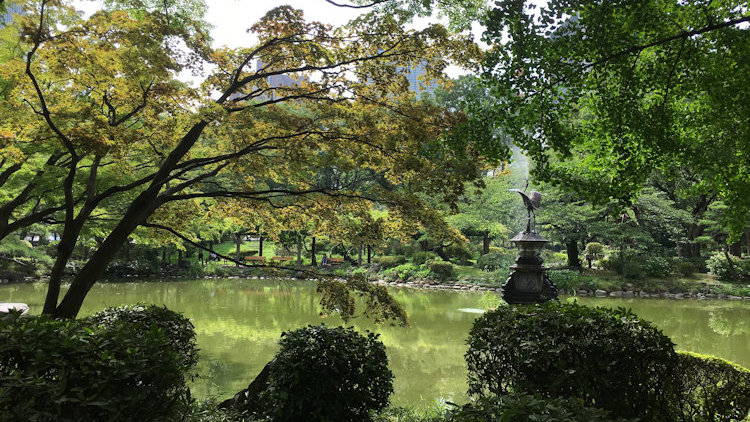 Hyatt Centric Ginza Tokyo located in the very heart of Ginza was the perfect choice for us to discover this exciting neighborhood. Great shopping, dining, drinking and entertainment are just steps away. During our stay we also discovered that the Japanese are a very welcoming, polite, and respectful culture. Even as we were taxiing away on the runway, the airport workers waived goodbye to us – something I haven't seen anywhere else we've traveled!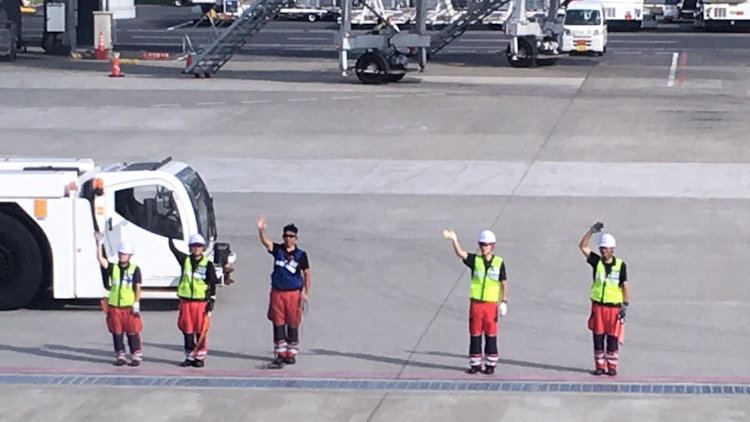 Lead photo credit: jpninfo.com. All other photos unless noted ©Christine Gray/Luxury Travel Magazine
Hyatt Centric Ginza Tokyo, 6-6-7 Ginza, Chuo-kuTokyo, Japan, 104-0061. Tel: 1: +81 3 6837 1234.
For the ultimate in luxury, book the hotel's top suite - the Namiki Suite.
We recommend Certified Guide/Translator in Tokyo, Mrs. Wakana Mitsuhashi, email: wymitsuhashi@gmail.com