Many vacationers around the world are flush with cash right now. Even if they're not among the Forbes 400, they want a nice place to relax. French Polynesia is the front-runner on everyone's list and the Four Seasons Resort on Bora Bora is the region's gold standard for service and pampering.
Located on the northwest quadrant of the barrier reef protecting the lagoon, the Four Seasons Bora Bora is a short boat ride from the airport. As soon as you arrive the island's different pace is immediate and significant. Paradise gently envelops you. At the airport no busy carousels toss your baggage at you. Instead, the Four Seasons staff selects your bags from a rack where careful hands have placed them.
Bora Bora is a lagoon. Most of the resorts rim the outer barrier reef. The only way to move about the lagoon is by boat. The Four Seasons' private teak and leather motor launch speed you across the lagoon to the resort.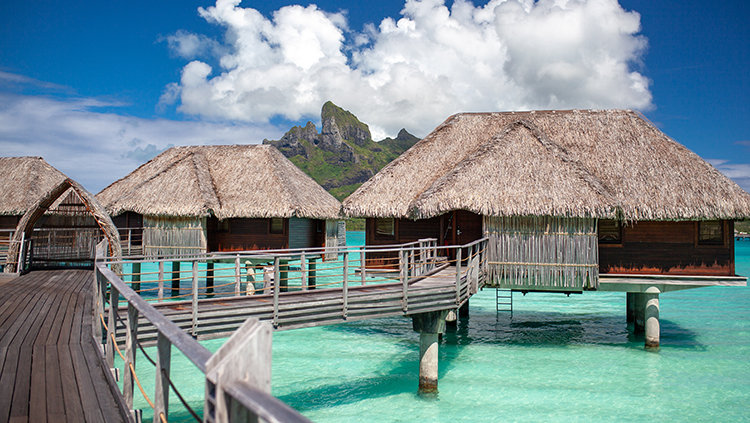 Photo credit: Sadry Ghacir
For travelers exhausted and impatient after being cooped up in two airplanes for hours, this is where you start to unwind. Within fifteen minutes the boat docks right alongside the open-air hotel lobby where the resort manager himself, Diego Stembert, often greets new arrivals.
Getting there
Flights from the US west coast originate in Los Angeles via a number of airlines including Air Tahiti Nui, Air France, and Qantas. From Los Angeles the flight takes two legs. The first stops in Papeete, Tahiti—flight time from Los Angeles is 8 hours, 40 minutes. There's a change to a smaller turbo prop for the 50-minute or so hop to Bora Bora. Arriving in Papeete after dark means that you'll lay over until first light the next morning. Bora Bora airport does not conduct commercial night operations.
Relax and connect
Once on Bora Bora you can do as little or as much as you wish. The Four Seasons staff takes its cues from you. It's convenient to wake up with the sun rising over the lagoon then dive off the platform outside your over-water bungalow for a sunrise swim in the near-80 degree crystal clear lagoon. A shower and a dry swimsuit or shorts and a t-shirt prepare you for the day. You can tell the new-arrivals by all the clothes they wear. Few guests at the Four Seasons Bora Bora wear much more than swimsuits, cover-ups or t-shirts and shorts.
Breakfast at the Tere Nui restaurant is included. It consists of an extensive buffet of fresh tropical fruits, vegetables, made to order eggs, omelets, pancakes, waffles, fresh-baked breads and pastries. There's definitely no rush to leave breakfast.
There's no one to push any sort of organized activities on the guests. You might schedule a morning tennis lesson, snorkel in the fish and coral incubation lagoon off the concierge lounge, or take a stand-up paddleboard out to the resort's private party island. There's nothing wrong with beaching your board out there and just sit in the sand, admiring this beautiful facility and its surroundings.
Lunch is served either poolside or at the Fare Hoa Beach grill. The menu is simple and delicious—sandwiches, salads, burgers, and fresh-caught grilled lagoon fish. The chef marinates the fish in a soy and herb mixture, and then slowly grills it. That, with a tossed green salad and a glass of chilled chardonnay should sustain you through the afternoon.
Many guests plan their more significant activities in the early afternoon. It may be a Jet Ski tour of the lagoon, a single tank dive on the reef, para sailing or many other activities. Tour operators collect guests at the super convenient Four Seasons dock right off the front desk.
Depending on the season, most guests dress (just a little) for dinner. This usually includes a pair of pants and a collared shirt for men and casual attire for women. Footwear is usually sandals or flip-flops. On Mondays the resort throws a Polynesian dinner feast and dance show on the beach—not to be missed.
The best accommodations
The three most common lodgings are the beach-view rooms, the over-water bungalows (OWBs) with an infinity-edge pool, and over-water bungalows sans the pool. Each has the same layout. It just depends on where you want to be on the resort. I thought the OWB with pool was a little overkill. Why have a pool when you can jump into a near bath temp lagoon that's gin-clear and teaming with brightly colored tropical fish any time you want and that's right off your living room or bedroom?
There are some location preferences on the property. OWBs located on the east side of the pontoon have views of the volcano. Those on the west side look over the lagoon and the beautiful resort. A current flows through the lagoon. For those on the lagoon side it gently sweeps swimmers into the lagoon rather than under the pontoon and its support pilings, as those with volcano-side rooms must contend with.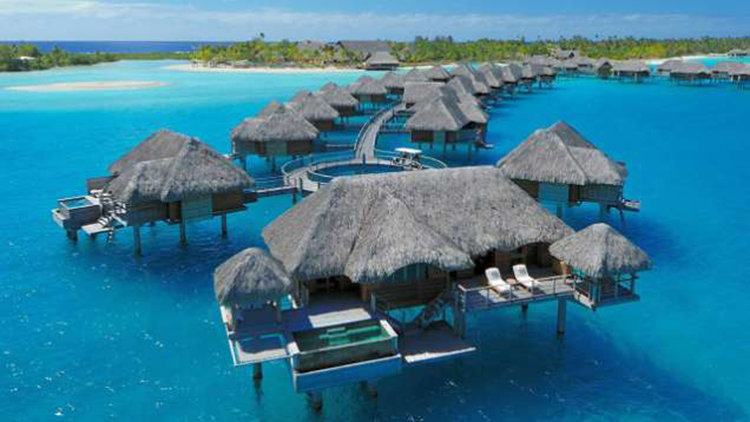 Mosquitos tend to be a problem in some parts of Polynesia. The Four Seasons has an aggressive eradication program so insects are not an issue. Still, if you're concerned, request an OWB that is farther out on the pontoon. This has the twin benefits of being in deeper water for swimming and out of mosquito range. The downside is that it's a bit longer walk to the resort.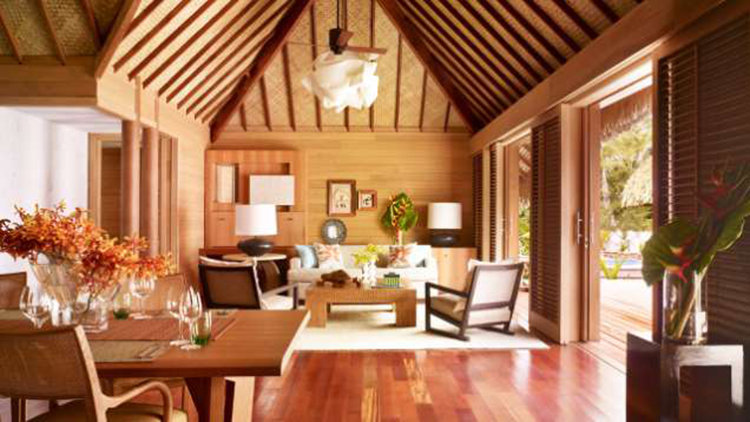 The OWB's are configured in a linear fashion with bedroom, bath (twin sinks), large stone tub big enough for two, commode room, shower room, and living room. Everything is nicely air-conditioned and features beautiful wood and the traditional Polynesian thatched ceiling—a work of art unto itself.
Don't miss activities
Bora Bora once had the reputation as a destination for newlyweds and the nearly dead. No longer. There's no question that it provides all the relaxation anyone could want. However, if adventure aquatics are your thing, look no further. Here are the activities available in many cases right on the resort's activities beach and free or just a short boat ride away through a third-party tour operator:
Sea kayaking: Free and the resort has them for the asking on the beach. Mind the trade winds and the current. Be strong. Paddle on.
Stand-up paddle boarding: Free. Just ask at the activities beach. They will outfit you and give you 5-minute lesson—that's all the instruction needed. It's easy and fun.
The Four Seasons has a security-safety officer on a jet ski on the lagoon throughout the day. He's friendly and if he sees anything amiss or just a tired paddler he'll jet up to you to see if there's anything he can do to help.
Snorkeling: All sorts of interesting snorkeling opportunities exist throughout the resort as well as from commercial tour operators. When you arrive your own snorkeling gear is given to you to keep during your visit.
Don't miss the small lagoon off the Concierge Lounge where they are growing corals and juvenile fish. Perfect for beginners and children since it's in a safe, controlled lagoon by itself.
Other off-property tours booked through the Concierge desk with third party operators:
Shark and ray tour
SCUBA tours
Para sailing
Kite surfing
Jet boarding
Wake boarding
Surfing
Fishing: Deep sea and lagoon without bait
Astronomy tour—a must see for those who have never experienced a night sky without any ambient light to pollute your night vision
You'll never go hungry
The Four Seasons boasts several lovely restaurants serving fresh, often locally sourced ingredients.
Arri Moana: Dinner only. This is the A-list restaurant on the property. The ambiance is first rate. Overlooking the lagoon, this indoor/outdoor restaurant provides a truly beautiful and romantic setting. The menu is extensive and totally excellent. The new presentations they sometimes test don't always turn out as intended. That's part of the adventure. Life is more forgiving on Bora Bora. Things seen as problems on the mainland serve to put us all in our place while in paradise. They'll probably get it exactly right next time or perhaps the time after that. Who cares?
Tere Nui: Breakfast. Gather here to fill up for an action-packed day or one where you just do nothing but with style. Don't refuse the fresh-squeezed juice of the day special.
Fare Hoa: Lunch and casual dinner. This is the ultimate beach grill. Stick with the fresh fish dishes; you can get a burger anywhere. But how often can you have lagoon caught fresh fish marinated in an exquisite soy sauce and herb cocktail, a salad, and pureed vegetables served beachside with your toes in the sand?
Sunset bar: Cocktails and dinner. This is an Asian-themed restaurant serving a variety of fresh sushi, phat thay, and assorted Japanese delicacies
Room service: A true test of every 5-star resort. The Four Seasons Bora Bora excels both in its menu, preparation, and presentation. What a surprise finding your order just arrived by outrigger canoe at your private swim platform and is carried by a Tahitian goddess and her oarsman.
Private romantic dinner: Some of the most interesting private dinners are served on the beach or on the private island. Just ask and it will be arranged just for you.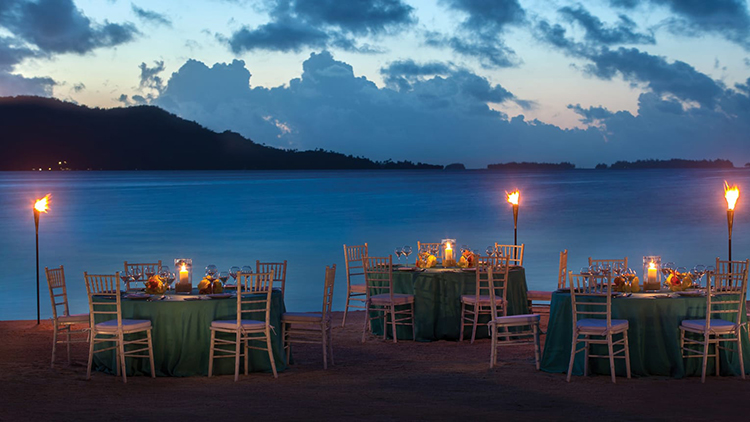 How about that spa and gym?
Doesn't every 5-star resort have a full service spa? This one does. They provide every spa service imaginable except hair—which I understand is coming soon.
There's also a well-equipped fitness gym that's open 24/7 and has one of the most extraordinary views of the open ocean and rocky beaches anywhere.
The pool
Looking from your comfy lounge chair, over the crystalline expanse of the infinity-edge pool, all seems to merge into the beach then azure lagoon beyond.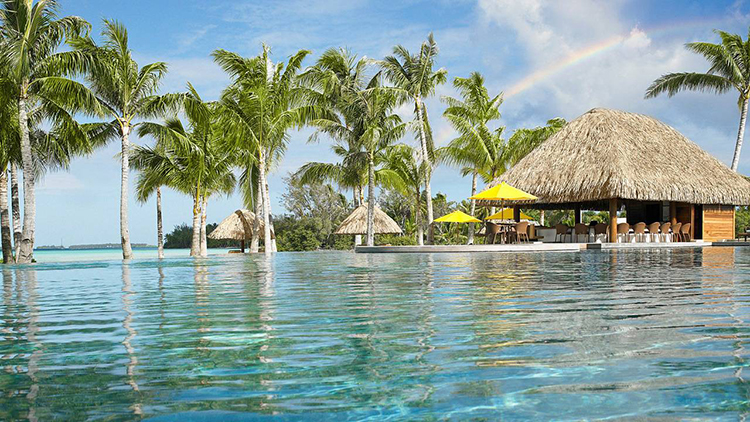 There are also free cabanas available on a first come, first served basis. The staff gets to know every frequent pool visitor usually by name. There's a Jacuzzi pool with plenty of bubbles and a swim-up bar. The water temp is the same as in the pool. Also, a full service bar with lounge service and a pool menu of sandwiches, salads, and fruit smoothies.
Items to note
Wintertime from June to the end of August is quite warm. This is the best time. The trade winds keep the heat at bay.
Water temp in the lagoon is advertised as being in the mid-80s. My experience in (their) winter was the mid to high 70s. Actually it was perfect. Any warmer and it wouldn't have been refreshing.
The beaches are sandy up to the waterline. Then the bottom is littered with rocks. Definitely bring water socks with substantial soles. Wear them paddle boarding, jet skiing, kayaking, any time there's a chance you'll be walking on the bottom.
Beware the sun: Sunburn and sunstroke are no joke at this latitude. Bring a wide brimmed hat, sunglasses, and plenty of sunscreen (SPF 30 minimum). Use common sense, drink plenty of water, and use an aloe-based restorative skin lotion like Gold Bond Healing #10 with aloe.
Approximate cost
Cost depends on your dining habits and the excursions you add. Figure about $12,000 per person per week including business class airfare. The Four Seasons Bora Bora is not inexpensive, but is worth every penny.
About the author
Chris Malburg is a popular writer whose work in the luxury travel and timepiece space appears in a variety of publications. His four thriller novels deal with cyber warfare, political espionage, and financial terrorism. Connect with Chris at https://www.enforcementdivision.com
Top Photo credit: Sadry Ghacir