The Four Seasons Hotel and Private Residences New Orleans is the transformation of one of the city's most recognizable and iconic towers into its premier residential address, serviced by New Orleans's first true five-star hotel.
The Four Seasons New Orleans is the first Four Seasons hotel property in New Orleans, the first hotel-serviced residential building in New Orleans, the first luxury high-rise condominium, and the first to offer views, amenities and services of this scale and magnitude. It is like no other building in the history of New Orleans.
Rising 33 stories at the foot of Canal Street, on two acres of prime Mississippi River waterfront in Downtown New Orleans mere steps from the French Quarter, the former World Trade Center tower at 2 Canal Street was designed by the celebrated Modernist architect Edward Durell Stone (whose iconic buildings include New York's GM Building, Radio City Music Hall and the Museum of Modern Art). It was completed in 1968 as part of the celebration of the 250th anniversary of the city of New Orleans. It was an ambitious skyscraper for a proud city, its cruciform shape aligned to the four points of a compass and its New Formalist style creating a monumental presence on the New Orleans skyline. The rotating rooftop provided decades of entertainment to New Orleanians and the best vantage points in the city.
The restoration, renovation and modernization of this important structure – "Two Canal" is listed on the National Register of Historic Places and has sat mostly empty since Hurricane Katrina hit New Orleans in 2005 – is equally ambitious: It will be one of the largest Four Seasons hotels (341 keys) in the storied hospitality brand's genre-defining portfolio, indicative of the city's decade-long economic surge and the high level of demand for luxury lodging and residential property in New Orleans.
Residences at the Four Seasons New Orleans begin 211 feet up, on the 19th floor, and boast the highest elevation of any homes in New Orleans. The 81 condominium residences and a select collection of penthouses on the building's crowning floors offer unparalleled views upriver, over Downtown and the French Quarter, and downstream to the Gulf of Mexico and beyond the horizon.
Now well underway, with completion expected in 2020, the Four Seasons New Orleans is being developed and built by an all-star team of leading, national and New Orleans-based companies.
There are over 22,500 square feet of amenities including the entire landmarked Spanish-influenced 29th floor, formerly the executive offices of the World Trade Center building and now devoted to private amenities for residents, including an elegant bar and lounge that overlooks the Mississippi River, a children's playroom, private dining room with a chef's kitchen, historic hall with a communal dining room, and golf simulator room. A newly built amenities wing will include an outdoor 75-foot swimming pool and hot tub, a fitness center featuring state-of-the-art cardio and strength training equipment and yoga studio, and the renowned Four Seasons Spa including treatment and massage rooms.
Residents will also enjoy exclusive access to the Four Seasons Director of Residences and dedicated residential concierge, as well as a private lobby with 24-hour doorman, bellman and service staff focused on providing the bespoke services for which the brand is known. Tailored à la carte services are available to residents including in-residence dining and catering, housekeeping, grocery shopping service, valet parking and car service, and mail service.
A full suite of food, beverage and cultural programming at the Four Seasons New Orleans, including a signature restaurant overlooking 7,500 square feet of lushly landscaped private gardens, will be announced soon.
The Four Seasons Private Residences New Orleans will launch sales later this year.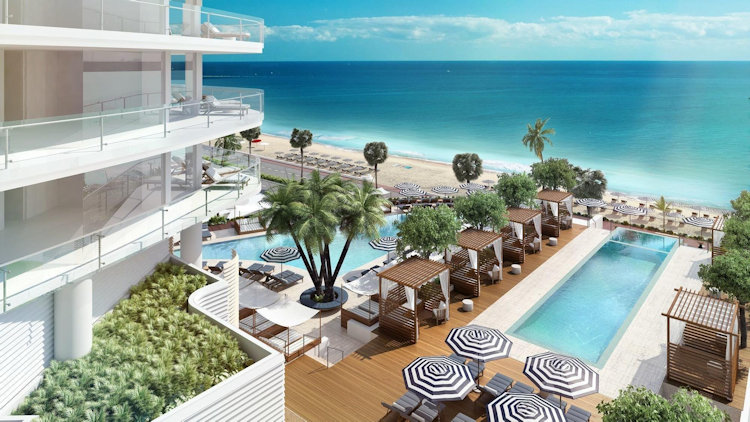 In addition, on the heels of reaching 50 percent sold, Fort Lauderdale's record-breaking development
Four Seasons Hotel and Private Residences
has now revealed Coastal Construction, the esteemed Florida-based construction company, as general contractor.
The 22-story hotel and condominium development will include 130 guest rooms and 90 residences ranging in size from one- to four-bedrooms, with each residence offering sprawling living spaces and generous outdoor terraces with unparalleled views of the Atlantic Ocean and Intracoastal Waterway. Residents will receive special courtesies at Fort Partner's premier portfolio, including Four Seasons Hotel and Residences at The Surf Club in Surfside, Four Seasons Resort Palm Beach, and Norman's Cay, an exclusive island in the Bahamas. Residents will also enjoy connectivity to the rest of the globe with Four Seasons Fort Lauderdale's proximity to the newly-expanded Fort Lauderdale Hollywood International Airport, the new Brightline private railway connecting Fort Lauderdale to Miami and Palm Beach, and the dedicated Four Seasons aircraft and automobile servicing the development.
Four Seasons Fort Lauderdale broke ground in spring 2018 and construction remains on schedule. Pricing for two- to four-bedroom private residences begins at $3.795 million. For more information, please visit
www.fort525residences.com
or call 954-324-2498.