Four Seasons Hotel Tunis exudes 5-star elegance, a modern Mediterranean vibe and the distinctive charm of North Africa. Situated in the affluent town of Gammarth on the Mediterranean Sea, the 203-room low rise hotel features traditional Islamic architectural elements, Northern Africa style, and modern furnishings, reflecting the sophisticated yet casual vernacular of the surrounding coastal region, designed by BraytonHughes, an internationally-acclaimed design firm.
Inspired by Northern African landscape and architecture, BraytonHughes designed the interiors of the entire property, including the lobby, four restaurants, ballroom, several meeting spaces, a health club, and an 11-treatment room spa overlooking the sea.
From a lobby entrance with a grand-scaled dome hovering over a beautiful mosaic floor to a striking sculpture from the well-known artist Yahya and locally sourced stone and tile used throughout the space, BraytonHughes ensured the property retained elements of the location's history and culture while delivering a fresh and unique experience to guests.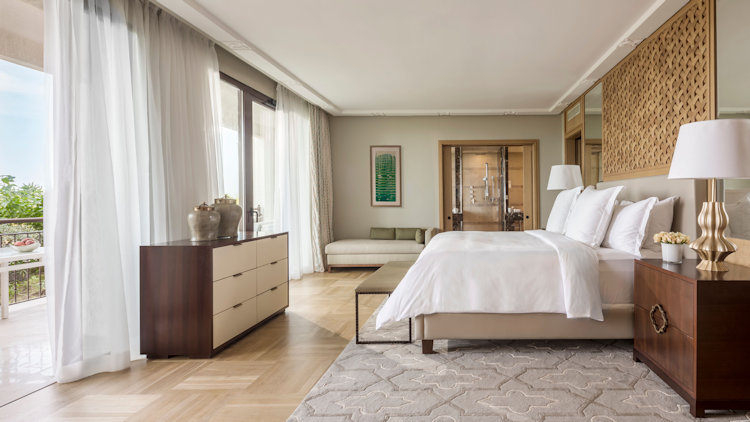 Guestrooms and suites echo the simple romantic homes of North Africa and Tunisia in style, with simple fabrics and furnishings, stone floors and lightly color-washed plaster walls, along with local area rugs and artwork redolent of the region. The spa is reminiscent of the hillside towns of North Africa, with Islamic-style arches incorporated into the design, along with Tunisian black and white tiled columns and plaster and wood architecture.
The interior design firm remained committed to designing with sensitivity not only to the local terrain, but also to the historical and social conditions of Tunisia, revisiting the design following an unforeseen interruption in process to ensure the hotel stayed current and true to the local environment while still expressing timelessness. For nine years, BraytonHughes worked to bring this project from concept to its completion, overcoming several project challenges including difficulties in sourcing local product. With an understanding of Tunisia's past and heightened awareness of current contextual elements, the firm was able to imprint a sense of identity on Four Seasons Hotel Tunis, a place that embraces its surroundings while telling a story that does not exist elsewhere.