Tell us a little about yourself. Background and interests.
I am a French craftsman, passionate in manufacturing unique pieces. I founded my workshop 20 years ago and with my team we are still manufacturing trunks that we sell around the globe. I like to walk in the nature and in big cities, awaken my curiosity and imagination. Nature has always been my inspiration. Everything is there, we just have to open our eyes.
What does design mean to you?
For me, design is giving style to an object.
When did you realize you wanted to become a designer?
In fact there is not a "before and after" period in my designer life. Today I feel like there have always been that intuition who kept leading me to leave everything and dedicate my life to what I love to do, my passion : drawing ideas and dreams and then making them real.
Tell us more about your chosen brand name.
It's very simple. When I started to manufacture items, I needed a brand name very fast because things came unexpectedly. As my name is Franck TRESSENS, the first name's letter F and the last name's letter T, in French it's pronounced Ephtée. And I felt that Ephtée rang like an greek mythology name, so I kept it. You know, usually things like brand names come in a very simple way.
What was the first trunk you ever designed?
In fact I have always been a shoe passionate. 20 years ago, I needed a box to store my shoe waxing and shining material and didn't find such an item on the market. So I decided to create it. After that, I needed to store my shoe collection and thought of a trunk for that purpose. It all started from here. And one day, my daughter told me "I am sure that many people would love to have a box and a trunk like yours". It made me think, and one day I decided to leave everything and start manufacturing boxes and trunks in my own garage. My first client was Façonnable.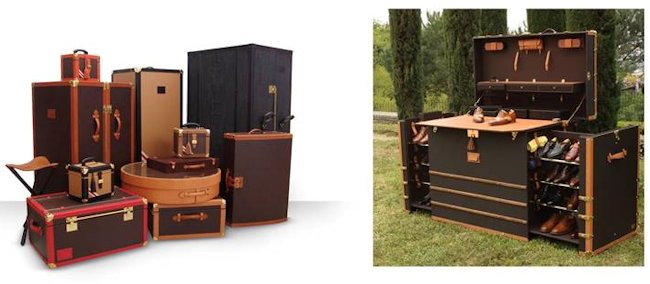 How long does it usually take you to construct a piece?
Everything depends on the type of trunk, the dimension, the leather and wood used. But let's say between 2 weeks and 3 months. We always keep our deadlines as a respect of the client. When we give him a delivery date, we work very hard to keep that date because we know that he is waiting.
Describe the general process you go through to design and realize a complete piece of work?
It always starts with a simple conversation with the client to know what he wants, his use, his taste. We try to give him advice when he wants, but never try to influence him. After that, we make a drawing that we show him, by the way, we never use 3D computerized drawings, we always draw by hand, it's very important to "feel" the idea. If he feels that the drawing is matching his desire, we start manufacturing. I always talk to the heart of my clients because I consider my work as an artistic relation between an idea, a need and an object.
What are some of your accomplishments as a designer?
One of my prides is to have started from a blank page. In the early 2000's, nobody would have believed that manufacturing luxury boxes and trunks like I did would work. Today trunks are becoming very trendy, but at the time it was considered as an old fashion item. And designing trunks and boxes with multiple uses as for watch storing, jewellery, interior design, and even wardrobes was risky. Today all of our clients come to us because they want something different and unique that will be adapted to their need and use. We are also proud that the French Ministry of crafts awarded us as "Malletier d'Art" (Master in trunk making) and "Entreprise de patrimoine vivant" (Crafts workshop of living tradition), One of the best rewards for workshops that perpetuate a unique know-how.
How long have you worked as a designer?
It's been almost 25 years now. I started drawing special items in my old business, while dreaming of manufacturing them one day. And one day, I felt it was the time to let everything go and follow my dream. I say that to everyone, don't fear to follow your dreams, if you believe in it, go for it until the end, it cannot fail!
Tell us about your new collection.
As we manufacture bespoke and unique pieces, almost all our items are limited editions. But we have small items like watch purses, watch boxes, jewellery boxes. But our newest items are a big shoe shining trunk for the Charles de Gaulle Airport, we are also reinventing a boutique in the Paris Palais des Congrès with all furniture in leather, trunks and boxes, and we are also on a project of picnic boxes for a very big hotel in Dubai, and a big trunk for a private client who wants to do a world tour in his boat, so we adapted the trunk according to his taste and to the life on the boat.
What is your trademark? What makes your brand so unique?
Emotion and authentic human values. Without emotion, you will have an industrial item with no soul. And without the authentic values, you will have a commercial piece. When we manufacture any item in our workshop, we put all our passion, our know-how and experience as if we are making it for the first time and for a very close friend. We want our clients to feel that we spent time and effort on giving them the best. There is always a small detail in our work that shows this emotion. And you know that excellence is always in the smallest details.
How can you make a design evergreen?
Style and simplicity can cross the times. Simplicity does not mean plainness, but we don't want our trunks to be trendy and adapted to a certain "mode". Some of the furniture of the Middle ages are still magnificent 600 years after although very simple. Sometimes you see something, you feel that it's beautiful yet you don't really know why. That's style !
What trends do you see being big for 2015?
In our field, luxury trunks and luxury items, our clients are becoming more and more aware of the real value of an item. They are asking more for personal and emotional pieces that they can use in everyday life. 5 or 10 years before, they bought trunks to expose, now they are using them. I think that we all want to remember the past times, when we used to travel on horses, camels, and carriages with trunks and boxes containing our lives. It was a peaceful, simple life!
Visit website:
www.ephtee.com/