The Ivey's Hotel & Residences is a perfect spot to kick back in style and explore Uptown Charlotte, NC, if your style is Parisian glamour.
Ivey's department store apparently was to Charlotte what Macy's was to New York City including its own animated holiday window displays. We say apparently because we never got to shop at Ivey's, but there's still evidence of her splendor in her new life as a 47-room boutique hotel in the heart of Charlotte.
What's now The Ivey's Hotel & Residences dates to 1900 when Joseph Benjamin Ivey and partners (including his son) established J.B. Ivey Company and opened its first Ivey's store at 231 N. Tryon Street here. That same year, the store was moved to West Trade Street, which resulted in improved sales. A new store was built in 1924, five stories high, which today is The Ivey's Hotel at the intersection of North Tryon and West 5th.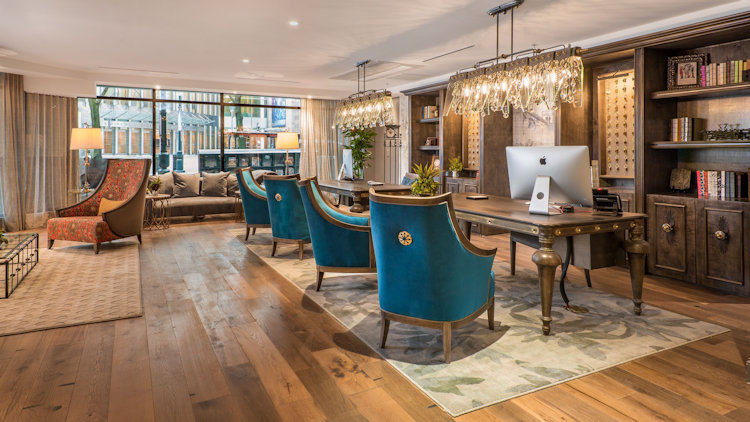 Fast forward to 1980 and Ivey's was sold to Marshall Field department stores. Dillard Department Stores, Inc. owned it starting in 1990 and ultimately acquired 23 Ivey's stores in the Carolinas and Florida. Eventually, Dillard's gave the iconic building to the city of Charlotte. It went through many phases and many occupants, at one point a Bojangles and a second-floor nail salon among them.
We got a taste of that history after our stay thanks to oversized black-and-white framed images of happy shoppers from the store's heyday. They decorate the hotel's airy, two-story residents atrium. A slow ride up the "classic" elevator takes three minutes to go one floor. It gives us time to imagine what shopping here must have been like in the store's glory days.
We step out onto a landing and are met by a giant mounted clock with roman numerals, the first of many clocks we'll see on our guided hotel tour. Overhead a sparkling, oversized v-shaped chandelier drapes to a point above the ornate Art Deco stair rails. This is a popular spot for engagement photo shoots and where many social media influencers have snapped a pic.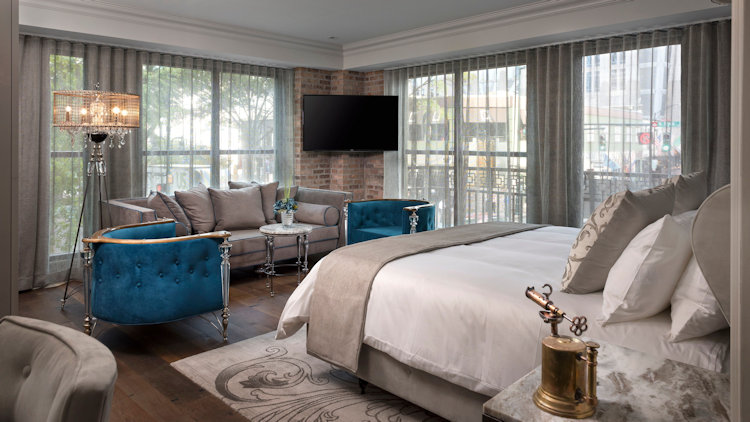 An Air of Sophistication
Entering our second-floor suite, we're immersed in luxury – king bed with elegant linens, a padded headboard is inset against a slightly recessed wall covered in soft-toned material perfectly complimenting the bed and oversized rug atop plank wood flooring. Wine is chilling alongside a fruit plate on a gleaming marble-top desk. A floor lamp has a tripod base and crystals that dangle from its shade.
Eye-catching are the rust-colored padded bench at the bed's foot and matching half-barrel art chair. The bench holds a super soft throw we later learn is available for purchase in the boutique by the elevator lobby.
Two extra-large windows overlook the city scene; an exposed brick wall separates them. The elegant bathroom sports a roomy walk-in shower plus a soaking tub.
A whimsical touch is artwork that peeps out from the front of a bedside stand. Ours is a gleaming classic car; another room's is a close-up of the face of what looks to be a '50s Hollywood actress.
We quickly figure out the entire property shines, tastefully, with silvery touches — cut-glass pieces, chandeliers, mirrors and marble, and many fleur-de-lis that further embrace the French feel.
The hallways are welcoming, too, with plush carpeting and large, framed, old, black-and-white magazine ads, many of them in French, touting haute couture, perfumes and luxury goods like Hermès purses.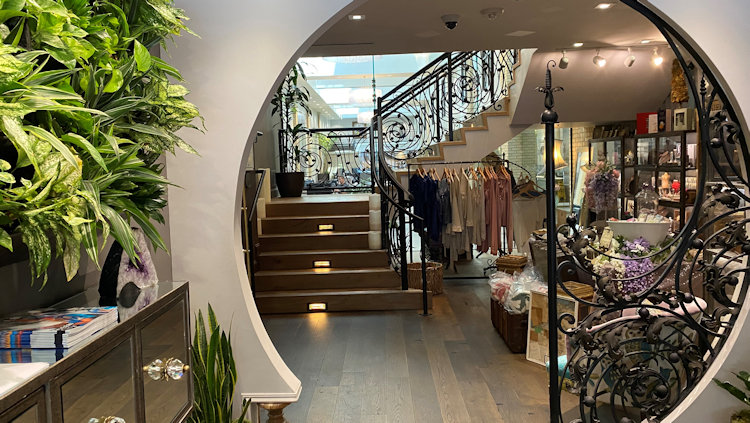 So Many Clocks
Now, to those clocks. Each guest room has three. Several larger suites have even more, each analog and most in decorative mantle styles. A few are "exploding" as their innards are partially displayed and the faces distorted. Suites have several antiques displayed, too, and if there's a tag, it's for sale. The same is true in the Library Lounge, where many more items, including books are displayed.
At 1,500-square-feet, the 24-hour fitness center has ample equipment for its size and a dedicated area for floor exercises, yoga, stretching and free weights. Water is provided along with eucalyptus-scented towels.
During our stay, the hotel's custom scent was sweet patchouli, heliotrope and bergamot with a hint of eucalyptus. They are partnering with Charlotte's Pretty Honest Candles to produce this custom scent for sell in the boutique.
While breakfast is served in Sophia's Lounge, it was closed our visit, so we were served in the delightfully cozy Library Lounge. Here, a daily 5-7 p.m. reception offers guests a complimentary glass of select wines. Fun cocktails offer a nod to the accompanying books on display at the end of the bar. Sophia's offers drinks and dinner Wednesdays-Sundays.
Charlotte promotes itself with the slogan "Charlotte's Got A Lot." Rightfully so. Now based on the resurgence of properties like The Ivey's Hotel & Residences, it's fair to say Charlotte's has always had a lot.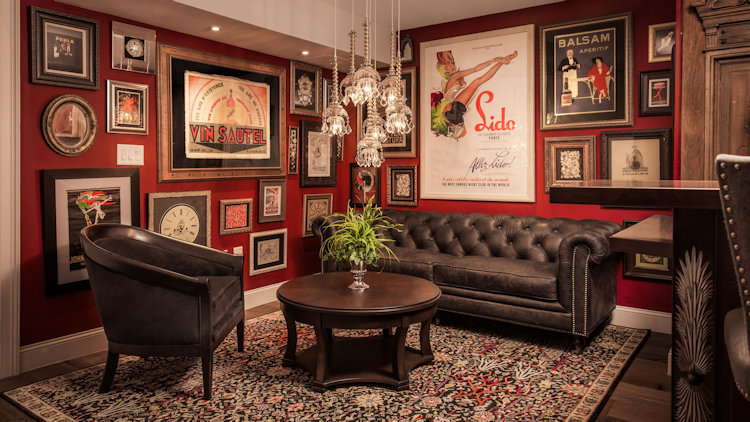 Perfect Location
Ivey's Hotel, a AAA four-diamond property, is located in the heart of the city, across the street from the Blumenthal Performing Arts Center and Bank of America Headquarters, and near the Epicentre Entertainment Complex, the Charlotte Convention Center, NASCAR Hall of Fame, The Mint Museum, and more. The property is a five-minute walk from the Lynx Light Rail, CTC Station and Charlotte Transit Center Trolley. Tripadvisor ranks The Ivey's #7 on its 2021 Best of the Best Traveler's Choice Top 25 Hotels in the U.S.
Article by Kathy M. Newbern/J.S. Fletcher