Jim Gillette
is considered one of the most influential rock/metal vocalists of all time and was married to Lita Ford of The Runaways; his following is enormous, remains loyal, and many of his devotees are still as flamboyant as their idol of the '80s.
Flash forward twenty years and it is hard to reconcile the rock god image of yesteryear with the quiet, gentle man who now talks enthusiastically about such things as his home in the Turks and Caicos Islands, his yacht club project, the extensive developmental infrastructure for which he is responsible, cutting edge sea wall construction, the "queen's bottom" among other engineering, construction, and development topics with which he is intimately acquainted.
As background, it is helpful to know that Mr. Gillette came upon the Turks and Caicos Islands about 12 years ago after completing a number of successful development projects in the U.S. and after a colleague mentioned the spectacular diving and gorgeous blue waters surrounding the islands. He visited intending to buy two acres of property for a primary residence on the main island of Providenciales. Seeking greater privacy than Provo could offer, he ventured to North Caicos, fell in love with the garden island, and stayed. He is now the largest land owner on North Caicos and he and his partners are responsible for creating The North Caicos Yacht Club project as well as building the first bridge in the country.
The success of this project is due in large part to strategic planning by Mr. Gillette and his partners and the fact they invested over $30,000,000 of their own money into project infrastructure. While many projects across the U.S. and the Caribbean stalled or failed during the global financial meltdown of a few years ago, Mr. Gillette's project grew because they carry no debt. A savvy developer and businessman, Mr. Gillette knew the importance of quietly weathering the financial storm and waiting until world economies improved and interest in luxury second and third home markets reawakened before launching his marketing campaign.
The wait is over and the time is now: Phase One of The North Caicos Yacht Club is being offered through a luxury real estate auction to be held on July 28, 2012. Four villas and thirteen beach and canal lots will be auctioned; two of the beach villas and five beach /canal lots will be sold at Absolute Auction.
The North Caicos Yacht Club is the most anticipated marina project in the Turks and Caicos Islands and occupies a premiere location just across the breezeway from the world renowned and uber-exclusive spa resort of Parrot Cay. Mr. Gillette is committed to the success of his project and full build-out across all phases. As Mr. Gillette states, "This is my home. I live here full time with my two young sons. I'm a single Dad devoted to giving my boys an idyllic childhood in a place where they are safe and can build forts, fish and sail, explore on their own, and engage in the kind of natural activities I did when I was a child. North Caicos provides these opportunities for my boys. I am completely invested in the success of The North Caicos Yacht Club because it is my home."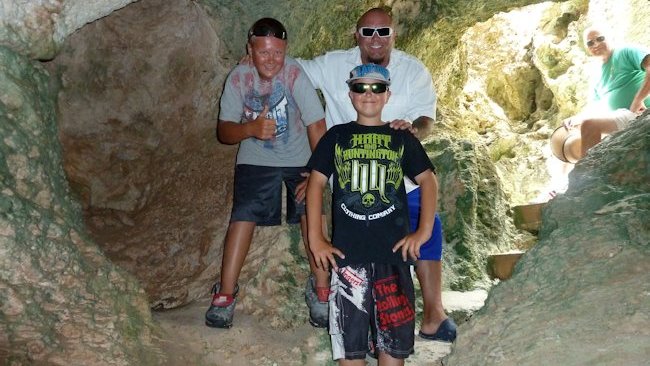 Jim Gillette and sons
This listing is in collaboration with Prestigious Properties Ltd.
www.prestigiousproperties.com
, Albert Burney
www.albertburney.com
and
www.avalonpartnersltd.com
.