The glowing headlines have highlighted Austin's eclectic brew -- teeming with life, full of vigor, unbridled zest in not settling for limits but surpassing them.
Austin was the third fastest growing large city in the USA from 2000-2006 and unlike its bigger sibling cities in Texas -- the capital city embraces a culture of outdoors seekers, epitomizing personal freedom, entrepreneurial zeal and a penchant for pushing through boundaries. The tagline of Austin being the "San Francisco of Texas" is offered in a positive manner but Austin is anything but the tail end as a secondary follower to its Bay Area counterpart or any other major city in America for that matter.
Golf in Austin is an emerging element -- neither a finished product nor one oversaturated. I sampled a few of the noted golf courses on my first visit and it struck me how Austin had the potential to be so much more on the golf side. Casual observers from outside the State often draw erroneous conclusions on the overall topography of Texas. The ignorant student might erroneously conclude The Lone Star State is flat, devoid of features with tumbleweeds blowing about. Austin cuts its own image thanks to Mother Nature and the renowned nearby Hill Country and Lake Travis.
In my first visit I had the good fortune in playing the original 18 holes at Barton Creek -- a Tom Fazio design -- now called Foothills. Long before the complex morphed into a majestic 4,000-acre paradise the Foothills course always fascinated me with its plunging and winding terrain with greens, tees and fairways saddled ever so snugly within its flowing terrain. My return round confirmed how well Fazio did in his initial effort.
The main knock against some Fazio designs is his tendency to add extra design ingredients in order to provide added "definition." Foothills is not gussied-up in that manner -- you see it immediately at the demanding 1st hole -- a slightly downhill long par-4 of 462 yards that pinches in ever slightly in the drive zone the further you hit it. Once you step on the tee at the game is certainly on in a big time way.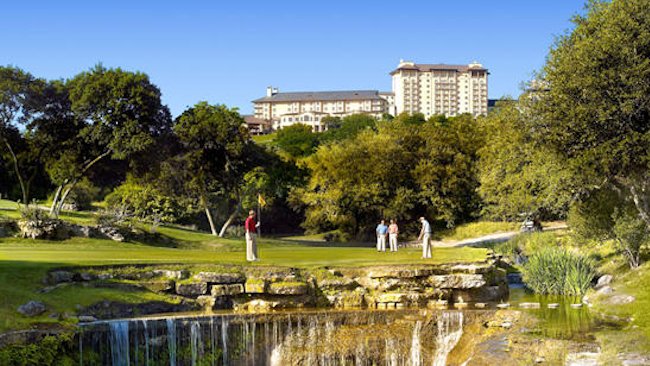 Barton Creek Resort & Spa
Barton Creek Resort & Spa is the center point for golf-focused folks coming to Austin. There are four (4) golf courses -- three near the central hotel -- the fourth a 35-minute car ride away -- and, as a result, somewhat disjointed and compounded by a less than exciting Arnold Palmer design that is quite formulaic in its presentation.
The tough part for any facility with a headliner like Foothills is adding a companion layout of equal or greater stature -- especially if from the same designer. It's no small feat of accomplishment. Many facilities today seek out different architects in order to provide a clear differentiation between the designs. Barton Creek opted again for Fazio for a second 18 called Canyons.
Opened for play in 2000, Canyons is set two miles from the main complex. Unquestionably, Canyons provides the perfect sequel to what Fazio and company did with the original 18. Like Foothills, Canyons doesn't seek to overwhelm the senses through an unnecessary bombardment of out-of-place design elements such as freakish man-created mounds, waterfalls, intrusive hideous cart paths and on and on. The Texas Hill Country speaks quite well for itself and Fazio resisted the temptation to provide any added interferences. Less is indeed more here. The main difference between the two Fazio courses? Canyons is rated a full shot harder than Foothills and one's driving skills is tested even more intensely.
Rounding out the golf menu is the Ben Crenshaw & Bill Coore Cliffside Course. Opened for play in 1991, Cliffside is not at the same level as duo's other work at Sand Hills and Friar's Head, but Cliffside is available to outside play – a number of other Crenshaw & Coore designs are private and extremely difficult to access. Cliffside starts off slowly but when you reach the solid uphill dog-leg right 9th hole the intensity meter rises noticeably as the terrain becomes more challenging. The target lines are quite visible but there is risk for those seeking even greater gains. The short downhill par-4 14th is only 285 yards and tempts the big play off the tee. Pull the shot ever so gently left and what appeared at first glance to be easy pickings will be a startling reality check.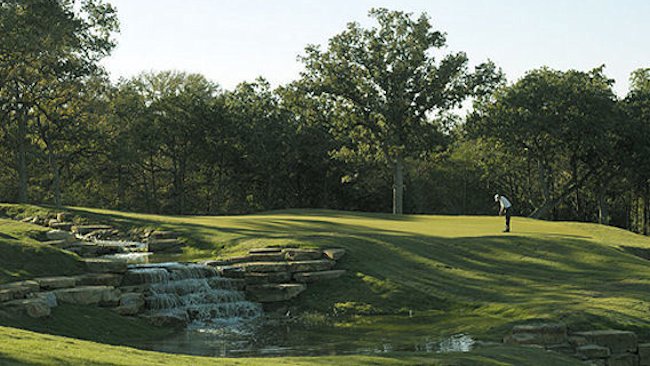 Hyatt Regency Lost Pines Resort and Spa
Much of the main golf development in the greater Austin area has been to the west and north areas of the region. In June of 2006 Hyatt broke that trend with the opening of the Lost Pines development. Set about 20 minutes east of the downtown area, Lost Pines encompasses slightly more than 400 acres of land that provides a stunning contrast -- rolling terrain with close proximity to the Colorado River which forms the eastern boundary of the property.
Entering the grounds you quickly lose sight of all the highway clutter that permeates the approach road. Unlike Barton Creek, which incorporates an active membership in its daily agenda of activities -- Lost Pines caters primarily to those staying at the facility.
Kids gets the full offerings that includes a large pool, a range of daily activities and remarkably includes a petting zoo, among others items to keep them occupied. Adults are no less pampered. Need a bit of mental and physical recharging? Head to Spa Django. Django literally translates to "I awake" and the range of services provided does that and more. There's also an equestrian center on property as well as a nature preserve for those outdoor enthusiasts. Want a historical connection? Take the short 10-15 minute ride to nearby Bastrop -- first settled in 1804 and an early capital for The Republic of Texas, the history and architecture of this small community are a worthy side visit just minutes away from Lost Pines.
The 18-hole golf design -- Wolfdancer -- is the handiwork of Arthur Hills / Steve Forrest & Associates. Interestingly, Hills and Forrest opted to go with the more rolling and visually impressive front nine as the starting first half. The front nine whisks you away providing sweeping panoramas that capture your attention. When you stand on the rear teeing areas of the long par-5 3rd you then realize how previous stereotypes about Texas in general do not fit the Austin locale.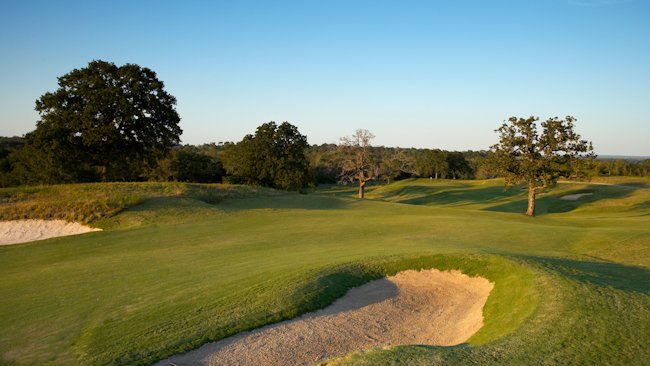 Wolfdancer
Two quality par-4's close out the outer half. The 8th climbs uphill with a sea of sand with the slightest drive tug left. The green is somewhat blind for most players and is neatly angled on a diagonal from lower right to back left.
The 9th, playing roughly 430 yards, is a shot maker's dream hole. A controlled draw off the tee is a real plus. The fairway is banked slightly so dead flat lies are not easy to find. Best of all – the 9th's putting surface is simply one of the best you'll find in Austin. The green falls away from front to back and when the pin is cut towards the front it takes a monumental effort to get within 20-25 feet.
The back nine stays in the same general area for the first three holes with the drop shot par-3 12th adding a fine change of pace hole.
You descend for the final six holes which unfortunately are located on terrain that's nearly nondescript. The long par-4 13th and long par-4 16th are similar in their designs though both are tough holes. The short par-4 15th is dull and made worse by a mega cart ride after playing the quality long par-5 14th.
Wolfdancer concludes with two solid holes – the par-3 17th - protected on its right side by a bunker that grabs the half-hearted play. The closing par-5 18th provides a serious challenge to any player who misses the green left – whether on your second or third shot.
A reversal of the nines at Wolfdancer would work better. The final six holes are close to the Colorado River but it's more of visual presence from afar then integrally linked to the holes themselves. Wolfdancer is a tough enough layout -- 76.1 course rating and 138 slope from the tips. However, playability is also provided so long as one remembers to choose tee boxes you can reasonably handle.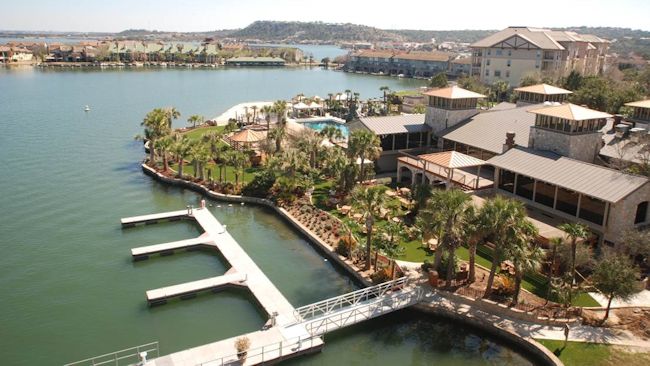 Horseshoe Bay Resort
One of the most diverse golf offerings in the greater Austin area can be found at Horseshoe Bay Resort. 54 holes of golf are available -- all the handiwork of legendary designer Robert Trent Jones, The main headliner is called Ram Rock and it's a superb layout. When Ram Rock first opened in 1981 the course quickly garnered rightful attention. Holes weave up and over and in all sorts of bends and movements. Rated 75.6 and sporting a 137 slope should make any golfer think twice before attempting to tackle the range of challenges encountered here. Sad to say, a few golf magazines have seen fit to rate other more recent Texas courses ahead of Ram Rock but their ignorance should not deter you one iota from playing this well-crafted layout.
Two other courses are available to the public at Horseshoe Bay -- Apple Rock and Slick Rock. Both provide complimentary roles to the main role played by the flagship Ram Rock course. Slick Rock was the first course at the facility -- opening in 1971 and is the most "user-friendly" of layouts. Apple Rock opened in 1986 and is on 147 acres of scenic terrain. Apple Rock, like Ram Rock, is on wonderful land that provides compelling vistas of The Hill Country and nearby Lake LBJ. Some devotees of Apple Rock believe it's the showcase course at Horseshoe Bay -- I see if differently but acknowledge Apple Rock is no "B" level product.
Coming soon in 2014 will be another 18-hole layout called Summit Rock. The only Jack Nicklaus signature design to open this year in all of the USA, Summit Rock will be limited to members but upgrades from a Horseshoe Bay membership will be possible.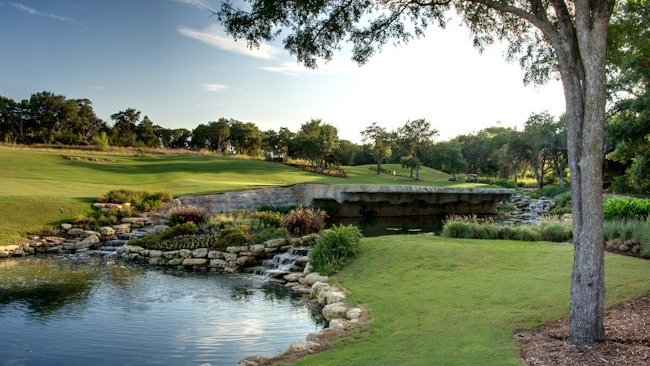 Falconhead
One of the more striking elements for Austin golf has been the fairly recent ascension of privately owned daily fee golf options -- or as some call them "the country club for a day" experience. For many years the Texas golf market was fairly defined -- either private member clubs or getaway resorts. Public golf, on the whole, was at best functional but nothing more than that. The development of modern daily fee golf changed the landscape in a very noticeable manner and the Austin marketplace has taken a fast track approach to having this added element in its golf portfolio.
The arrival of Falconhead in 2003 clearly brings the preceding point alive. Designed by the PGA Tour Design Center, the par-72 nearly 7,200 yard layout is a no-nonsense course where talent is constantly called upon through a wide array of different holes and shotmaking challenges. The closing par-4 18th is a stout finale -- make a final par-4 there and you'll long remember the achievement.
Roughly 30 minutes northeast of Austin is The Golf Club at Star Ranch in Hutto. Designed by Morrish, Bechtol and Russell -- Star Ranch is a good design with enough elasticity to challenge different handicap levels. Holes are sufficiently defined and the overall maintenance -- save for some spotty bunkers -- is quite good.
Austin Golf Trail -- One Stop Shopping
In January 2010, Chip Gist, founded the Austin Golf Trail (AGT). Born and raised in Houston but living now in Austin, Gist witnessed for years how lower level destinations were reaping the bonanza in hyping their benefits and as a result saw Austin sink lower and lower on the radar screen.
"Austin has a great story to tell - the golf side is simply underplayed," said Gist, a PGA member since 1993. "We have great weather here in Austin that allows year-round golf potential but those from the outside were not getting the kind of detailed service and quality info that makes a visit first rate happen."
AGT provides a full service concierge with Gist himself at the helm. Packages for all the key accessible golf courses in and around Austin – that includes Barton Creek and Wolfdancer, among a range of others. And Gist is networked to provide access to a number of the private clubs too. They're not listed on his Website but he has the contacts and savvy to handle most requests.
Average packages usually entail four (4) rounds of golf with lodging for three (3) nights. Cost per player is $600. Recommendations can also be made adding food and music outlets to enjoy when in town.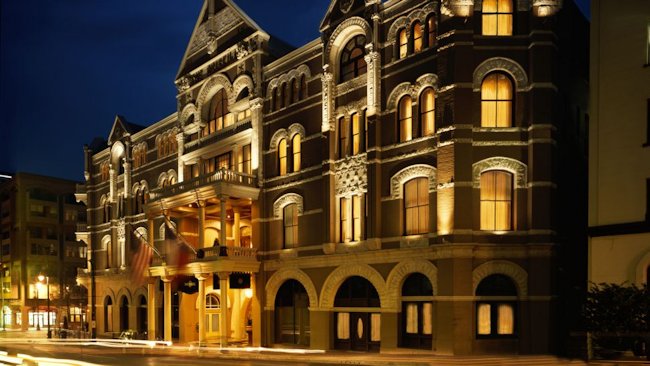 The DriskillPLACES TO STAY ...
Horseshoe Bay Resort -
Ideal location - close enough to Austin's core but far enough away to enjoy the many fascinating dimensions of The Hill Country. Activities galore with golf a central element.
www.hsbresort.comThe Driskill -
The Driskill has been catering to the needs of visitors since 1886. A member of The Historic Hotels of America and is within easy walking distance of a range of places to see when in the downtown area. be sure to eat in The Driscoll Grill -- opened in 1929 and rated by Zagat's among the top 25 hotel restaurants.
www.thedriskill.hyatt.comBarton Creek -
Hard to bear the total offerings. Provides a wide array of various stay'n play packages and the golf offerings are varied and well presented. Be sure to check out the new Three Springs Spa for total comfort and rejuvenation.
www.bartoncreek.comHyatt Regency Lost Pines Resort and Spa -
Wide array of activities for all ages. Plenty for kids to unwind and for adults to reconnect from the daily stresses. Be sure to enjoy Spa Django -- well-staffed with an array of different services.
www.lostpines.hyatt.comLake Austin Spa Resort -
The ultimate hideaway for mind and body. Over 100 spa services and over 20 activities daily with just 40 elegant guest rooms. No golf on property but the location is provides easy access to all spots of note. Professionally staffed with guest pampering taken to the highest of levels.
www.lakeaustin.com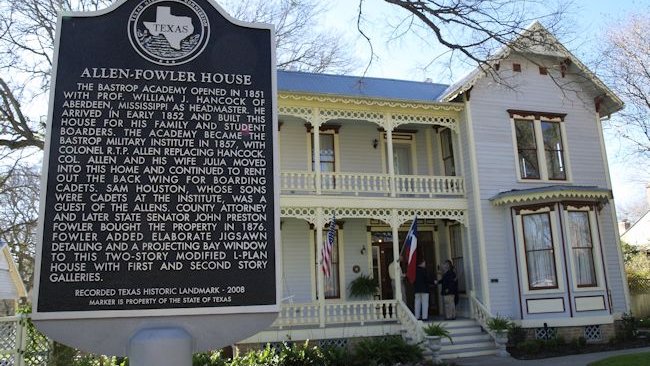 Alan Fowler House in BastropTHINGS TO DO ...
Austin's Live Music Scene -
Long billed as the "Live Music Capital of the World" there's rarely a dull moment in Austin. The downtown area off 6th Street provides a wide ensemble of delectable options and should you need to unwind a bit more -- the nightlife options run the gamut for nearly all music tastes.
www.austintexas.org/visit/music-scene/Bastrop -
Roughly 30 minutes southeast of Austin is historic Bastrop. Played a prominent role in the early days of the development of Texas and was the home to three signors of the Texas Declaration of Independence. Be sure to visit the downtown historical area.
www.visitbastroptx.comLBJ Museum -
Provides a truly in-depth perspective of the 36th President of the USA. Admission is free during normal business hours.
www.lbjmuseum.comLake Travis -
The perfect antidote for those who want a bit of disconnect. Just 30 minutes away west from all the downtown activity.Plenty of recreational activities and lodging options abound.
www.laketravis.com