These are the only two places on earth where the majestic mountain gorilla lives. With numbers estimated at just over 700, this shy vegetarian commands a world-wide following.
You can visit with mountain gorilla families by booking through a professional outfitter. This isn't a backcountry self-tour. It's a carefully controlled and regulated opportunity to spend time with another species while completely immersed in its habitat. This is gorilla trekking.
Seven Tips for Gorilla Trekking
If you don't go gorilla trekking very often, you might wonder about the best way to prepare for your journey. Common sense tells you this isn't a trip for breaking in new hiking boots. Comfortable clothes, a reliable camera and a sense of absolute adventure should be enough.
While that short list is an almost perfect start, we offer additional guidelines. Please allow us to share our best pointers for gorilla trekking. It's a life-changing experience, and once is rarely enough. We want to make sure yours is the very best it can be, so we give you these seven tips for gorilla trekking in Rwanda and Uganda.
1. Follow the Seasons
Most first-time trekkers plan with the seasons in mind. While there are no enforced calendar limits, traveling is easier during the dry months. Book a trip from the middle of December through the end of February, or schedule a trek from early June through late September. Experienced outfitters only recommend traveling during the rainy seasons if you prefer very little company and don't mind getting wet.
2. Please Mind Your Health
Humans and mountain gorillas share a remarkably similar DNA profile with a 97 percent match. This extraordinary likeness leaves the gorillas susceptible to our illnesses, so please don't try to make a trek if you're not well. Just as you expect friends to stay home when they're sick, respect the gorillas' environment if you're under the weather.
3. Dress for Trek Success
This unique adventure of a lifetime takes you deep into the rain forests of Uganda and the volcanic mountains of Rwanda. These climates demand breathable clothing for handling humidity and good boots for managing muddy paths. Complete the look with double-layered cotton socks and knee-high gaiters. Top it off with a water-shedding hat sporting a wide brim and adjustable chin strap.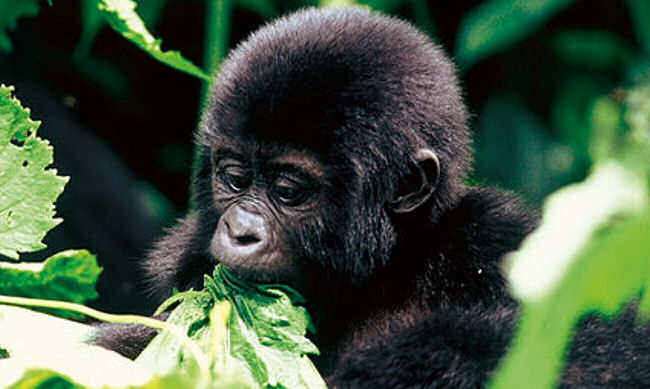 4. Be Prepared for a Hike
It can take as little as 30 minutes to locate a group of mountain gorillas. It can take most of the day. Their habitat isn't laid out with well-defined paths, so your guides use their years of field experience to find the way. Be ready to hike through the humidity of a rain forest. Volcanic mountain jungles are dense, and the slopes are steep. This is a journey that brings out your physical best.
5. Bring One Good Camera
You don't need to pack a dozen digital devices for a gorilla trek. Your guides have all the equipment necessary for a safe trip. Throw yourself into the freedom that comes from tossing everything but a camera back into your suitcase. Most treks don't allow flash cameras. You and your fellow travelers will be much happier with equipment that operates quietly without tripods and attachments.
6. Enjoy Being Watched
Those enormous, brown eyes gazing into yours communicate a profound sense of how much alike you both really are. The mountain gorilla patriarch closely watches his family while he carefully watches you. You recognize him by the silver coloring on his back. He recognizes you because the gorillas have become habituated to human company that keeps a respectful distance. This simple exchange of looks between species is an unforgettable encounter.
7. Know That You Make a Difference
Preservation of the mountain gorillas and their homes depends in part on
income derived from tourism.
Your trek of a lifetime helps stabilize the gorilla population and support efforts that improve management models. Mountain gorilla numbers have stabilized and even improved, and habitat awareness continues to grow outside the confines of Ugandan and Rwandan national park systems. Your gorilla trekking helps make it all happen.
Share the Access
DK Grand Safaris
is very fortunate to be in a position to share access to the wildlife that makes their part of the world so unique. The mountain gorillas are especially precious to them and they are honored to be a part of their ongoing preservation. Should you decide to join them, they are at your service with absolute adventures and life-changing experiences that really make a difference.