Charlotte, North Carolina, touts itself as The Queen City. In 2020, amid a pandemic, a new queen bee emerged 16 stories high here in the Carolina Blue sky. The chic Grand Bohemian Hotel Charlotte, all 254 rooms of her, is part of the Kessler Collection, the founding member of Marriott's Autograph Collection.
In the heart of Uptown Charlotte, the new hotel's location is walkable to the football and baseball stadiums, Blumenthal Performing Arts Center and varied dining and nightlife.
What brings us to town is the chance to experience the Immersive van Gogh Exhibit that's spawned lots of interest, as well as Michelangelo's Sistine Chapel: The Exhibition, a life-size, up-close, never-before-seen perspective of the genius masterpieces.
The Kessler name always piques our interest. We've raved over previous stays at sister properties Casa Monica Resort & Spa, St. Augustine, FL; Grand Bohemian Hotel, Asheville, NC; both the Bohemian Hotel Savannah Riverfront and Mansion on Forsyth Park, Savannah, GA; and the Bohemian Hotel Celebration near Orlando, FL. (We're excited the company has a new property going up in Greenville, SC, overlooking Falls Park on the Reedy River).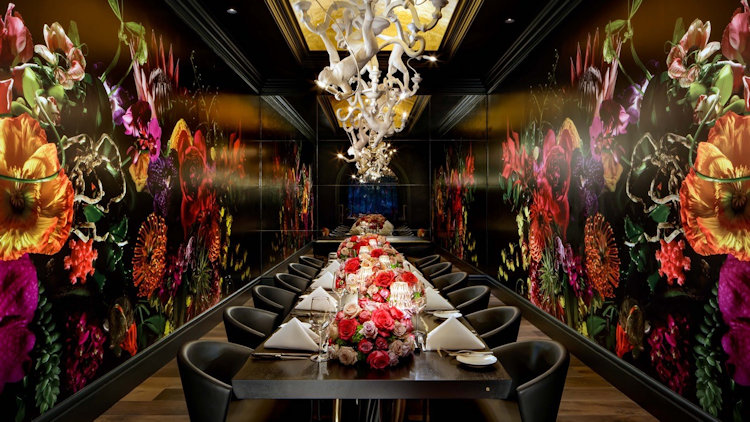 Beautiful Spaces
Kessler properties are known for their museum-quality art throughout, and Charlotte did not disappoint with more than 250 paintings personally curated by founder Richard Kessler, many from Argentina and Europe plus some by local and regional artists.
Stepping through the gleaming brass-and-glass revolving doors into the lobby is a jaw-dropping moment, from white marble floors specked with black streaks to the bold red chandelier hanging from a gold-leaf cove ceiling. Red – one of Kessler's two signature colors — is featured throughout. His other favorite, purple, punctuates plush carpeting in our king room with a rich teal tufted chaise and teal leather headboard, the former overlooking Uptown.
Two stunning oil paintings flank the lobby entrance to the elevator hallway, each floor-to-ceiling in size. The artist is Andrea Carreras of Buenos Aires.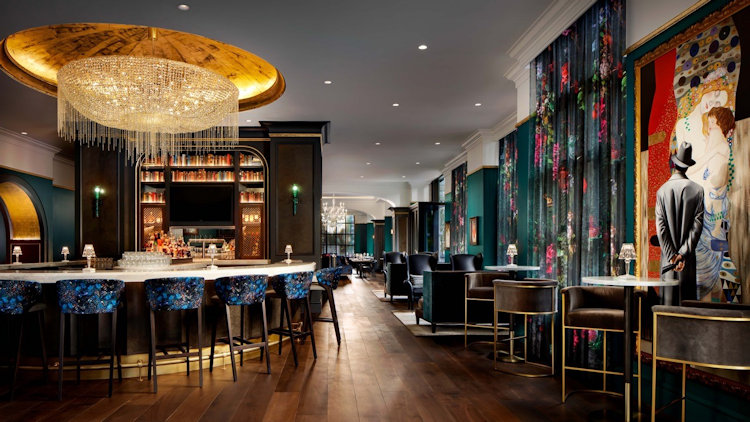 South American Influences
The hotel is a head-turner at every point. Touring with Sales Manager Haley Sanger, she explains that the design takes its inspiration from Richard Kessler's travels and imparts the expressiveness of Argentinian culture in its art, music and culinary offerings.
We see his influence in every detail from the elegant lobby, to hallway custom carpets with waves of color inspired by a flamenco dancer's twirling skirt and flicking fan. Rooms have custom furnishings, drapes and lighting while entrance to the 3,912-square-foot ballroom area features eye-popping, custom Murano chandeliers and a collection of large "dinosaur" marble eggs behind gleaming glass. The space, customizable for meetings, was inspired by the Paz Palace Mansion in Buenos Aires.
Re those headboards in the rooms, Ms. Sanger points out the embossed teal leather with antique brass nail heads are a nod to Argentina's biggest material export, leather. We ask about the elevator art, flamenco dancers in several poses, and discover the photographs were shot underwater.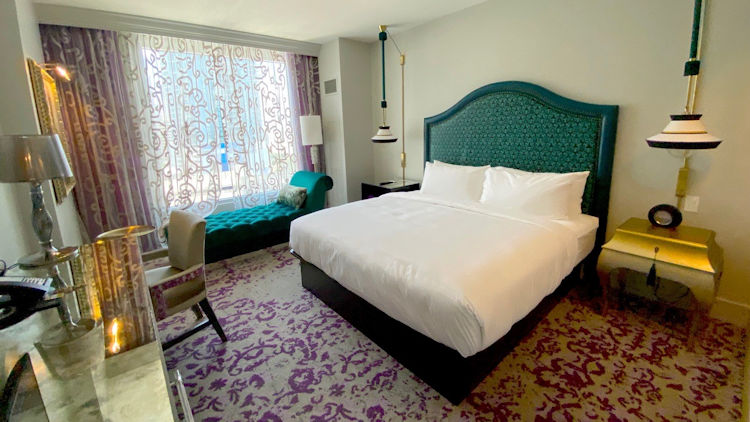 The outdoor Queens Terrance on the sixth floor sits beneath a large white tent. Two Italian chandeliers hang from its apex. Amid red and white furnishings a pair of throne-like chairs intensify the royal feel. "Amore" is spelled out in red script as a sculpture. The 10 ft. x 50 ft. wall mural is a triptych of blooming roses from Atlanta artist Niki Zarrabi. Guests are free to use the space if no special event is booked.
A small private greenspace is just steps from the restaurant – we saw a yoga class going on there the first day, then preparations for a graduation photo shoot the next. The park is adjacent to the hotel's Bohemian Garden with chairs and stools in pops of fuchsia and fern green, a bright contrast to white tables and umbrellas.
Poseidon Spa on the 16th floor features a meditation rooftop terrace, and there's 24-hour fitness center.
To check out the rooftop Buho Bar, get your name on the list in the lobby as it's first come, first served, and weekends are busy. If the weather's great, choose outdoor seating to take full advantage of great views of Uptown. Buho means owl, which inspired decorative details from outdoor sconce covers to a beautiful painting in the nearby executive lounge. Peek in at the private party room in sultry red.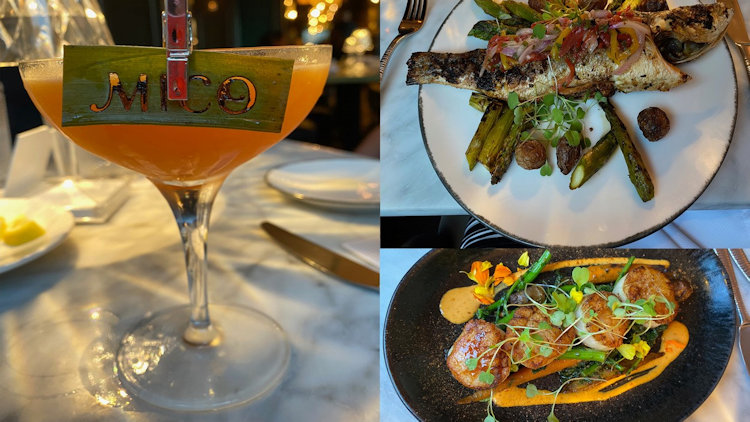 Superb Dining
Our dinner experience in Mico Restaurant revealed more wow factor décor. Street entry reception features a huge, lush, rain forest painting with a focus on monkeys (in Argentina, "mico" is slang for monkey).
The busy bar has a massive crystal chandelier, while the private dining room walls sport an explosion of rich-hued flowers in full bloom beneath an intricate white chandelier with a half-dozen playful monkeys holding lights aloft. The look is rich jewel tones throughout. Yes, Instagram worthy.
The open kitchen concept is welcoming, and faces beautifully displaced wines in metal and glass cabinets, visible from both sides. Spaces for diners can be casual on the bar side or a bit more formal here.
We started our evening with delicious cocktails – try the Mico with strawberry infused "monkey in paradise" vodka, Licor 43, passion fruit, honey syrup and lemon. Our dining partners opted for a Malbec wine flight deftly presented tableside by a sommelier.
Our server was delightful and attentive. Though no one opted for her recommendation of crispy fried quail, we were ecstatic with entrees of caramelized queen scallops and fish Argentine-style: Branzino a La Parillo. These arrived after appetizers of blue-crab stuffed lobster tail halved and a serving of baked Carolina dream oysters.
For our last day check-out, the lobby side Starbuck's was perfect for to-gos while the ever-on-the-ball, red-sneakered valets brought the car around. Our waitress had told us she lusted after their cool-weather. bomber-style jackets with a GB logo. We lusted after her bow tie made with real feathers. She smiled in agreement.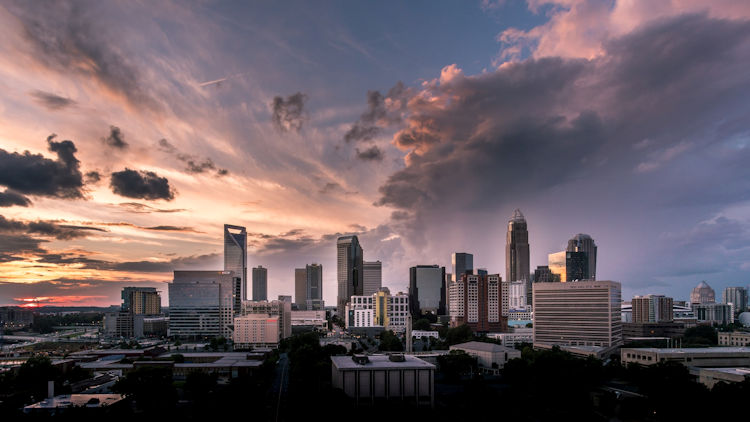 Some Charlotte See-and-Do
Grand Bohemian Charlotte is the perfect base for experiencing many of the city's most popular cultural and historic sites, museums, shopping and sports.
We delighted in the van Gogh and Sistine Chapel exhibits. Here are some other options:
NASCAR Hall of Fame that celebrates America's No. 1 spectator sport, with an estimated 75 million fans. Try your hand as a pit-crew member and learn about the sport's connection to NC moonshiners. Charlotte Motor Speedway is actually up the road in Concord;
Bechtler Museum of Modern Art, and the Charlotte Mint Museum in two locations;
Harvey B. Gantt Center for African-American Arts + Culture, and Levine Museum of the New South;
Discovery Place science and technology museum popular with families;
Sporting events at Truist Field, home to the Charlotte Knights minor league baseball team; NFL Carolina Panthers at Bank of America Stadium; the Spectrum Center for the NBA Charlotte Hornets (legend Michael Jordan is majority owner);
About a half-hour away is the National U.S. Whitewater Center for whitewater rafting, canoeing, kayaking, rappelling, rock climbing and more;
The Billy Graham Library is about a 15-minute drive;
Charlotte's uptown entertainment district is EpiCentre.
If You're Going: Grand Bohemian Charlotte is a AAA Four-Diamond property. Visit: https://www.kesslercollection.com/bohemian-charlotte/ and for area attractions, go to charlottesgotalot.com.
Kathy M. Newbern and husband J.S. Fletcher are award-winning freelance travel journalists based in Raleigh, NC, who have visited 76 countries, all seven continents and reported on 81 cruises. They often incorporate their travels into their other business, www.YourNovel.com, where they put you and your sweetie in your own personalized romance novel "wild" or "mild."
Photos courtesy of The Kessler Collection and Fletcher Newbern