Grand Hotel Portovenere is the only 5-star hotel in the area of the Cinque Terre and the Gulf of Poets, on the eastern Italian Riviera. The hotel overlooks the small harbor in the medieval village of Portovenere, a gem in Liguria's most romantic bay, which was loved by Shelley, George Sand and Lord Byron.
The Gulf of Poets
Recently, prestigious sources like Forbes and Lonely Planet gave reasons to visit Portovenere as an alternative to the overcrowded Cinque Terre. With its pastel-colored waterfront houses and picturesque seaside location, Porto Venere is the closest thing to a sixth Cinque Terre village. No wonder that UNESCO included in its World Heritage List, together with the islands of Palmaria, Tino and Tinetto across the sea channel.
Portovenere is also full of history, as the origins of the village date back to the first century A.D., when it was called Portus Veneris in Latin, in honor of the temple dedicated to the goddess of love, Venus.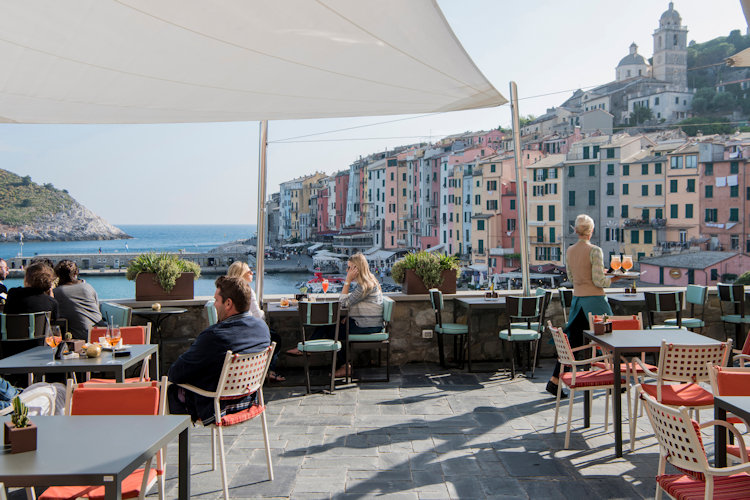 Grand Hotel Portovenere
Grand Hotel Portovenere is in a beautiful historic building that dates back to the XVII century, when it hosted the Convent of St. Francis. In the rooms, a relaxing atmosphere is created with simplicity and linearity to pay homage to the history, while the sea green, magnolia and yellow shades reflect the colors of the surrounding landscape. Many rooms have terraces, balconies or large windows offering breathtaking panoramas of the sea and the medieval hamlet.
Grand Hotel also features the refined Palmaria Restaurant with its stunning panoramic terrace, and a reserved beach in front of Palmaria Island.
The boutique hotel is less than 5 minutes' walk away from where boats depart for the Cinque Terre and the Bay of Poets, and provides its guests with garage parking, a real luxury in this part of Liguria. The surrounding destinations of rare beauty - like Lerici, Tellaro, Val di Vara and Camogli – make the stay at the Grand Hotel truly unique and authentic.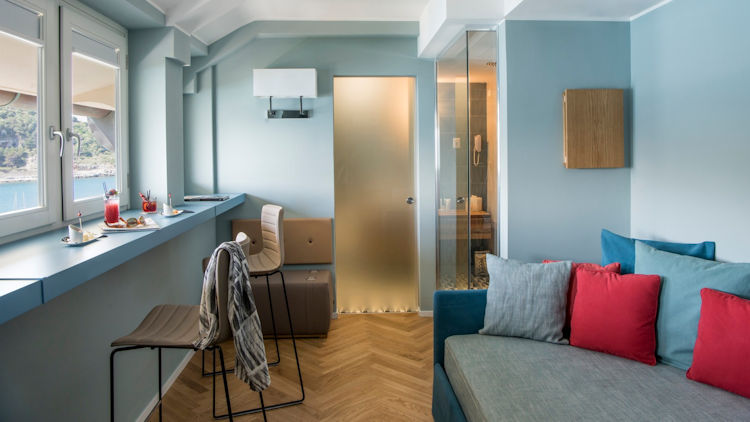 Special Promotion
The most prestigious rooms are called Suite dei Poeti and Suite del Castello. The former features long windows with breathtaking views over Palmaria Island and the Gulf of Poets. The latter offers a spacious terrace overlooking the majestic Doria Castle and the colorful village of Portovenere.
Grand Hotel Portovenere offers a special deal if you choose a Suite: stay 5 nights, pay 4! And the rate includes a 150-euro voucher for you to enjoy at Palmaria Restaurant and Venus Bar. If you book direct on the hotel's official website, you also receive free garage parking in Portovenere.