Grand Hyatt Bali opened its doors in April 1991 and true to its name, became the resort with the largest number of rooms on the island at the time. Offering 636 rooms, 5 swimming pools, and 5 restaurants, the resort was not built to be an ordinary resort, but a destination where spectacular moments happen.
The extraordinary moment begins right when the guests enter the lobby as they are greeted by a dazzling view of the ocean, with waves breaking into the reefs, and lily ponds cascading into small rivers and lagoons. If you are lucky, you might catch a glimpse of a heron standing still elegantly by the pond. The breathtaking flora and fauna of the resort is captivating for both the young or old and exotic pets can be found throughout the resort, warmly greeting guests with their cheekiness.
The resort was built around two ancient temples. The temples are 400 years old and was originally built as a resting place for a Balinese high priest whenever he made a journey from the southeast to south of Bali. With a major religious significance to the local Balinese community, Grand Hyatt Bali contribute in helping maintain the historic temples as well as allowing uninterrupted access throughout the year, especially during large religious ceremonies. These ceremonies are an experience to behold as hundreds of Balinese Hindus travel long distances in their colorful costumes to give offerings.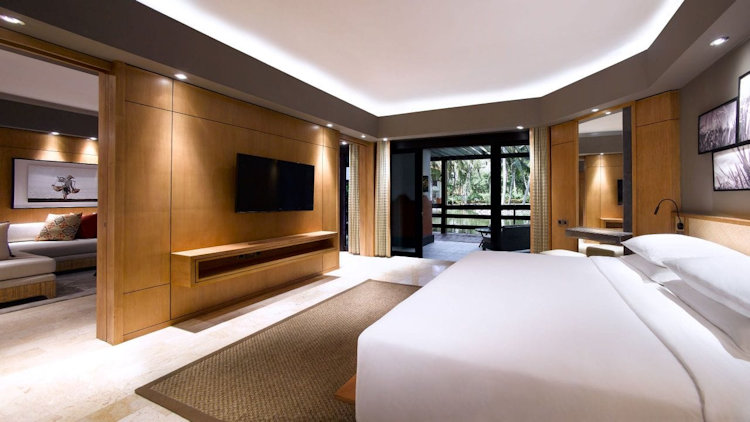 Balinese design philosophy is felt throughout the resort, from a gamelan at the lobby entrance that symbolizes a grand welcome to all guests entering the property to soothing Balinese flute music filling the lobby and Grand Club Lounge, an exclusive lounge available for our Club Room guests. Balinese design incorporate many natural materials found in Indonesia to their building material and decor, from coconut, bamboo, wood to lava stone. More importantly, Balinese design pays a lot of attention to the aesthetics and energy flows. Art pieces such as statues, paintings, woodcarvings are widely used as decoration in the resort and the resort's open plan living design allows the natural elements to give positive energy to all beings.

Grand Hyatt Bali is committed to integrate local flavor in its design and takes Tirta Gangga as the inspiration for the architecture. Tirta Gangga is a legendary water palace located in an area called Karangasem in Bali and consists of a maze of pools and fountains surrounded by lush garden. The same design principle was applied to the resort to inspire guests to feel like a royal when wandering through our tropical garden and lagoon.