Ultimate luxury merges with fabled myth with the much-anticipated re-launch of Astir Beach, one of Greece's most illustrious, and world famous resort destinations, reemerging as the epicenter of the Athens Riviera this summer. Just 20 minutes south of the city center, since the 1960's, Astir has been frequented by well-heeled Athenians and posh, international visitors alike.
Continuing the legacy today, this iconic destination is reborn showcasing Greece's first Four Seasons Resort; the development of up to 13 luxury Astir Villas; a complete re-imagining of Astir Beach; the upscale Astir Marina; high-end retail, as well as the esteemed Matsuhisa Athens home of the world famous Nobu cuisine. Unique to Astir Beach is the designated archeological site of Temple Apollo Zoster, which Astir is committed to protecting and preserving. The Temple of Apollo Zoster, dated to the 6th century BC, is situated in the heart of the beach, just a stone's throw from the sea.
Reveled by beach goers, Astir Beach is the destination's jewel in its crown with its crystal clear waters and quarter-mile stretch of golden sand, and this summer features new facilities, services and experiences.
WHAT'S NEW
Astir Beach Bar
Designed by Athanassios Kyratsous of AK & Associate Architects, the new Astir Beach Bar evokes an inherently relaxed sense of place with natural fibers, and a color palette that relates to its organic surroundings. Multiple seating areas for up to 120 persons are host to a relaxed vibe that is further accented by the bar's creative cocktail menu, wide list of Champagnes and Greek wines. It's also an ideal venue to be utilized for product launches, private events, special occasions such as birthdays, anniversaries and receptions of all kind with private cabana bookings available. For additional information, click here. For cabana bookings, click here.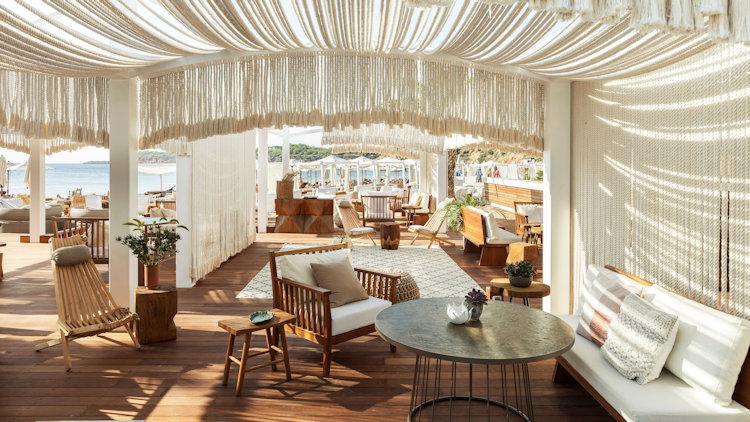 SUNTERIA World Music Elevation Sessions
A world electronic music series will debut this summer with 30 entertainment programs from May to August, each hosted by world-acclaimed DJs and musicians, including El Buho, Dandara, Ulises, Santi & Tugce, among others. Dubbed SUNTERIA, is a twice weekly event starting at 7pm, each welcoming Astir Beach visitors to a positive energy, and lavish entertainment social hive. Honoring the healing powers of the majestic sun on Thursdays, and the cleansing qualities of the water on Saturdays, SUNTERIA will entertain with ambient electro world music with rich layers of textures, resulting in a soft uplifting majestic atmosphere. For the full line up and schedule, click here.
Wellness
Also new this year is the collaboration with the esteemed wellness and fitness club, Holmes Place, which has locations in posh neighborhoods throughout Athens. The company's new outpost at Astir Beach will offer a variety of wellness sessions including yoga, FloatFit, aqua fit, beach stretch and workouts, as well as a full range of spa services in a new stylish dedicated space. For more information on spa treatments and wellness sessions, click here.
Retail
Careful selection has been taken in the destination's retail component, where a range of must-visit boutiques include Vilebrequin, Parthenis, Salt Water, Après Ski and MYA, each offering a variety of chic resort wear. For more information on retailers, click here.
A FAMILIAR FAVORITE
Returning this season, is nice n easy SEASIDE from the globally recognized organic restaurant visionaries, Athens-based nice n easy Group, offering a conscious approach to supporting sustainable, wholesome, biological cuisine sourced from regional farmers and producers. Its menu highlights elevated Mediterranean fare, virtuous interpretations of popular beach dishes, nice n easy namesake classics, a sushi bar and an evolving fresh fish and seafood menu. The carefully-sourced philosophy integrates wellness with decadent menu items such as seabass carpaccio, homemade lobster pasta, steak tartare, and other dishes including a multitude of vegetarian and vegan options, ensuring diners a complex, inventive experience. For more information and menus, click here.
Astir Beach membership program, 'The Key', offers unique privileges including unlimited access to the beach and to Astir Beach's facilities all year long, as well as free parking, access to the Exclusive Members lounge, concierge services and a designated area on the beach with sun beds and towels. In addition, all guests are welcome to purchase a Gold or Black Card providing unlimited beach access all year round or 20 entrances, respectively. For more information on membership and Gold and Black Cards, click here.
Sunbeds range from 22 to 40 Euro per day, depending on the day or the season. Reserved prices are slightly higher and can be pre-booked by clicking here.
Staying true to its ethos, travelers can expect unprecedented and memorable experiences at this coveted destination situated on the cusp of the brilliant Saronic Gulf where it meets the Aegean Sea.
With a stellar team of hospitality veterans, collaborations with universally respected and admired international and Greek brands, and a legendary past, Astir's rebirth promises to re-introduce the destination as one of Europe's foremost premier resort locations, with a legacy primed and ready to meet its contemporary counterpart.
For more information please visit, www.astir.gr.
Photo credit: Yiorgos Kordakis