Rarely does it happen that a site of a catastrophe becomes a place of pure tourist delight. Almost never, actually. SS Yongala belongs to this "almost," though. Being one of the most breathtaking dive sites in the world and the Great Barrier Reef area, in particular, it is also a famous shipwreck attraction that makes divers' hearts sink. Whether you're a history fan or just an enthusiast diver or both, SS Yongala is a perfect dive site for a luxury vacation. Hone your diving mastery, see firsthand magnificent underwater beauty worth those travel website templates and get a real rush – all in one place. This guide is about how to get the most of your Yongala wreck diving experience.
The history behind the SS Yongala wreck
SS Yongala is a former passenger ship named after a small town in South Australia (means "good water" in Aboriginal language) that sank in 1911 south of Townsville, Queensland. None of its 122 passengers and crew survived. The tragedy allegedly happened on 23 March due to a tropical cyclone that caught the steamer on its way from Melbourne to Cairns. Another version says that a collision with a hidden rock caused the wreck.
The 110-meter ship was reported missing only three days later when its non-arrival to the port was noticed, and its wreckage and cargo were washed ashore at Cape Bowling Green. The actual location of the SS Yongala wreck was discovered only in 1958. Since then, it is one of Australia's most popular tourist attractions and the site of the most mind-blowing diving in the world.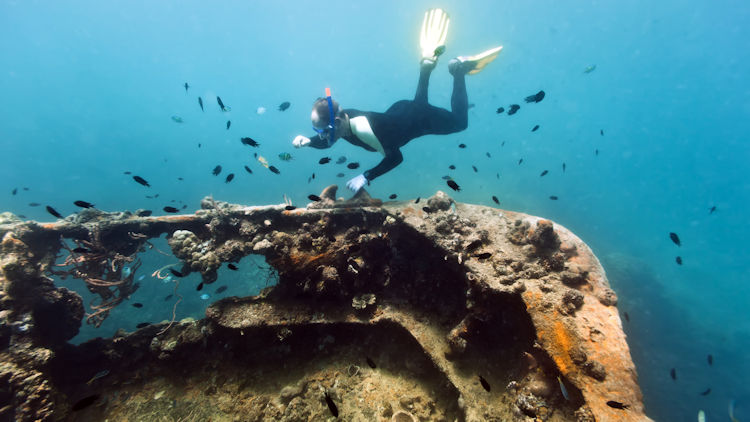 What's unique about the SS Yongala wreck dive site?
SS Yongala is one of the world's most popular dive spots. A century after its sinking, over 10,000 divers visit this place every year to witness the planet's widest variety of marine life. One of the world's biggest historic shipwrecks, SS Yongala is a magnet to a sheer amount of exotic and breathtaking fish life. It's the only place on the planet where you can see fish that big and that much gathered together.
Here, you can see car-size schools of barracudas, rays, eels, sea snakes, huge sea turtles gliding by and rare species of sharks including Tiger shark and Bull Shark. They are only a small part of this dynamic and powerful picture of triumph of life over death.
If you'd like to see whales with your own eyes, visit SS Yongala dive spot anytime from June to November. Humpback Whales and Minke Whales will be at your disposal for a once-in-a-lifetime underwater selfie! The huge Whale Shark can be spotted in these waters from October to January. Both hard and soft corals, including the gorgeous and delicate gorgonian sea fans, are waiting for you and your camera.
What does the SS Yongala dive site look like?
Located 89 km south-east of Townsville, Queensland, SS Yongala wreck lies on the sandy bottom at a depth of 33 meters. Its top can be accessed at a depth of 15 meters.
The visibility highly depends on the tide and can be not quite good ranging from 10 to 20 meters. This, as well as the strong current in this place, means that this dive site is definitely not for beginners. Sometimes even experienced divers are not allowed to the spot when the conditions are inclement. Wreck Diving at SS Yongala can be accessed all year round, but the visibility is slightly better in winter (June-August). The water temperature ranges from 21 to 25 Celsius.
The divers can observe the wreck only from outside because of the protection measures taken. As air bubbles cause corrosion to the wreck, divers are forbidden to penetrate inside. After spending over a century underwater, Yongala is still intact. Its hull, as well as most of its elements like masts and even toilets, can be seen clearly.
How to get to the SS Yongala Dive spot?
The easiest way to get to the shipwreck site is by taking a boat from Townsville. The journey takes approximately 3 hours. There is another, shorter route from Alva Beach by Ayr (which is located 1.5-hour drive from Townsville). It takes only 30 minutes by boat. If you are looking for a full-fledged Great Barrier Reef diving experience, it's better to join one of those liveaboards that start from Townsville and include the SS Yongala wreck dive spot.
Who is SS Yongala wreck dive for?
Only advanced certified divers are allowed to dive the wreck because of the considerable depth that the wreck is located on. Open water certified divers who can prove at least 6 logged dives are allowed too, but only after taking a deep diving training. You also need to be at least 14 to be allowed to dive the shipwreck.