Sabrina Piccinin founded Haute Retreats with a principal goal: the luxury hospitality veteran desired to create within one centralized web location a selection of the world's best luxury villa rentals. Piccinin's 'best' is defined by outstanding location, personalized service, and luxurious amenities. Each and every Haute Retreats villa worldwide possesses these attributes, thereby innately creating for guests memorable luxury experiences.
With 3,000 properties within 83 destinations, Haute Retreats serves an exacting clientele that expects these 'bests,' and Piccinin and her team deliver every time. Having spent more than 23 years within the luxury hospitality sphere, Piccinin possesses a remarkable ability to assess the needs and desires of her affluent guests. She more than meets their wishes by offering some of the most sumptuous and indulgent vacation opportunities on the planet. "We are very strict about what makes the list of Haute Retreats," says the Italian born and raised Piccinin. "Before being accepted onto the Haute Retreats list, our experts take the time to thoroughly verify each listing. Our vetting process is what makes our name worth something, and we work hard to constantly uphold and increase the trust that people put in the Haute Retreats name."
Piccinin notes the current interest in ultimate privacy, the result of the turbulent past two years of Covid fear and disrupted travel. And though the world is again opening back up, Piccinin believes the private rental trend will remain steadfast. "We seek to help our guests leave behind the past two years of tumult, if only for a week, providing them the opportunity to fully enjoy what everybody deserves now: fun, amusement, relaxation, love, and joy," says Piccinin.
And what better place to find fun, amusement, relaxation, love, and joy than the Greek isles, where Haute Retreats can create a vibrant itinerary that begins with private transfer from the airport to a sumptuous retreat where a gourmet dinner prepared by a professional private chef awaits. Haute Retreats can arrange for a boat tour, guided exploration of the island, a relaxing day at the villa with professional spa treatments, or cooking classes that impart Greek culture. Haute Retreats can schedule a farewell party featuring a fire show and classic Greek dance. Guest's wishes are at Haute Retreats' command.
Consider these two Haute Retreats' Villas in Greece for your Grecian getaway:
Villa Mercurio: (main image) Another Mykonos beauty, Villa Mercurio boasts panoramic views of the city, the port of Mykonos, and Orno. Configured at three different levels, each oriented towards the stunning views, Villa Mercurio is characterized by a strong sculptural, minimalist style featuring Mykonian traditional elements in neutral hues that create an elegant atmosphere. In a word, it's stunning. A main swimming pool, surrounded by three furnished outdoor living rooms, flows into two smaller pools and a hot tub. Nine large, amenity filled bedrooms and en suites in pristine white are located within the different levels, some windows of which are whimsically submerged at pool water level to provide an aquarium-like vibe. An outdoor kitchen and impressive 18 seat dining table encourage al fresco dining, and a spa room with sauna and massage bed provide the ultimate in rest and relaxation.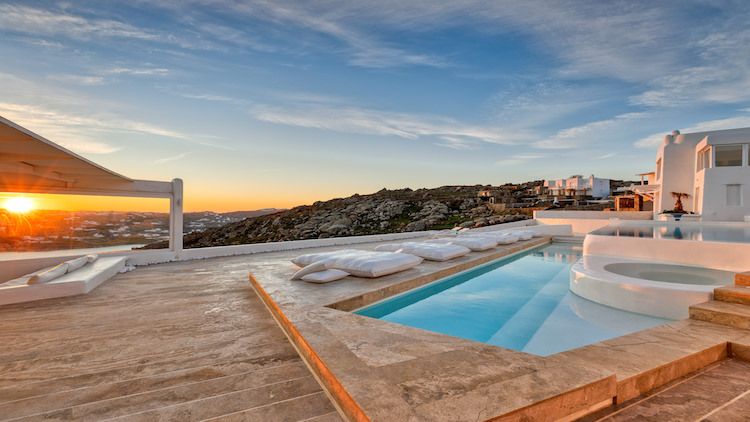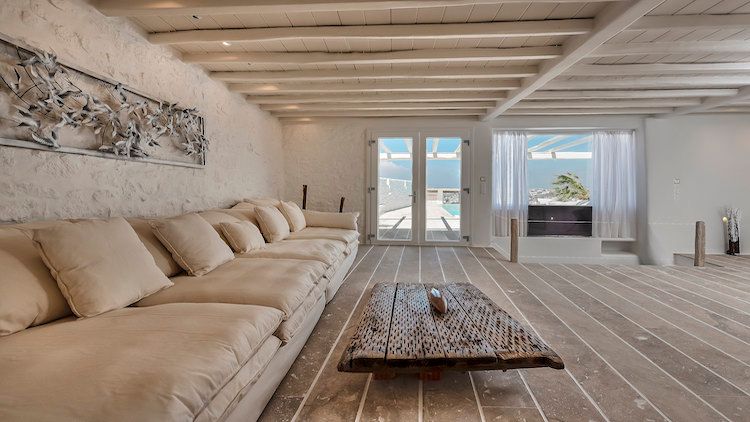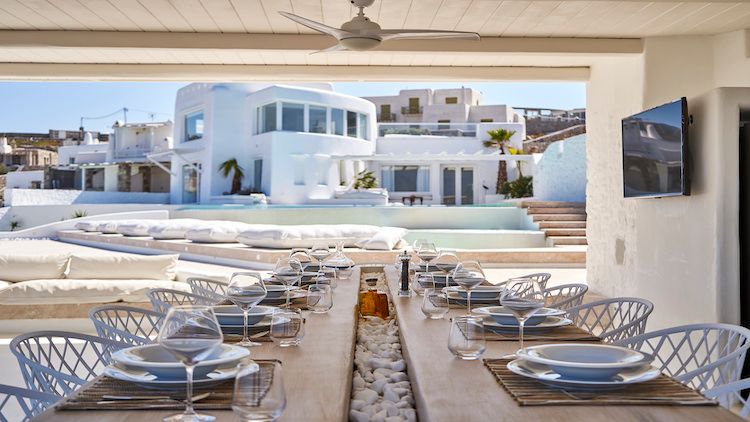 Villa Imperial: Located in the Kanalia area, one of Mykonos most in-demand locations, Villa Imperial is considered one of the most luxurious and largest properties on the island. Bathed in the world famous Cycladic light, and cooled by Aegean breezes, Villa Imperial boasts a private beach, and an adjacent gym and sauna, a swimming pool surrounded by carved granite rocks, a pool bar, large pergolas, and 12 terraces and lounges. Nine beautifully equipped king bedrooms sleep up to 18. Cozy interiors with elegant décor, marble floors, and wood detail provide a relaxed ambience. Just a five-minute drive from Mykonos Town, Villa Imperial offers the ultimate Mediterranean experience, with a superb panoramic view of the Aegean Sea, Mykonos Town, the Old and New port and breathtaking sunsets.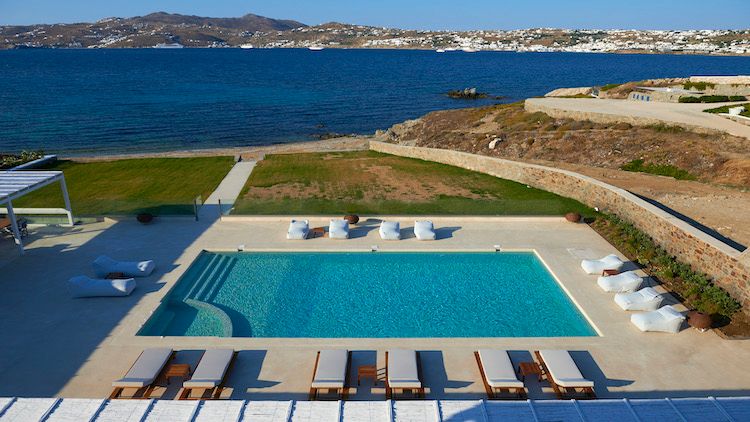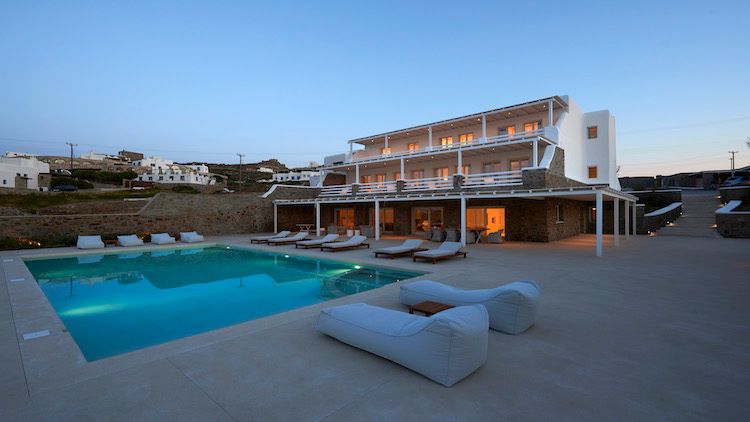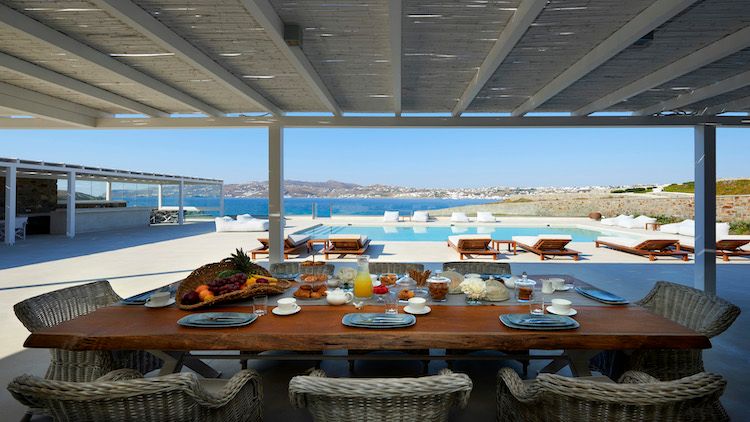 But beyond the stated amenities and attributes of each of these two beautiful villas, it's the service that makes each Haute Retreat getaway a standout. "A dedication to service is crucial to our culture," says Piccinin. "You might find these villas listed on other websites, but you won't find our service and that is what makes us different from the rest. We put the customer first, and anticipate needs; our staff is trained to provide personalized service. We schedule a phone or video call with guests and discuss their wishes and we note the interests of all participants. Human beings create hospitality, and that will always be."