While most of the country sits in a deep freeze or is dealing with dormant course conditions, now is the perfect time to begin thinking about where you and your golf group should visit in 2019.
Should you all head to a resort or course on your must-play lists? Maybe head out to a destination with multiple courses and a little bit of everything within its cozy confines or nearby? Or perhaps your group likes to discover gems in places not really known for golf.
We've got you covered like a blanket of snow (or layers of clothing for those lucky enough to be playing golf this winter). Below is a list of golf destinations that you and your favorite foursome should explore this year.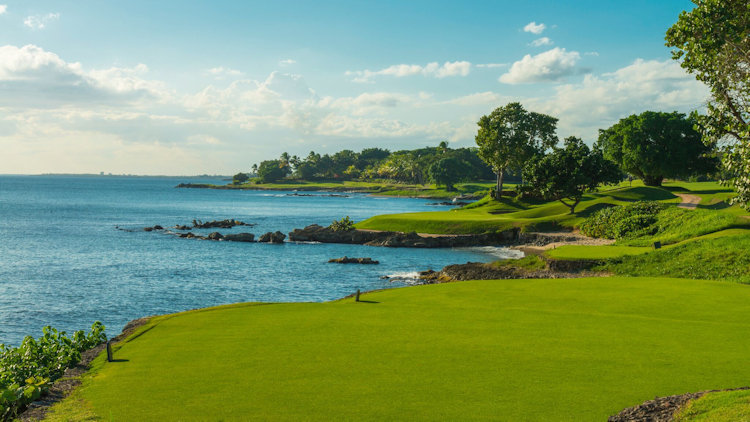 Casa de Campo Resort & Villas
The Dominican Republic's Casa de Campo Resort & Villas is home to the iconic "Teeth of the Dog" course. Since opening in 1974, "Teeth" is widely recognized as the No. 1 course in the Caribbean and is continually ranked in the top 50 courses in the world. Pete Dye's design hallmarks are all present: railroad ties, vast waste areas, peninsula greens and tees, hand-sculpted putting surfaces and a unique assortment of pot bunkers. The oceanfront holes --- affectionately dubbed "The Heaven 7" – are astoundingly beautiful, causing Dye to famously quip: "I created 11 holes and God created seven."
Twenty-seven-hole Dye Fore joined Teeth of the Dog in 2002. Its three nines – Chavon, Marina and Lakes – are distinct. Chavon features seven holes running atop cliffs dropping 300 feet; Marina meanders down to a harbor ringed by restaurants and shops, and Lakes is artfully crafted across tumultuous terrain. Golf course architecture aficionados call Dye Fore "the most underrated course in the Caribbean."
Located in the interior of the property is the resort's third Dye layout, The Links. The moderately hilly track with tall Bahia grass framing bunkers and undulating greens presents spectacular Caribbean views. Slightly over 7,000 yards from the back tees and playing to a slope of 126, The Links is considered one of the most-forgiving courses Dye has designed.
The resort's golf amenities are complemented by spacious hotel rooms, suites and luxury villas. Expertly prepared cuisine from around the world, a 370-slip Marina & Yacht Club, Polo & Equestrian Club, the La Terraza Tennis Center, 245-acre Shooting Club and Altos de Chavon – an artisan's village modeled after a 16th century Mediterranean city – are other on-property highlights. www.casadecampo.com.do


Destination Kohler
Although Wisconsin doesn't normally come to mind when thinking of Spring Break, a trip to Kohler can be an ideal way to kick off the 2019 golf season. Located one hour north of Milwaukee and two hours north of Chicago, Destination Kohler features four Pete Dye-designed courses across its Whistling Straits and Blackwolf Run facilities.
Whistling Straits' The Straits will be the site of the 2020 Ryder Cup. Perennially ranked among the finest layouts in the world, The Straits has previously played host to three PGA Championships and a U.S. Senior Open. As the first resort course to host a domestic Ryder Cup in nearly 30 years, golfers of all skill levels will have an opportunity to play it before 24 of the world's best come to town in September 2020.
Stretching over two miles along the Lake Michigan shoreline, The Straits course features some of golf's most-recognizable vistas. Ranked No. 4 in Golf Digest's "America's 100 Greatest Public Courses," Dye's time-honored trademark of visual intimidation keeps golfers on their toes. Players will need to bring their A-game to tackle the track that's seen Vijay Singh, Martin Kaymer and Jason Day crowned as PGA Champions.
Just inland of The Straits sits The Irish. By masterfully routing the course through large dunes, Dye sculpted a little piece of Ireland in the Badger State. Named "Blind Man's Bluff," the 13th hole features a sunken green obscured by a large dune like the famous "Dell Hole" at Lahinch Golf Club in County Clare. Both memorable and traditional, The Irish proves there is no need to purchase a plane ticket to the Emerald Isle to experience golf in the Old World.
Set in a river basin formed by glacial runoff and a short drive from the charming town of Kohler sits The River and The Meadow Valleys courses at Blackwolf Run. The Meadow Valleys flows along the natural features of the surrounding terrain, winding through pastures and ravines. Tipping at 7,404 yards, The River is characterized by small landing areas, strategic bunkering and large undulating greens. It's a classic risk / reward Dye design that GOLF Magazine has called "the nation's finest public-access course of modern times."
Accommodations include the iconic American Club, the only Forbes Five-Star hotel in the Badger state, as well as the newly-renovated Inn on Woodlake, which works exceptionally well for buddies' trips. www.DestinationKohler.com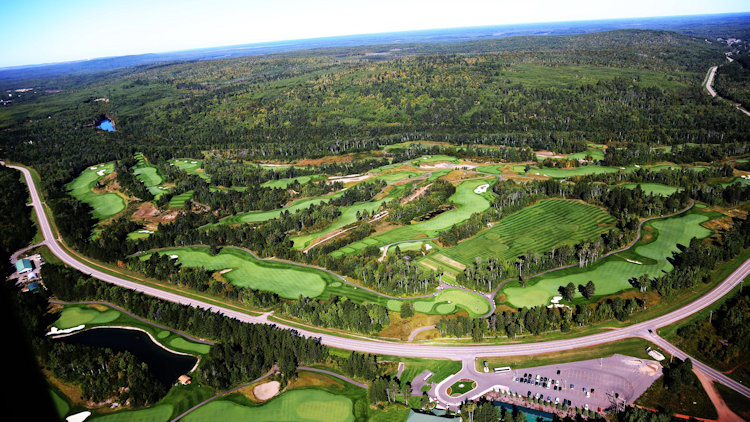 Giants Ridge
Set in the rugged beauty of the Mesabi Iron Range in upstate Minnesota, Giants Ridge boasts two layouts ranked among the best in the Gopher State.
Designed by noted course architect Jeff Brauer, the aptly-named The Quarry is built on the site of a former sand quarry and iron ore mine. Dramatically raised tees and hazards forged from reclaimed and repurposed mine land set The Quarry apart from other courses, and why many publications list it as the top public course in Minnesota.
As its name implies, The Legend offers flat-out legendary golf. Carved out of the Superior National Forest, The Legend is a true "northwoods" course featuring towering pines, giant fairways and majestic views of Wynne and Sabin Lakes. Brauer also designed The Legends, yet is a completely different experience from The Quarry, and one of the reasons why Giants Ridge is considered one of the state's best golf destinations.
Located an easy one-hour drive from Duluth and three hours from the Twin Cities, Giants Ridge offers overnight accommodations – from suites and villas to rustic and modern homes – perfect for golf groups and families. www.giantsridge.com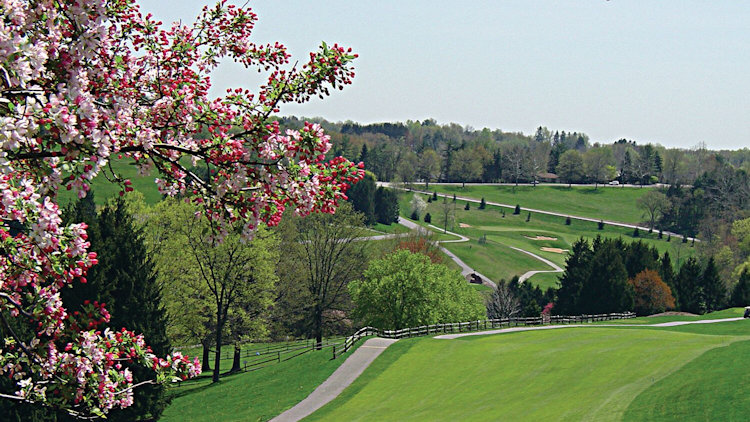 Oglebay
Looking to change things up when it comes a buddies' golf trip? Wanting to go somewhere quaint and inviting, yet experience two championship golf courses designed by golf luminaries?
Situated in the foothills of the Appalachian Mountains in Wheeling, W.V., Oglebay Resort and Conference Center offers exceptional overnight accommodations, world-class amenities and 1,700 acres of year-round recreational opportunities. Among the activities: swimming, tennis, horse stables, miniature golf, fishing, miles of paved walking/jogging trails, shopping and sightseeing.
Golfwise, Oglebay presents four courses, including two championship layouts at the Speidel Golf Club. The par-71 Arnold Palmer design is a modern links layout that takes advantage of the rolling terrain with strategically-placed bunkers, contemporary mounding and ample-size greens. Designed by Robert Trent Jones, Sr., the Jones Course is draped over the hills and dales of a former dairy farm, and hosted the West Virginia LPGA Classic for 11 years. The resort also features the 18-hole regulation Crispin Course – Oglebay's original layout – and a nine-hole, par-3 course.
Accommodations include the inviting, 270-room Wilson Lodge, quaint cottages and spacious estate houses. Throughout the year Oglebay offers exceptional golf packages that match any group, and are chockfull of value-laden incentives. www.oglebay-resort.com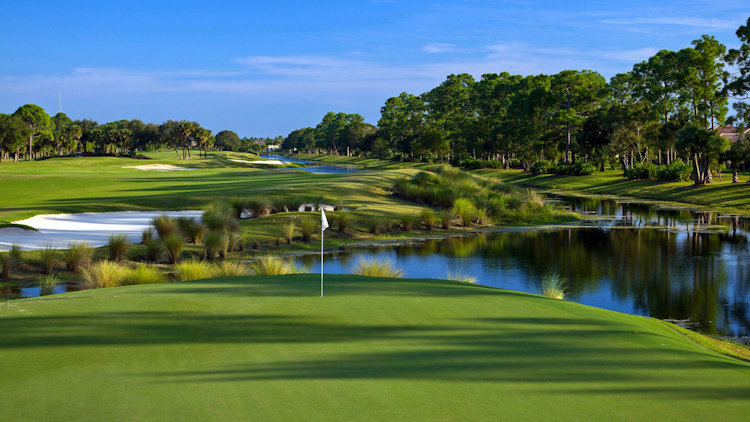 PGA Golf Club
Ranked among the "Top 75 Golf Resorts in North America" by Golf Digest, PGA Golf Club is home to three breathtaking golf courses offering truly unique experiences.
Start with the Wanamaker Course, named in honor of Rodman Wanamaker who inspired the birth of the PGA of America 100 years ago. Widely considered as one of the most picturesque layouts in Florida, legendary architect Tom Fazio designed a course that blends seamlessly into its natural surroundings. Fairways routed around wetlands, over gentle hills and through native palmetto and sabal palms make for an unforgettable round of golf, while large bunkers guarding greens provide a risk-reward element that's hard to find anywhere else in the Sunshine State.
Then there is the Dye Course, which features some of the most elaborate bunkers east of the Mississippi. Designed by the mastermind himself, Pete Dye, and ranked in Florida's top 20, it's as beautiful as it is challenging. Deep pot bunkers, vast coquina waste areas and devilish greens treat guests to a wildly entertaining round of golf.
Named after Samuel Ryder, the namesake and founder of the Ryder Cup, the Ryder Course recently completed a renovation project that enhanced the greens and surrounding areas. The layout meanders over rolling hills and through majestic pine trees, and several lakes and ponds line the fairways and guard the greens, requiring golfers to be sharp on tee shots and approaches. But rest easy, large landing areas make it a treat to play for all skill levels.
In 2021, PGA Golf Club will host the PGA Professional Championship on the Wanamaker and Ryder Courses. The tournament, which will occur in the spring, will be comprised of players who advance from the 41 PGA Section Championships, along with past champions. All four rounds will be broadcast live on The Golf Channel.
PGA Golf Club is located in Port St. Lucie, which is also the Spring Training home of the New York Mets. Throughout the year, the Mets' Class A Advanced affiliate plays games just a few miles from the golf club. PGA Golf Club is less than a two-hour drive from Orlando and Miami – and under three hours from Tampa, Fort Myers and other Florida population centers. PGA Golf Club is conveniently located 50 minutes north of Palm Beach International Airport (PBI), off Interstate 95 in Port St. Lucie. PBI offers nearly 100 nonstop flights to more than 25 cities in the U.S. and Canada. www.pgavillage.com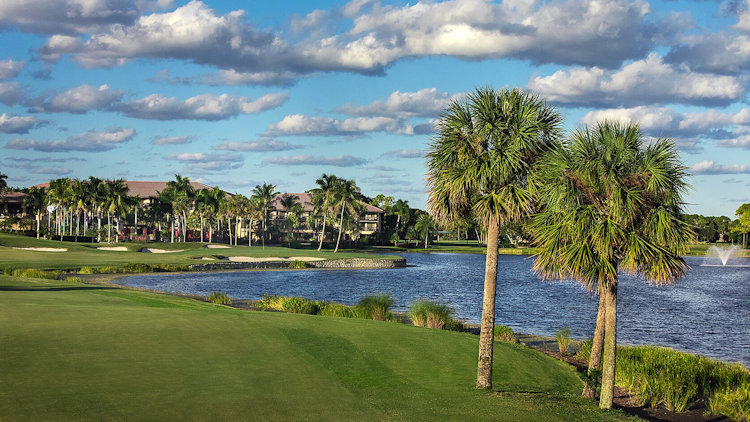 PGA National
If you're a fan of golf, you're probably familiar with the famous "Bear Trap" on the celebrated Champion Course at South Florida's PGA National Resort & Spa. Now is your chance to try and tame it.
The legendary resort features 90 holes of exceptional golf and recently completed a "head-to-toe" renovation by Jack Nicklaus and his design team to the mighty Champion, host of the PGA TOUR's wildly popular Honda Classic. PGA National features four added first-class layouts: The Palmer, The Fazio, The Squire and The Estate.
Additionally, "on campus" are the David Leadbetter Golf Academy and David Pelz Scoring Game School for individual instruction and group clinics; Every Ball Counts – the world's first science-based, statistics-driven training system for golf improvement is offered at its off-site Estate Course; and Cool Club, its state-of-the-art PGA TOUR level club fitting facility.
The resort's 33,000-square-foot world-class Sports & Racquet Club features a wide array of fitness activities and classes, including pickleball and tennis on 18 Har-Tru tennis courts (11 lit for night play). Not to be missed is a visit to The Spa, which recently renovated its ladies lounge with sleek new furnishings, contemporary décor, steam rooms, saunas and indoor whirlpools. PGA National features exceptional dining options for all tastes including its chef-driven Ironwood Steak & Seafood restaurant. www.pgaresort.com/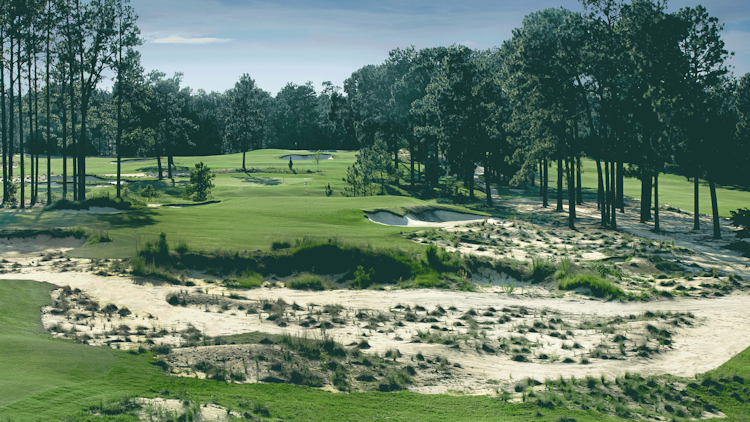 Pinehurst No. 4
In 2017, Pinehurst hired world-renowned golf course architect Gil Hanse to build a 789-yard short course called, The Cradle. After this fun and inviting course opened to critical acclaim, the resort's leadership brought Hanse, along with his partner Jim Wagner, back to reimagine the property's course No. 4.
Hanse equated re-designing No. 4 as a chance to "play in the sand," as nothing in golf compares to the Sandhills region of North Carolina and its underlying soil. His team set out to revive its original sandy, scrubby and rugged aesthetic by restoring the course back to its original landforms. They recreated the hole corridors, reconnected the elevations and restored natural features native to the region.
With a gleaming lake as the centerpiece and natural ridgelines defining corridors, golfers are now treated to a brazen blend of sand, native wire grasses and wider fairways. Golfers of all skill levels will surely appreciate Pinehurst's second rendezvous with Hanse, as both parties continuously set out to create an enjoyable, interesting and welcoming golf experience.
Located just over an hour from Raleigh-Durham International Airport and within a half-day's journey from many East Coast cities, Pinehurst is a surprisingly accessible property. With the many entertaining and unique additions that have been made to the property, including the brand-new Pinehurst Brewery, now more than ever it's a golf oasis worthy of an annual pilgrimage. www.pinehurst.com
Article by Robert Rodriguez