If there is one place that embodies the romance, serenity and physical beauty of the Caribbean, it's
Cap Juluca
. Located along the intimate crescent of Maundays Bay on the exclusive island of Anguilla, Cap Juluca's Greco-Moorish architecture is an exotic fantasy. Trip Advisor named Cap Juluca as "One of the Top 10 Celebrity Honeymoon Hotels." Conde Nast Johansens selected Cap Juluca as the "Most Romantic Hideaway 2013." Brides magazine named Cap Juluca as the 2012 #3 Top Resort in the Caribbean for Honeymoons. View Cap Juluca's
Romantic Rendezvous
package.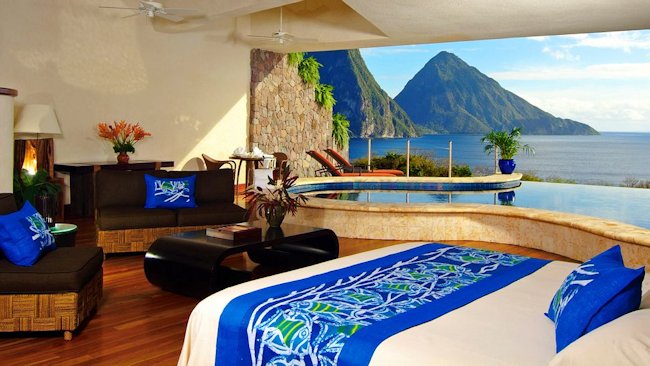 Jade Mountain and Anse Chastanet, St. Lucia
Rising majestically above the 600 acre beach front resort of
Anse Chastanet
,
Jade Mountain St.Lucia
is a cornucopia of organic architecture celebrating St Lucia's stunning scenic beauty. The very essence of Jade Mountain is the celebration of life and love. The boutique resort's spectacular setting and architecture is an unforgettable stage set for the honeymoon of a lifetime. View Jade Mountain's
Total Romance
package.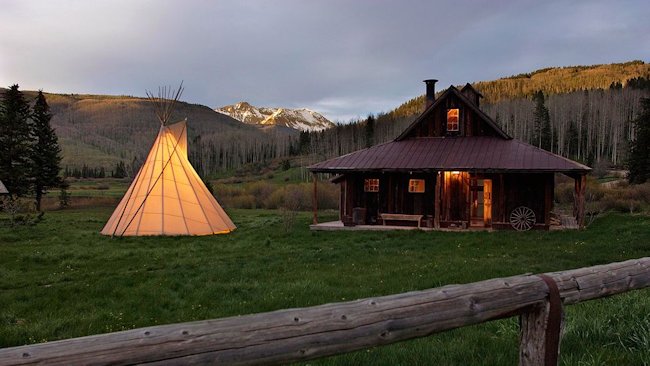 Dunton Hot Springs, Colorado
Dunton Hot Springs
is a restored ghost town set in an extraordinary alpine valley, across the mountain from Telluride. It retains its original character with a little European flair. As you approach Dunton you cross a gated bridge which spans the West Fork of the Dolores River and there is the town laid out before you. Between the wonderfully comfortable cabins, the hot springs and a seemingly endless array of activities, Dunton provides the perfect setting for an intimate honeymoon. View Dunton Hot Springs'
Mountain Romance
package.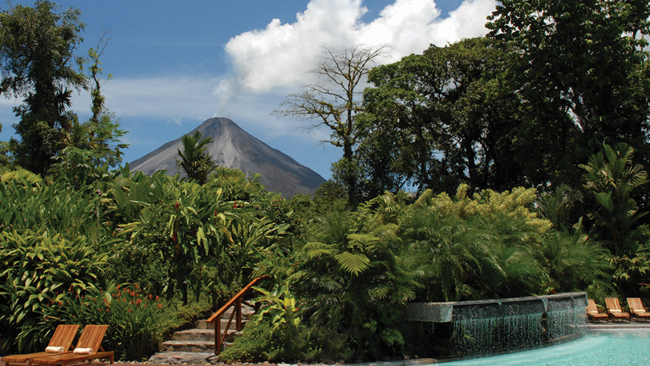 Tabacon Grand Spa Thermal Resort, Costa Rica
Tabacon Grand Spa Thermal Resort
is a five-star carbon neutral resort located in Costa Rica's northern region, at the base of the majestic Arenal Volcano, in the middle of the tropical rainforest. Tabacon's honeymoon packages include many of Arenal's celebrated nature-oriented adventures including white-water rafting in the Sarapiqui River, rappelling along waterfalls in a beautiful canyon, and ziplining above the treetops via one of the multiple canopy tours. Couples preferring something a bit more relaxed may choose o a colorful and educational rainforest hike, a safari float or a horseback tour. For something more active, Arenal also offers challenging activities such as mountain biking, kayaking and hikes. View Tabacon's
Honeymoon package
.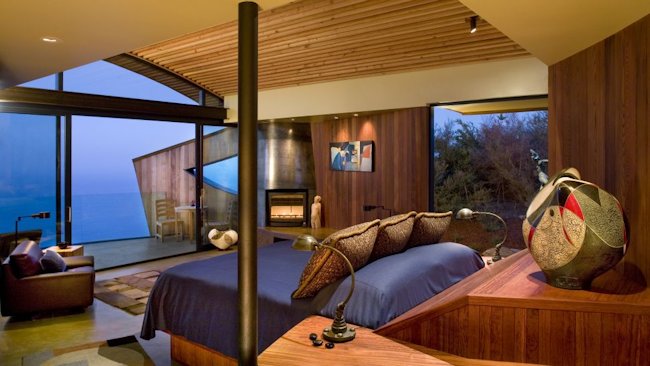 Post Ranch Inn, California
With a setting renowned for romance and natural beauty,
Post Ranch Inn
is an ultimate destination for the honeymoon of a lifetime. The resort offers three Heavenly Honeymoon packages, ranging in length from two to five nights, offering you the chance to begin your lives together with a magical backdrop surrounded by towering redwoods, majestic mountains and endless ocean vistas. View Post Ranch Inn's
Honeymoon packages
.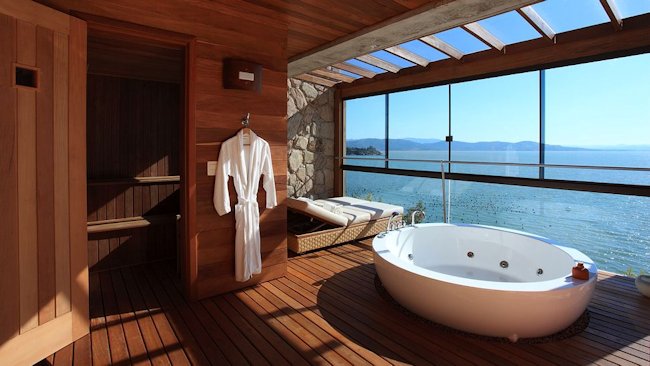 Ponta Dos Ganchos, Brazil
A seductive hideaway located on the Emerald Coast in the southern province of Santa Catarina, the private resort
Ponta dos Ganchos
offers an amazing honeymoon getaway. Ponta dos Ganchos is a truly romantic destination, but it is also more than that. It is a unique hideaway that will surprise you constantly. In addition to all the unexpected delights throughout your stay, you will be treated to flowers and champagne in your bungalow and the unforgettable experience of dining together on the resort's exclusive private island. View the resort's
Honeymoon packages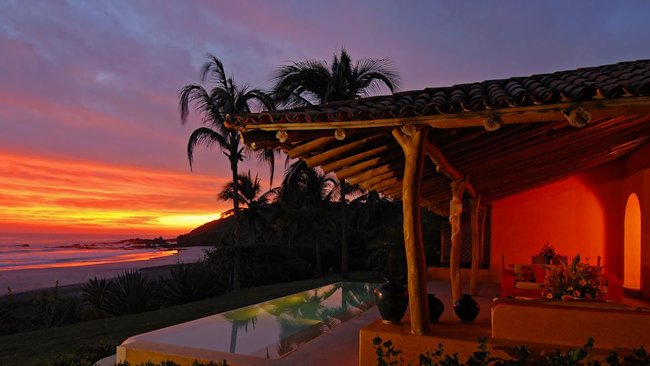 Las Alamandas, Mexico
Las Alamandas
is a truly unique estate stretched over 1,500 acres. Once on property, your fantasies come true with world-class amenities, pampering by a highly attentive staff, exotic delicacies, and any inquires designed specifically for you to create unforgettable memories. Each day can be filled with different activities: leisurely picnic on a deserted beach, kayaking excursions, or spa treatments and massages.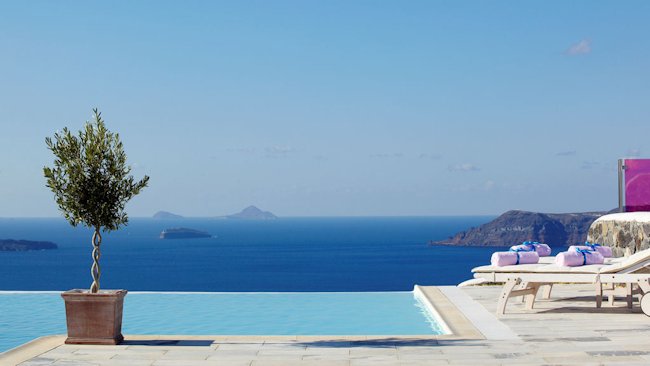 CSky Hotel, Santorini
Discover a signature blend of romance and Mediterranean sensuality at CSky Hotel. The hotel sits 300 meters above sea level offering stunning views over the volcano and the deep blue of the Aegean Sea. With only 7 accommodations
CSky
feels like your own private hideaway where you'll be pampered from morning till night. CSky is also an amazing location for a
destination wedding
.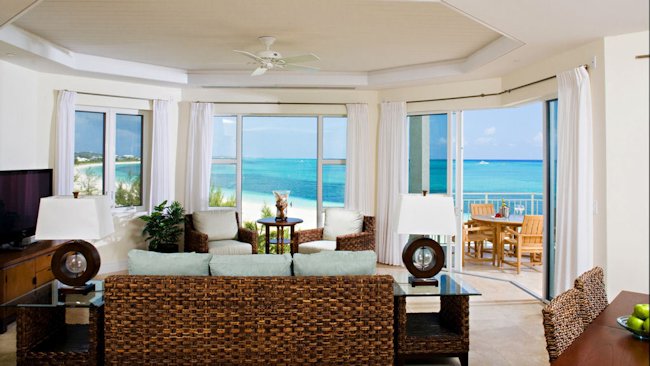 West Bay Club, Turks & Caicos
West Bay Club
is one of Turks & Caicos finest luxury hotels. Located in Providenciales on the tranquil shores of Grace Bay, it offers a peaceful and luxurious retreat. With an architecture and style that gracefully blends Caribbean charm with modern chic. West Bay Club features 47 luxuriously appointed ocean front suites and a boutique range of amenities - all placed directly on the white sands of the Turks and Caicos most famous attraction: Grace Bay Beach. Enjoy a romantic beach dinner for two and an in room couple's massage. West Bay Club offers
the perfect Turks & Caicos destination wedding location
.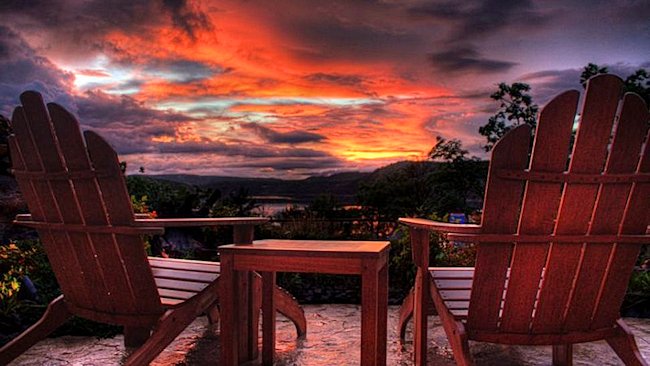 Stonewater Cove Resort, Missouri
For couples who enjoy the rugged outdoors intertwined with pampered luxury. A private, lake and wilderness retreat of nearly 500 acres forested foothills. Nestled on the shores of Table Rock Lake, surrounded by Mark Twain National Forest, this luxury resort combines tremendous natural beauty and outdoor fun with unbeatable indoor luxury.
Stonewater Cove
is a remote, boutique getaway for romantic trips, weddings, and honeymoons. Lake. Forest. Adventure. Spa. Bonfires. Sunsets. Boating. Zip Lining. ATV Riding. Fishing. Kayaking... and the list goes on. The resort's Treehouse Spa perfectly showcases the resort's core fusion of rugged forest and refined luxury. Celebrate your
wedding
in this dreamy location.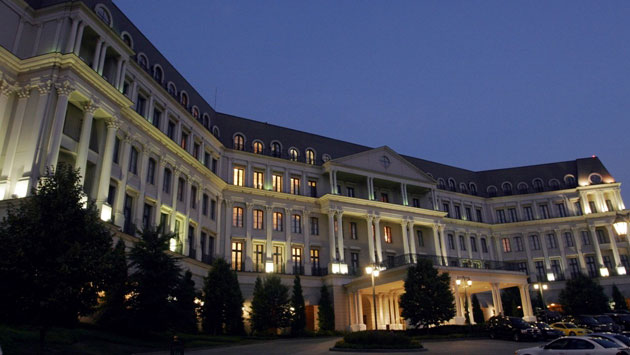 Nemacolin Woodlands Resort & Spa, Pennsylvania
Nemacolin Woodlands Resort & Spa
is a luxury honeymoon destination on 2,000 wooded acres in the Laurel Highlands of Southwestern Pennsylvania. For adventurous couples who also love luxury, stay in the
Chateau Lafayette
modeled after The Ritz Paris by night and indulge in endless outdoor
activities
by day. For extra luxury request a room on the 'Club Floor' with your own private butler. Visit Frank Lloyd Wright's Falling Water nearby.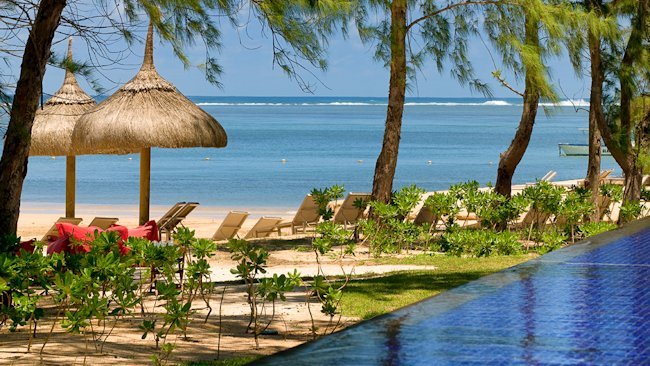 Hotel Sofitel So Mauritius
Lush vegetation, a turquoise lagoon, a quietly flowing stream:
Hotel Sofitel So Mauritius
, located on the wild south coast of the island, brings you to one of nature's finest settings, on a wide open beach but surrounded by nature. Soothing, elegant and naturally sophisticated and the attentive service will make your stay unforgettable. The resort offers a 'Magnifique Romance' package and a wedding package.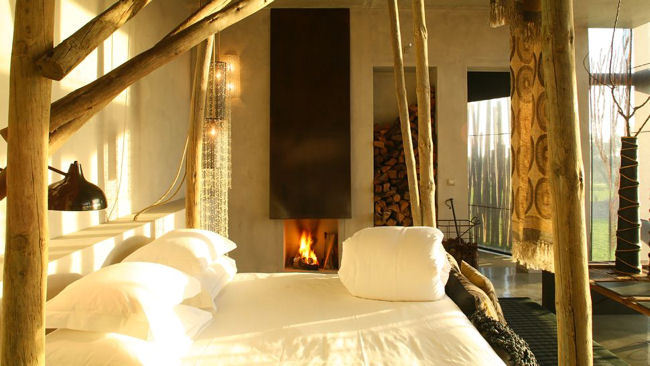 Areias Do Seixo Charm Hotel & Residences, Portugal
Areias Do Seixo Charm Hotel & Residences
is a magical place less than one hour from Lisbon. A haven in nature -- the pine trees, the dunes, and the sea whisper their secrets in your ear. Feel the originality, comfort and sophistication in a perfect synthesis with the land. Open the mysterious door of the SPA and immerse yourselves in unique sensations. Return to the origins, with no hurries, in a place where "to feel" is the main verb.