At Duba Plains Camp, part of Great Plains Conservation, the game drive vehicles are extra-high Land Cruisers with thick tires and an impressive snorkel. Fording through water and mud is part of the experience and the excitement of being in the Okavango Delta, in Botswana. A UNESCO world heritage site, it is a truly pristine wilderness, one of the few left on our over-utilized earth. A seasonal, alluvial fan-shaped delta, it has variable wet and dry seasons. Duba Plains Camp is situated on an island, the only camp in the 75000 acres of the Kwedi concession. A low wooden bridge over water, links to nearby land. The only access to this remote region is by plane. I arrive on the private air strip, on a Mack Air flight from Maun.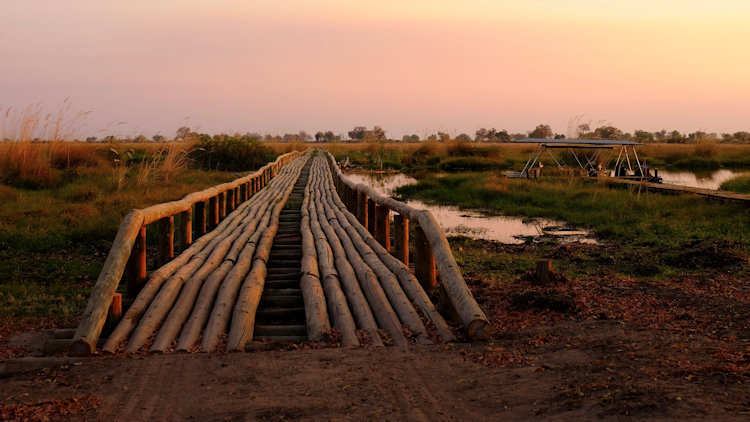 Only five tented suites are positioned along a permanent water channel, so it is an intimate camp, offering an intensely personal and flexible experience. In traditional 'Out of Africa' style, the lodge is furbished with items reminiscent of the Hemingway era, like red Persian carpets, brass ornaments and furniture elegantly carved from dark woods. Representing the Victorian preoccupation with world travel, eclectic items such as china vases, crystal and silver are placed alongside letter writing boxes and patterned glass. A curated wine collection is stowed in an air-conditioned wine cellar. The communal area comprises a reception area, inviting lounge, a library and an undercover dining space, that lead directly onto an open air dining area, plus a boma with fire pit. The panoramic view through to the vast floodplains is visible from each space. Ancient African Ebony trees provided shade and entertainment, with birds, tree squirrels and occasionally vervet monkeys.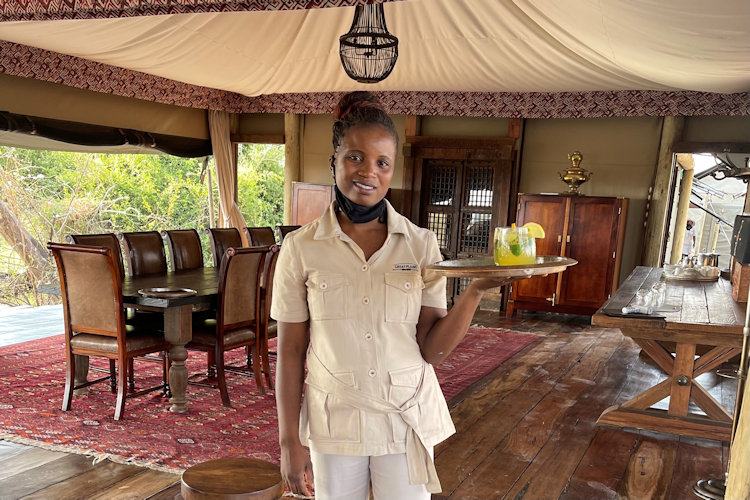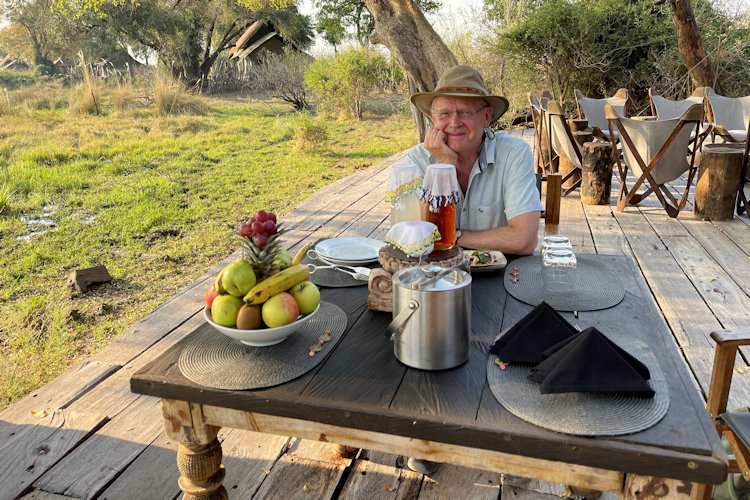 As Duba Plains Camp is unfenced, elephants can freely browse from the sycamore fig or mangosteen trees, a leopard cough may be heard, or the roar of a lion might reverberate through the air. At night, I am escorted by a guard who grew up in Botswana, so is relaxed about the possibility of meeting big game on the way to my tent. With only torchlight or a lantern, myriads of stars are visible and the milky way is a lucent bridal arch.
My stilted tent is spacious, with a canopied bed draped with mosquito netting, a lounge section with studded lather chairs, plus an antique style liquor cabinet and writing desk. As well as an indoor shower with brass fittings, the en-suite bathroom sports twin basins and a splendid copper bath. My outside shower faces a sweeping view. The front of my tent is permanently open, with fly screen as a barrier, ensuring a flow of sweet air.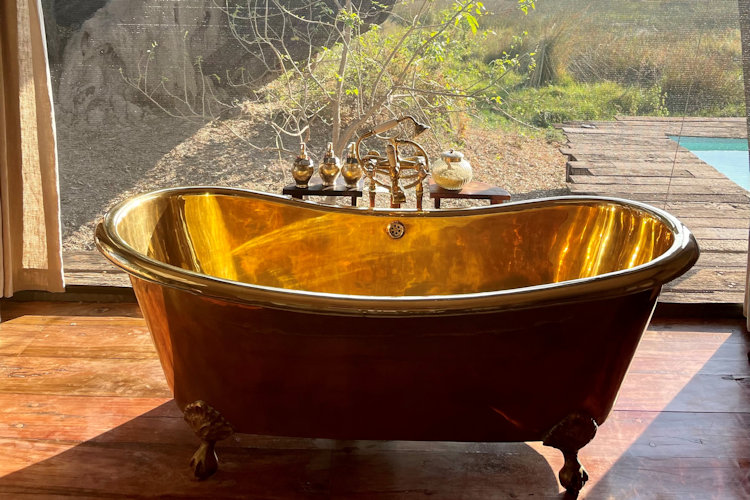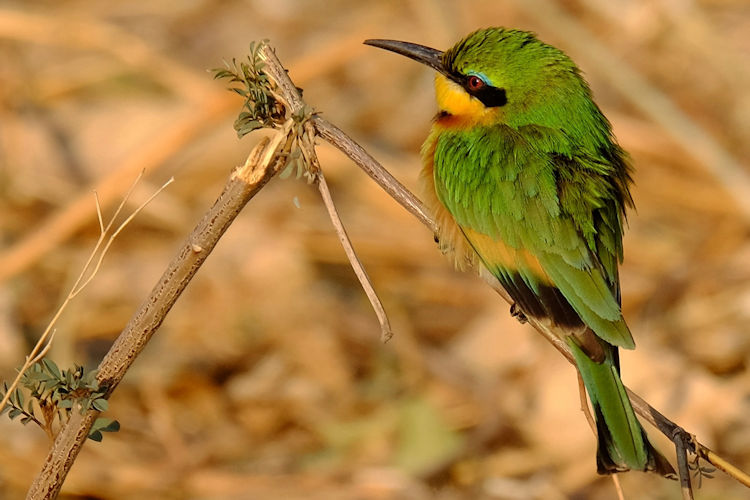 In front of the tent, my deck - constructed from the recycled wood of railway sleepers - has a plunge pool with loungers where I can join the lizards to bask in the sunshine. A thatched gazebo is perfect for watching warthogs rooting for bulbs and tubers on their bended knees, or timid bushbuck, as I savor a glass of iced white wine. Lingering here is pleasant, but I grab the Swarovski binoculars provided in the tent for guests to use, sling my camera over my shoulder and head off to join my game guide for a drive.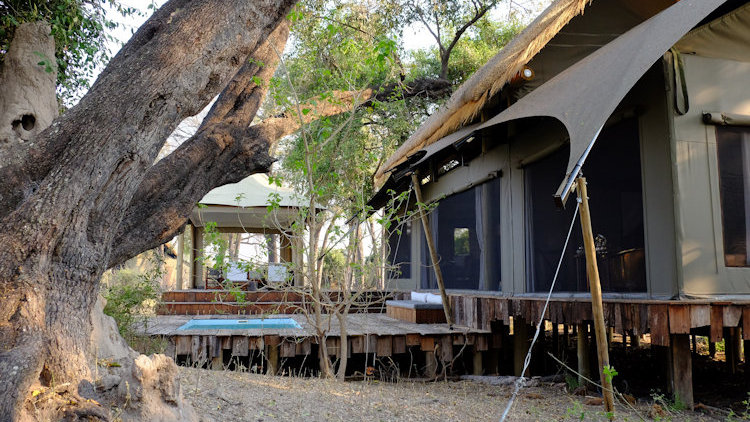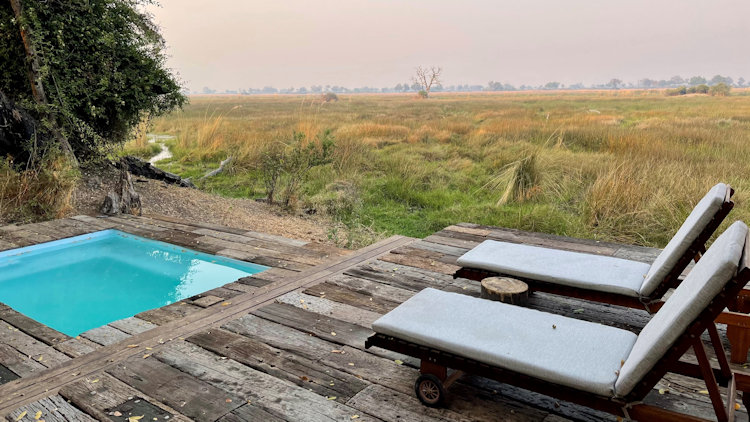 As well as a wide variety of game and bird species, the numbers that aggregate are astounding. Hundreds of Lechwe congregate on the plains, as scores of endangered wattled cranes spiral above date palms. This concession is renowned for predator sightings. I watch a lion pair feasting on a buffalo kill, in-between bouts of mating. We just miss a wild dog hunt, but observe white-backed vultures in a skirmish over the scraps. Side striped jackal seize the opportunity to snatch some morsels when the hooded vultures are distracted.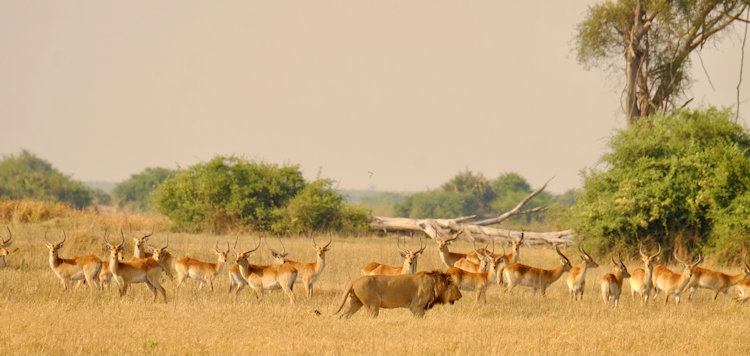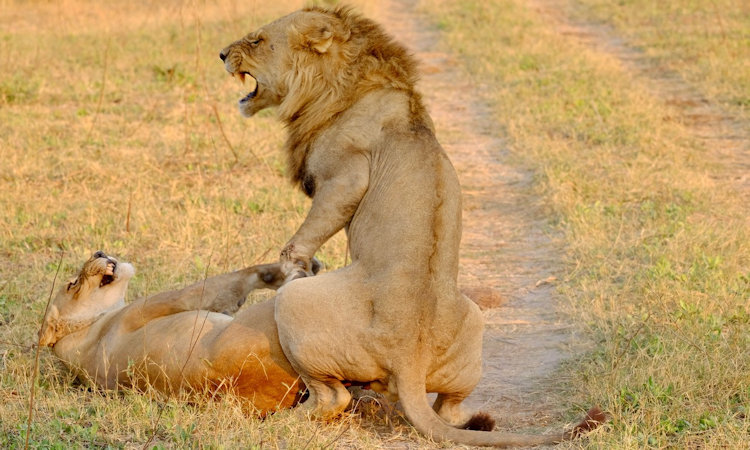 The flat, grassy terrain is punctuated with white termite heaps that protrude 10-16 ft into the air, providing vantage points for cheetahs, baboons on sentry duty, or for red-billed spurfowl. Our sunset stop is next to a reed-fringed pool, decked with water- lilies, where a lone hippo is watching us warily. Covered in scratches and fresh wounds, he has clearly been banished after a fight for territory. My guide whips out a portable table, flourishes a cotton table cloth, then lays out snacks and a selection of single malt whiskies, my preferred evening tipple. As I savour a 12 year old Singleton, streaks of pink light are reflected in the still pool. Bell frogs begin their tentative tinkling call, as a fiery-necked nightjar whistles a plaintive, 'good Lord deliver us'.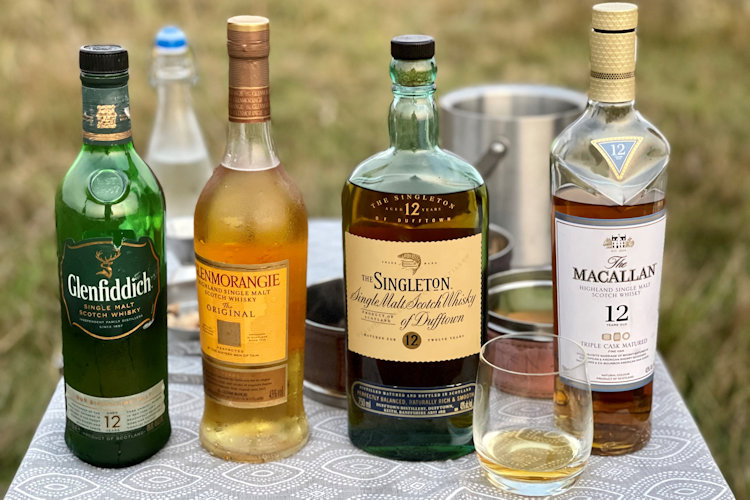 A spotlight is necessary as we return to camp, so we are looking out for eyes reflected in the beam. An African wild cat is hunting, perhaps for frogs or mice, a marsh owl lands in the grass and we spot an African civet picking his way around a candle-pod thorn. As I reach camp, warm water from a copper jug is poured over my hands. Next to a campfire, guests speak animatedly about their sightings, before we dine at tables on the deck. Returning from dinner, I find a bubble bath ready for me, with champagne on ice and red towels fashioned into a soft sculpture.
Co-founders of Great Plains Conservation, Beverly and Dereck Joubert chose this area for their National Geographic filmmaking and photography and tellingly, for their private home. Duba Plains Camp is placed unobtrusively in nature nirvana, in an unforgettable environment for an African safari.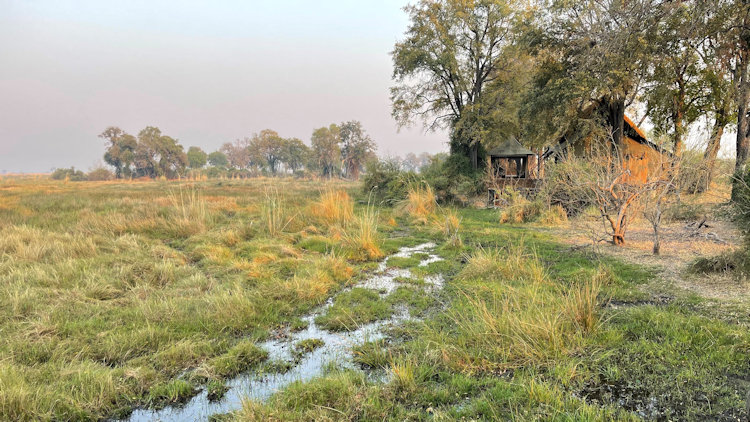 Getting There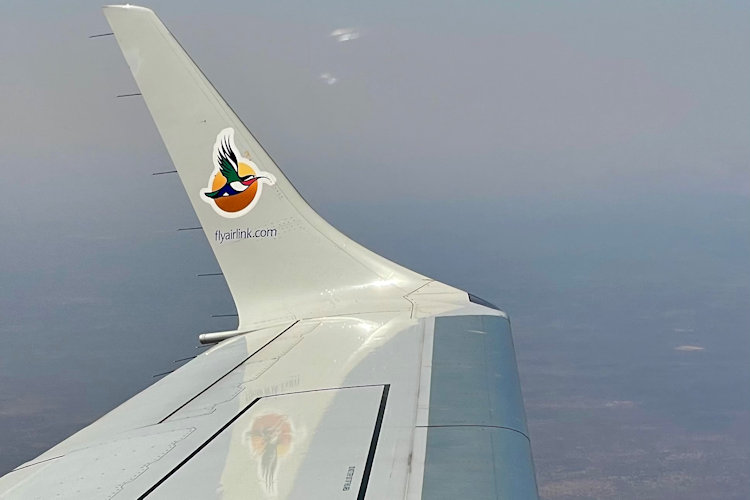 Airlink
Airlink operates direct scheduled flights from Cape Town and Johannesburg to Maun (Okavango Delta), Botswana.
Book direct on www.flyairlink.com, or the FlyAirlink app or with your favorite travel agent.
A privately-owned, full-service premium regional airline, Airlink offers the widest route network in Southern Africa, offering more flight choices and more connectivity.
With more than 50 aircraft in the fleet, Airlink's on time performance is consistently better than 95%, this is a clear indication of our determination and commitment to remain synonymous with customer centricity, punctuality, service excellence and reliability.
Travelers can also enjoy the benefit of intra-continental style business class service on select routes operating our magnificent Embraer E-190 / E-170 regional jets.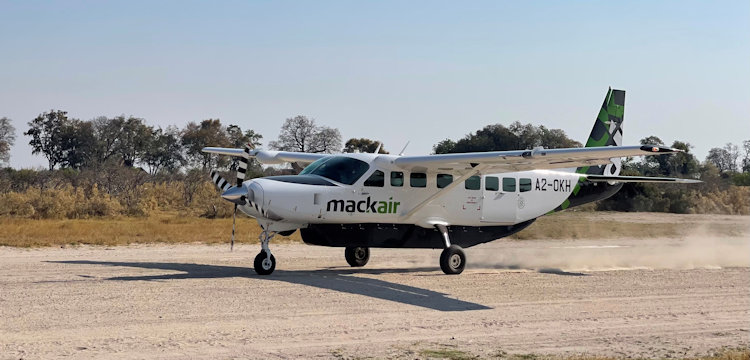 Mack Air
Mack Air is one of the most advanced charter companies in Southern Africa. Operating in Northern Botswana for over 25 years they have developed intimate knowledge of the country and can access any runway, however remote. Mack Air has a versatile fleet of over 24 aircraft. Trustworthy, efficient and personable service is offered from take-off all the way through to landing. Taking you where you need to be, on a higher level!
For more travel features by Gillian McLaren (@Jetset_Gillian): www.gillianmclaren.blogspot.com
Lead photo image credit: Great Plains Conservation