On a late fall visit, the property lay nested in a magnificent mix of russet, rouge, and burnt umber. Come May when Hidden Pond reopens for the 2015 season, it will be swathed in soft greens and pastel-colored blossoms.
Depending upon your needs, you can reserve either a two-bedroom cottage or one-bedroom bungalow. The sixteen cottages (each decorated by a different Maine-based designer) appeal mainly to families who appreciate the specious living and dining areas, fully equipped kitchen, two bedrooms, and private bath. The property's twenty bungalows, as my husband and I discovered, are ideal for couples. Away from the main lodge, these cozy abodes let you bask in your own Private Idaho, which comes with a floor to ceiling stone gas fireplace, private screened-in porch with a daybed for two, indoor and outdoor showers, plush Frette linens, and a wet bar.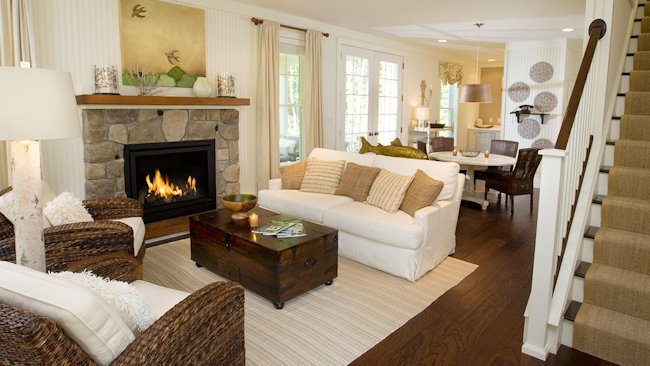 After pulling through the main gate, we wound our way past clusters of cottages to the main lodge, an airy Arts and Crafts-style structure with a comfy seating area offering complimentary tea and tasty homemade cookies. This is where you pick up your keys before parking your car in front of your cottage or bungalow.
Beyond the concept of rustic luxury Hidden Pond is all about celebrating the beauty of nature. Walking trails surround the resort and natural materials, such as wood and stone, fabricate the buildings and embellish the insides. The restaurant Earth, for example, features a wall made from the round ends of logs and a "chandelier" of tree branches strung with tiny white lights. The main lodge has a decorative stick mosaic above registration and chairs made from twisted tree limbs. In the cottages and bungalows, stones pave fireplaces and floors and tree branches curve into hanging lights. The resort even has a resident gardener, who oversees the vegetable, herb, and flower gardens.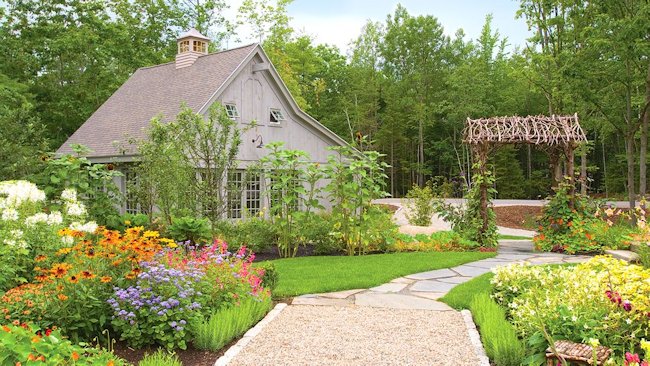 Depending upon when you visit, you can help plant seeds in the garden or harvest its offerings for your own pleasure. During our stay the flower garden brimmed with blooms, so I headed to the nearby potting shed for some shears and a vase and created a lovely arrangement to brighten our room. The garden's botanicals also make their way into treatments at The Treetop Spa, such as the Herbal Garden Body Exfoliation, as well as into cocktails and dishes at restaurant Earth. Boston chef and James Beard Award winner, Ken Oringer, helped create the menu, which draws heavily on Maine's edible bounty – its seafood, cheeses, vegetables, and honey. Some of the seasonal dishes you might enjoy include wood fire-roasted lobster with Meyer lemon and curry leaf and grilled swordfish with tomatoes, sausage, and local clams. The wood-fired pizzas are popular with kids and adults, along with the after-dinner S'mores, available either outside Earth or behind the Back Porch Bar (located off the main lodge). Order a nightcap and then take a seat around the bonfire, whereupon you'll be handed a basket filled with graham crackers, marshmallows, and a Hershey bar. This is "glamping" at its best.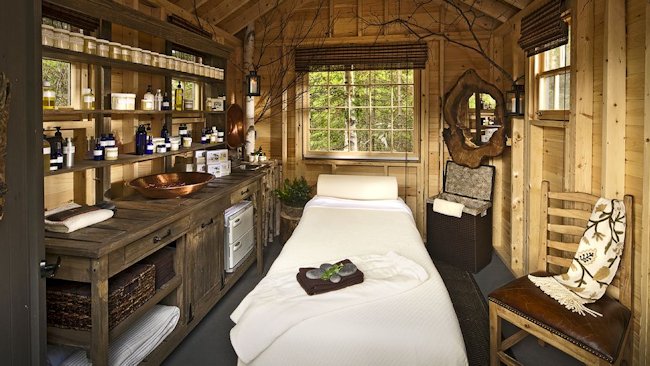 Depending upon your energy level, you can do a lot or very little at Hidden Pond. The resort creates a weekly schedule of activities, beginning with early morning yoga or a boot camp class on nearby Goose Rocks Beach. For breakfast, the staff leaves a basket of outside your door filled with such goodies as fruit salad, a veggie quiche and pastries in addition to a thermos of coffee.
There are bicycles to ride, paths to hike, and an Adult Only pool and child-friendly pool to lie around or swim in. Kayaking, watercolor lessons with the resident artist, and standup paddleboarding can be arranged for an additional fee, along with private picnics. You also can visit Hidden Pond's sister property, The Tides Beach Club, and hang out on Goose Rocks Beach. Then, of course, there is downtown Kennebunkport to explore what with its many gift shops, galleries, and clam shacks. But one of the greatest pleasures we found at Hidden Pond was simply lounging in our room, reading, napping, and relaxing to the chirp, rustle, and flow of nature.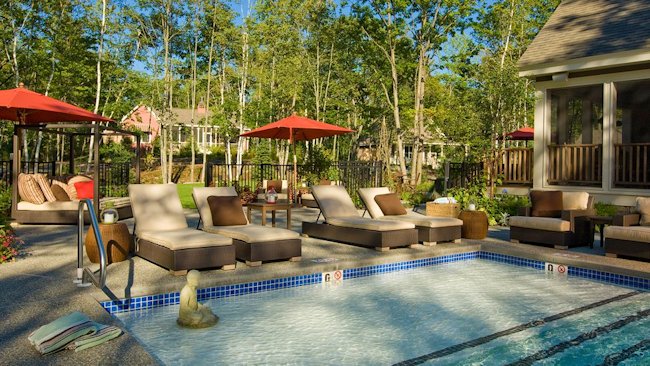 Visit website:
www.hiddenpondmaine.com