The world's second busiest airport continues to expand its infrastructure and services with the addition of China's first-ever five-star airport hotel and conference facility. Hilton Beijing Capital Airport hotel and conference facility, located right at the Beijing Capital Airport, now provides business and leisure travelers the onsite services, amenities and convenience of a luxury international hotel within minutes of the new international terminal.
The new Hilton is part of the continued expansion of Beijing Capital Airport facilities and infrastructure. Beijing Capital Airport is celebrating the second anniversary of the grand opening Terminal 3, the state-of-the-art international terminal that at the time of its opening was the second largest airport terminal in the world in terms of area covered and a showcase landmark for the expansion of Beijing as the gateway to China. Beijing Capital Airport, which served more than 65 million business and leisure travelers last year with as many as 1400 flights coming through daily, was named by Conde Nast Traveler magazine the World's Best Airport in 2009. In addition to expanding airport facilities major investments were made expanding access to and from the airport with the 2008 opening of the Airport Express Line of the Beijing Subway and three new expressway access points opened in the last few years.
Hilton Beijing Capital Airport, located right at Terminal 3, features more than 320 guest rooms, seven restaurants and bars with 32 private dining rooms, two ballrooms and 21 board rooms with more than 3,000 square meters of meeting space, executive concierge services, a luxury spa and state-of-the-art fitness center. The facility is 72,000 square-meters in size built on more than 28,000 square meters of land that provides ample room for on-site event parking as well as walking gardens.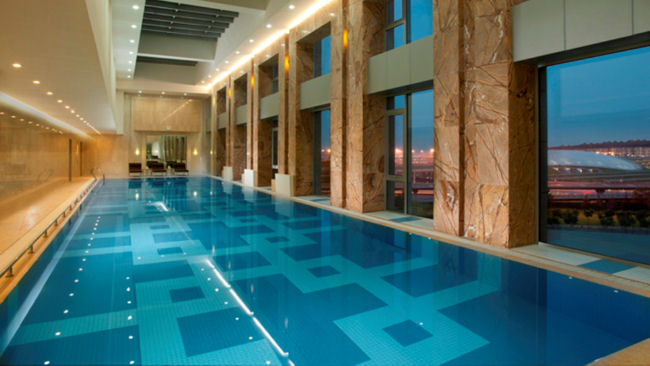 In addition to balancing the needs of both international travelers and meeting planners, designing this unique hotel required striking a balance of international and Asian influences. The restaurant mix, for example, includes a wide range of offerings that run from fine Cantonese, served in all private dining rooms for the local business community, to prime aged steaks, to 24-hour convenient service for late-night travelers. Each location within the new Hilton has a unique profile with menus created by chefs specializing in that specific cuisine.
Meeting facilities were designed to balance the needs of different types of functions; with each ballroom has a private entrance, check-in and networking or entertaining areas. The meeting rooms, which are directly connected to the ballrooms to make for easy and convenient breakout sessions, include a mix of conference table and seating styles that are popular with both Asian and Western executive meetings. All meeting room areas are equipped with state-of-the-art technology.
Located a few minutes from BCA Terminal 3 by free shuttle bus, the hotel is in close proximity to the Express Rail station and is only 16 minutes to the city centre, and a 10 minute drive to the new China International Exhibition Center. The Wangjing Business District, Great Wall, Olympic Village and Summer Palace are all less than 45 minutes by car.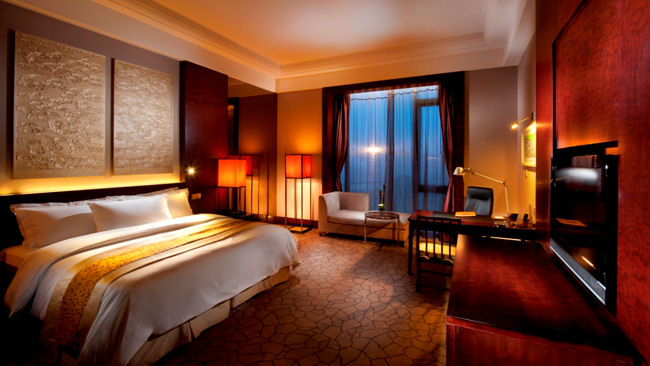 The property offers 322 rooms that range in size from 45 square meters with 3.5-meter-high ceilings to a 365-square-meter Presidential Suite. There are 18 two-story, two-bedroom duplexes and all rooms have contemporary designs, separate walk-in showers, 37-inch flat panel TVs, high-speed internet access, with complimentary access to the Executive Lounge for Executive Room and Suite guests.
The hotel's seven restaurants and bars cater to every culinary need. My China has chefs from Sichuan, Hunan and Beijing and offers both private dining and open restaurant seating. YueShang specializes in Cantonese fare served in all private dining rooms. Compass Grill features two open kitchens, one for grilled steaks and seafood and one with a dedicated Tandoori chef, a special aging room for prime beef and an extensive wine list. Other features include an international buffet, 24-hour service, a Cuban cigar bar and an entertainment lounge featuring the longest bar in Beijing.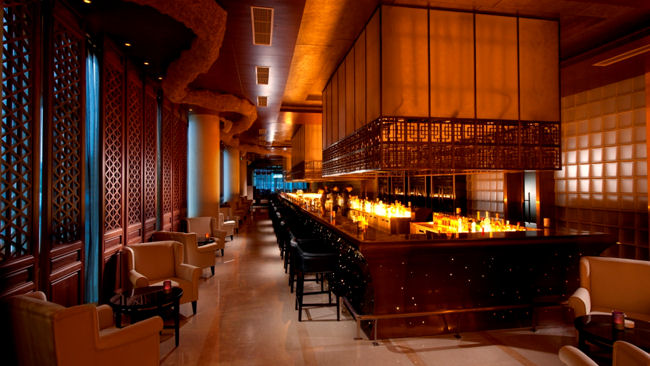 The hotel features more than 3,000 square meters of meeting & function space with two large ballrooms and 21 breakout meeting rooms which are designed to service a range of meetings, training programs, conferences, exhibitions, weddings, parties and private events. All conferences and events can be serviced by the Hilton's suite of restaurants, state-of-the-art technology and translation booths as well as professional engineering and audio-visual support services. Guests have full access to comprehensive business center and executive concierge services.
The Hilton Spa has five fully equipped treatment rooms with private baths. The fitness center is outfitted with Techno Gym equipment including dual-action training machines, treadmills, upright cycles and functional training glides, as well as a 25-meter indoor swimming pool.