Even in a destination as rich in sightseeing opportunities as Venice, guests at one hotel in the floating city might find their temporary home is the grandest spectacle of their vacation.
Housed in the majestic 16th-century Palazzo Papadopoli, Aman Venice expertly combines contemporary luxury with perfectly preserved heritage throughout its grand suites and reception-rooms.
Arriving via water taxi along the Grand Canal, hotel guests are greeted by the imposing sight of the Palazzo as soon as they slip under the Rialto bridge, instantly recognizable by the two tall obelisks on its roof.
The Palazzo buildings were constructed in 1560 and are enough of a landmark to feature in a painting by Paolo Veronese, which hangs in Dresden's Gemäldegalerie, and to have been drawn by JMW Turner.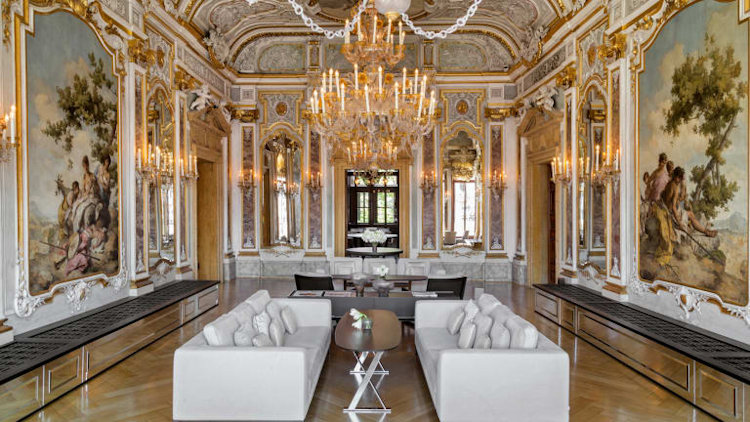 "It's impossible to visit Venice and not fall in love with city and its romantic atmosphere, marvels of art and history and outstanding cuisine," says Petros Stathis, owner of Aman Venice. "But all too often its hotels don't do the city justice when it comes to delivering accommodation befitting of the city's grandeur."
Stathis's hotel certainly doesn't fall short of the mark in the luxury stakes. There are few spots as spectacular to start your day than taking breakfast under the frescoed ceiling of the hotel's opulent 'piano nobile', with doors opening onto a balcony that overlooks the bustling canal.
The hotel's interiors feature 18th-century frescoes by Tiepolo and Murano glass chandeliers alongside ultra-modern furniture and contemporary lighting. Guests feast on indulgent Venetian fare curated by the Michelin-starred chef Davide Oldani and watch the gondolas floating past from the secluded garden or a sofa on the private deck. As the sun sets over the city, there is no better place to enjoy a cocktail and take in the view than the hotel's roof terrace.
"With Aman Venice we wanted to create the very pinnacle of refinement," says Stathis. "The level of detail that has been put into the design is truly mind-blowing and as sumptuous and romantic as the city itself."
Celebrity visits are commonplace, including George Clooney who chose the venue for his marriage with Amal Alamuddin. The couple stayed in the breathtaking Alcova Tiepolo suite, with its gilded stucco reliefs, Chinoiserie paintings and Tiepolo's cherub-packed ceiling fresco above the huge four-poster bed.
"A luxury hotel should offer a complete escape from the realities of day-to-day life," says Stathis. "Our aim with Aman Venice was to build a world where guests feel both comfortable and awed by their surroundings, with all their needs met without a moment's hesitation."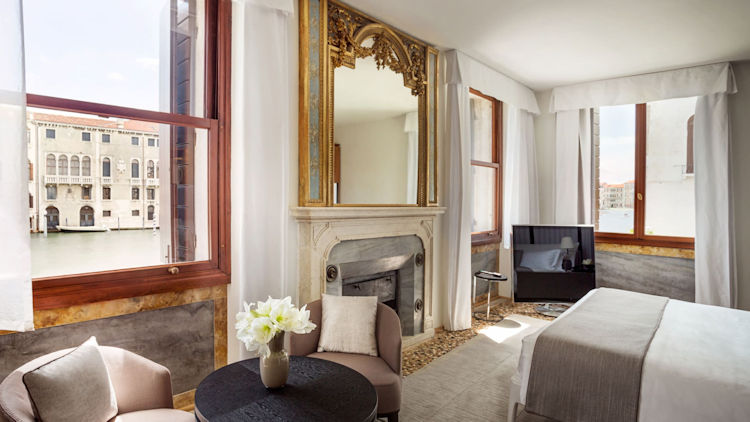 Located in a quiet spot within the San Polo district yet in the center of all the city has to offer, Aman Venice is just a short walk from the Rialto Bridge, the San Tomà and San Silvestro traghetto for access to St Mark's Square. Guests can enter the hotel via its private jetty or a discreet side street entrance.
After a busy day of sightseeing, guests can unwind in the intimate spa, tucked away in the hotel's garden building. The spa is more modern in style than the rest of the palazzo, characterized by its Asian-inspired wooden accents. Therapies offered in the three low-lit treatment rooms – one with a soaking tub – include body scrubs, massages and facials. There's also a small but well-equipped gym with strength machines, free weights and sweeping Venice views.
Aman Venice seeks to set itself apart from other hotels with its friendly, helpful and discreet service. There is no formal check-in desk – instead, all business is handled in the privacy of a guest's room, and concierge are on hand 24/7 to offer personalised recommendations matched to each guest's preferences.
"With Aman we are proud to have set a new five-star standard for Venice. We want the hotel to be a home away from home for our guests, and the service must reflect that," says Stathis. "In a city with so many accommodation choices, ultimately it's how you treat your guests that truly sets you apart."
Make a reservation at Aman Venice