Enter MS Koningsdam, Holland America Line's newest ship that's rightfully earning raves – ours included – as the most luxurious and largest offering yet from the cruise line. She is the first Pinnacle-Class ship in their 14-ship fleet. We know the fleet well having cruised the Panama Canal on the Maasdam, the Baltic and a transatlantic crossing both aboard Westerdam, the Norwegian Fjords on Rotterdam, and two times in one year to the Caribbean on Nieuw Amsterdam, HAL's second newest ship.
So, yes, we eagerly awaited Koningsdam's arrival in American waters (after her European debut) and were rewarded with a gleaming beauty when we stepped aboard at her home port in Ft. Lauderdale.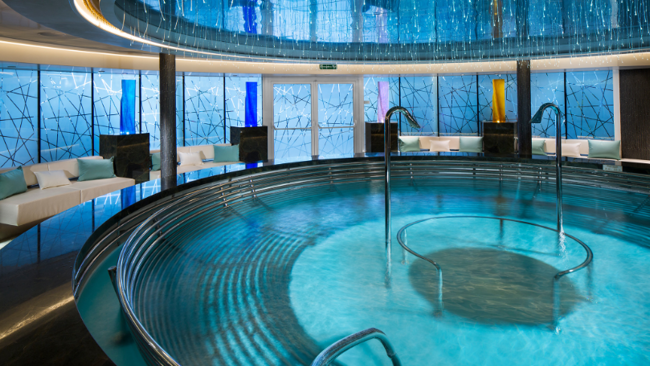 Quick facts: Koningsdam, at 99,500 gross tons, can accommodate 2,650 guests and 1,025 crew amid 13 decks. Crew-to-guest ratio is nearly 3 to 1. The name continues the HAL tradition since 1883 of ending each passenger ship's name with "dam." "Koning" means king in Dutch, and honors His Majesty King Willem-Alexander, the first king of the Netherlands in more than a century.
What instantly stood out? First, the ship's stunning design; also, the Culinary Arts Center and Sel de Mar as new dining discoveries; plus music at BB King's Blues Cafe, which drew a full house nightly not only for rousing live music but dancing, as well, in the stunning, two-level Queen's Lounge. It's the perfect venue with comfortable seating and stage lighting that create a blues club ambience.
The Culinary Arts Center, found on other HAL ships, has been upgraded on Koningsdam to an actual, super-fresh-ingredients cooked-before-your-very-eyes dining experience. Meals even incorporate micro-greens grown on the ship.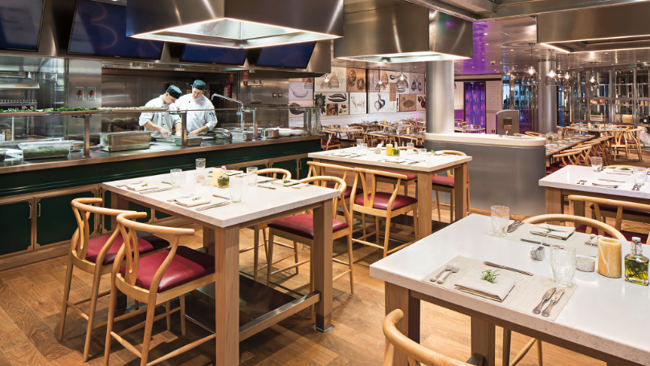 Fellow passengers loved it, too, applauding as a line-up of cooks responded in unison, "Yes, chef!" when he ordered the team to begin.
Our tasty meal started with Roasted Heritage Carrot Soup with crispy parsnips and pumpkin seed oil, followed by Broccoli and Baked Ricotta Salad featuring puffed wild rice, asparagus pesto and toasted pine nuts. Entrée choices were Herb-Crusted Beef Bavette, Pan-Fried Sea Trout or Pumpkin Ricotta Parcels, each accompanied by organic wine pairings from Snoqualmie Winery. Take-home, entree recipe cards provided a nice memento or inspiration for the at-home chef.
Another day we were treated to a lavish luncheon highlighted by brief remarks to on-board media and VIPs by Holland America Line President Orlando Ashford.
The setting was the French seafood brasserie, Sel de Mar. A fellow diner allowed us tastes of his escargot while we opted for Prime Beef Steak Tartare and the Trio of Seafood Salad with crab meat, North Sea shrimp and tuna. Lunch guests also sampled Bouillabaise Marseillaise and had choices of Dover Sole Fillet Neuniere, Steak Frites or Souffle au Fromage. Perfect profiterols with hot chocolate sauce and Chantilly cream finished the meal beautifully. Speaking of beautiful, among the dinnerware was a plate bearing an eye-catching school of cobalt blue fish (atop it the Dover Sole).
Many on this sailing were buzzing over HAL's debut of the Grand Dutch Café, offering traditional Dutch treats, coffees to order and European beer in an inspired blue-and-white Delft setting . This is the perfect spot for a cappuccino and pastry before roaming to see what the day holds on board. Every time we strolled by the café, guests were chatting, interacting, taking in the joy of relaxing at sea.
As HAL repeaters, we couldn't wait to return to both Tamarind, an amazing Asian dining opportunity you could previously only experience on Eurodam and Nieuw Amsterdam — the lobster preparation a winner — and to sparkling Pinnacle Grill. The latter provides the perfect elegant evening with fantastic cuisine – the steaks are heavenly — matched with superb service. And do stop by the Tamarind bar for an amazing pre-dinner cocktail in a lovely setting. The team of servers here is extremely accommodating, as well.
Another plus on the food scene is Canaletto with authentic Italian entrees perfect for sharing. The setting is casual, the dishes delish.
While each of these specialty restaurants has a surcharge, we've found it worth the cost every time. On the casual side, New York Deli and Pizza has great made-to-order pizzas, and we're devotees of Dive-In at Terrace Grill with the best hot dog and French fries at sea.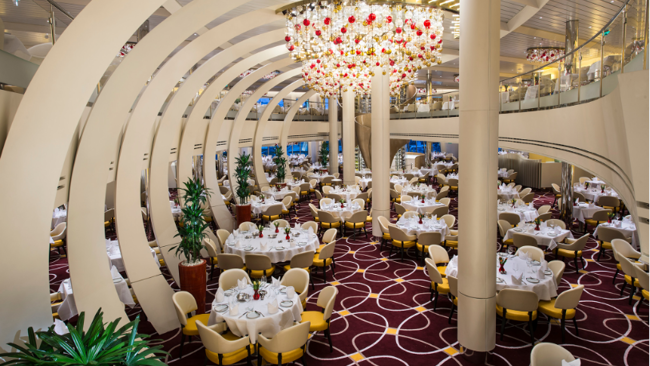 That brings us to the main dining room, which spans two floors with a sweeping stairs and curved architectural pillars that accentuate a soaring ceiling. The room, framed by sea views, has as its centerpiece a curved, copper sheath surrounding an impressive, two-story wine tower with glistening bottles stacked up, up, up.
Koningsdam also offers Blend, where cruisers can blend their own wine for a fee (a part of which can be applied to a dining room bottle of wine later.)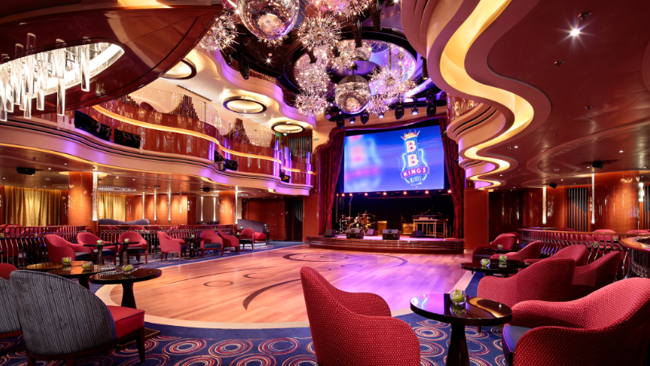 Onboard entertainment venues include the energetic Music Walk area showcasing all genres of music including Lincoln Center Stage, offering chamber music nightly; Billboard Onboard, where live musicians rock the crowd with chart-topping hits; and the popular B.B. King's in the Queen's Lounge, bringing the best of Memphis music to sea.
The ship's new, 270-degree, LED projection at World Stage combines live music and panoramic visual and sound effects. BBC's "Frozen Planet" is an example. We listened to a live orchestra interpret a polar bear's on-screen saunter halfway around the venue.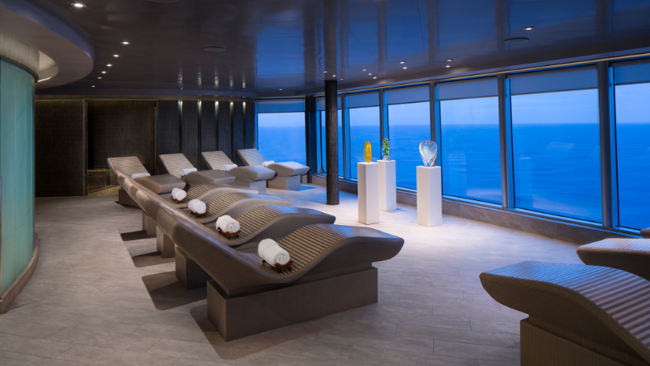 Another great way to while away a sea day is at The Greenhouse Spa with hydrotherapy pools, thermal suite with heated slab loungers and a wide array of treatments and salon services, plus fitness center. An upper deck inside the main spa features a Medi-Spa with facial rejuvenation and acupuncture services. Guests in verandah spa accommodations have in-room yoga mats and of course close proximity to all that waiting relaxation.
Visually, Koningsdam impresses with interiors created by Adam D. Tihany and Bjørn Storbraaten who said they wanted "public spaces to reflect HAL's long-standing tradition of elegance striking a more modern balance of past, present and future."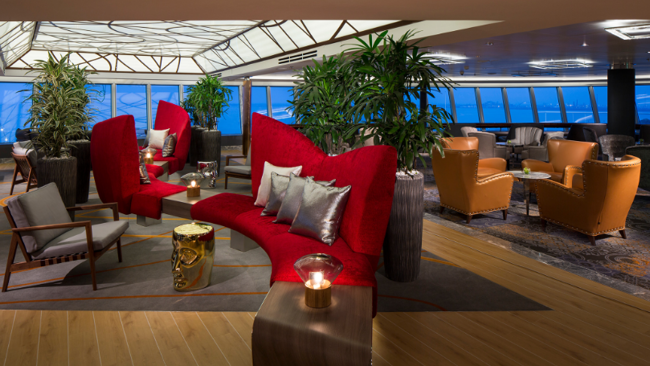 Guests find fluid curves and graceful lines, light-filled spaces and public area's with natural flow - inspired by the "architecture of music."
"The idea was to tell a story that guests can connect with throughout their voyage," said Tihany. "I was inspired by the thought of what you might see from the inside of a musical instrument, what the architecture of the surfaces and the geometry look like." Key to his concept is utilizing visual interaction, where guests actively engage with the architecture rather than passively moving through it.
Four of the 13 ship's decks are named for composers - Schubert, Mozart, Gershwin and Beethoven.
"The design isn't a literal translation of music," said Tihany, "but a conceptual approach where we seek to evoke the feeling and beauty of an instrument with graceful lines, dramatic textures, lighting effects and use of materials. My inspirations were not only instruments, but also majestic spaces and exaggerating the feeling of height, so guests feel the grandeur of every room."
One example is the three-deck, central atrium graced by an airy stainless-steel sculpture representing the synthesis of a string quartet. A ceiling "skylight" serves as a backdrop for subtly changing high-definition projections: by day wispy clouds floating in an azure sky that become starry constellations by night, for instance.
Koningsdam also features new single and family staterooms plus 912 staterooms with verandahs, the most in the HAL fleet. Many familiar stateroom categories, such as Neptune, Signature and Vista suites, are available in a wider range of sizes and different configurations.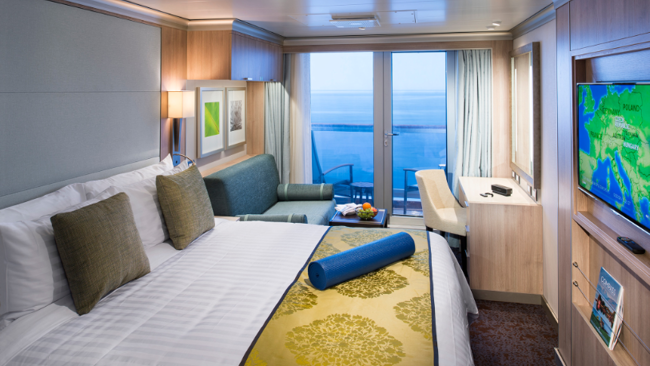 Staterooms and suites feature bedside USB ports, custom casework and frameless glass shower doors. There's also the signature Mariner's Dream bed, plush robes, massage showerheads in baths, flat-panel TV with video-on-demand, mini fridge, complimentary fresh fruit on request and bath amenities from Elemis Aromapure.
The 14 Signature Suites are up to 400 square feet in size; the 104 Vista Suites range from 260 to 356 square feet. Signature and Vista suite guests receive special amenities like oversized bath towels, fresh flowers, a pillow menu, mini bar and one-touch phone concierge service.
A favorite hangout is the Observation Deck (12) especially on coveted sea days. The Crow's Nest here has floor-to-ceiling views of the sea and is steps from the Explorations Café with internet service, books, magazines and a coffee/snack area where pastries, cookies and light bites like fruit-topped yogurt are complimentary.
Holland America has the highest number of repeaters – loyal, returning customers – of any cruise line. They (and we) are happy to know that two more Pinnacle Class ships will be joining Koningsdam. Her "sister," ms Nieuw Statendam, is scheduled for delivery in November 2018; the latest new ship build was announced in January 2017 with delivery expected sometime in 2021.
***
Article By Kathy M. Newbern and J.S. Fletcher for Luxury Travel Magazine. Award-winning freelance travel journalists, Newbern and Fletcher often incorporate their romantic travels into their other business, www.YourNovel.com, where they put you and your sweetie in your own personalized romance novel "wild" or "mild." Among those offerings are several cruise settings including "Sea Double: A Cruise Romance," "Cruise Alaska" and "Holiday on Thames. Their company celebrated its 25th year in 2017.
Photos courtesy of Holland America Line