Irene Rizzi, wrapped in an elegant orange dress designed and made by the Atelier of Stefano Nicolao, reached the St. Mark's square in the famous Volo d'angelo (the flight of the angel).
The Flight of the Angel dates back to the mid-500, when an acrobat amazed and shocked the city by walking on a rope from the dock to the bell of the tower of St. Mark. The artist reached the balcony of the Doge and the crowd strongly applauded this courageous young man. Since that time, the event was organized every year.
A busy and interesting program this year: until the 9th of February many events and historical re-enactments for this edition called CREATUM arts and traditions! a name centered on the ancient origins of Venice and also linked to the topography of the city. There are countless streets and squares of Venice which recall the ancient arts and traditional crafts.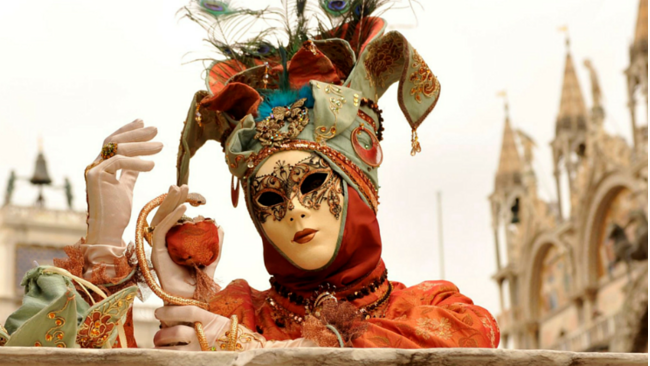 St. Mark's Square, the hub site of the festivities, from 30 January to 9 February, will host artisans who through the excellence of their work will tell the unique story of Venice. The audience will be entertained by the presence of mask makers, instrument makers, glass makers, tailors who will exhibit their wares in the shops of Piazza San Marco and show the beauty of their art. A real dive in the Venice of the '700 with actors and masks that will emphasize the moments and the most important passages of all crafts.
The Carnival of Venice 2016 is enriched with a new event: from Thursday the 4th to Tuesday the 9th of February in Campo San Geremia, near Piazzale Roma and the train station of Saint Lucia, there will be a large pavilion in eighteenth-century style curated by the designers of the theater La Fenice in Venice. The pavilion will present the Italian regional excellence on a journey through the flavors and typical products but also through folklore and crafts. Timeless atmosphere of the Carnival, The Field of flavors and traditions narrate an old history, by telling the memory and culture of wonderful places of our country to intrigue and win in a cheerful and festive audience. This will be done through the typical wine and food and craft products, not only memory and art of an area, but often promoters of history and innovation.
"Give him a mask, and he will tell you the truth."
- Oscar Wilde
More information:
www.homeinitaly.com