I had never been to this part of the country and didn't quite know what to expect. I was more than pleasantly surprised to discover a truly great American getaway!
This exclusive wilderness hideaway on Table Rock Lake, known as one of the clearest freshwater lakes in the world, opened in 2008 and is a new member of Small Luxury Hotels of the World. It is at once romantic and also a fantastic family retreat; adventurous and relaxing; plus, it's a fine vacation choice in any season, with the off-season being more romantic and peaceful. Because of its privacy and intimate size, yet with all the amenities and activities you could possibly ask for, it makes a great option for a complete takeover for a family reunion, wedding or corporate retreat.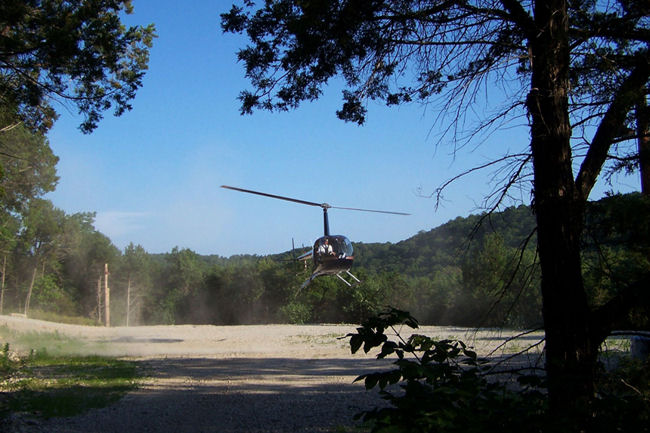 I flew into Springfield-Branson airport (SGF) in southwest Missouri and made the 1 hour and 45 minute drive to the resort. This intimate retreat is reached by a picturesque drive on country roads winding through pastoral vistas.
Other possibilities include Branson, MO airport (BKG) - one hour away; Northwest Arkansas airport (XNA) - 2 hours away; or arrive in style by helicopter! Any of these options offer a picturesque arrival.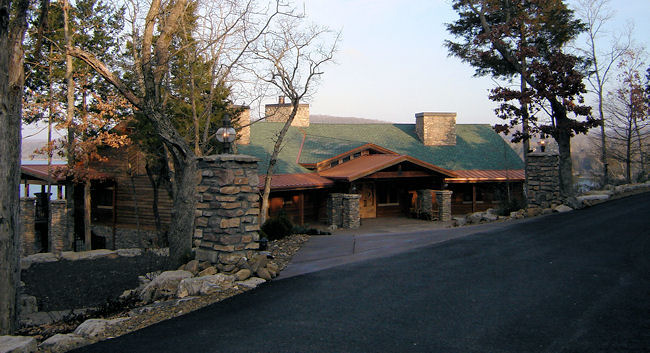 The stone and wood lodge stands like a beacon overlooking Table Rock Lake and is ultimately comfortable. Outside the lodge, you'll find a great pool area with views of the lake and a bonfire area for evening cook-outs.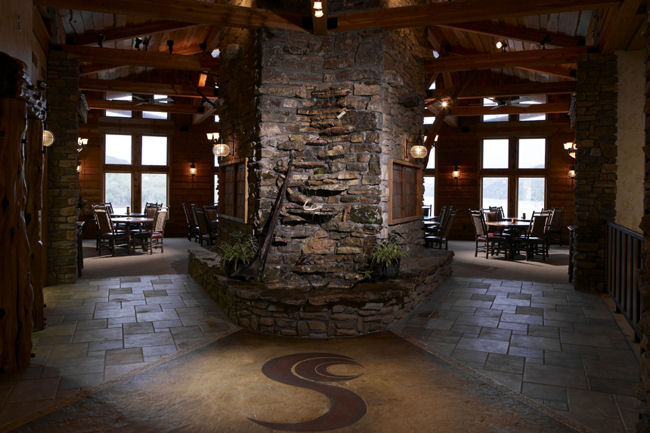 The resort is made up of 12 guest rooms and 6 one- and two-bedroom suites separate from the lodge. I recommend the suites for their spaciousness, cathedral ceilings and balconies overlooking the trees and lake. The two-bedroom suites can accommodate a family of seven comfortably. My favorite suite for romance was #22 -- a one-bedroom suite decorated with rich colors. (Pictured below are the entrances to the 6 suites.)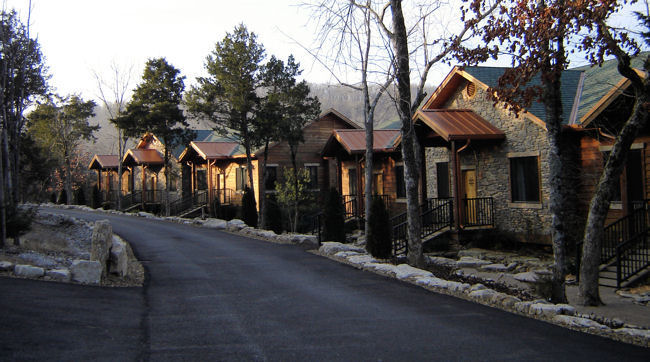 The interiors bring the outside in with rustic luxury using indigenous materials and design. Each room and suite is individually decorated with one signature piece being the inspiration for the overall concept.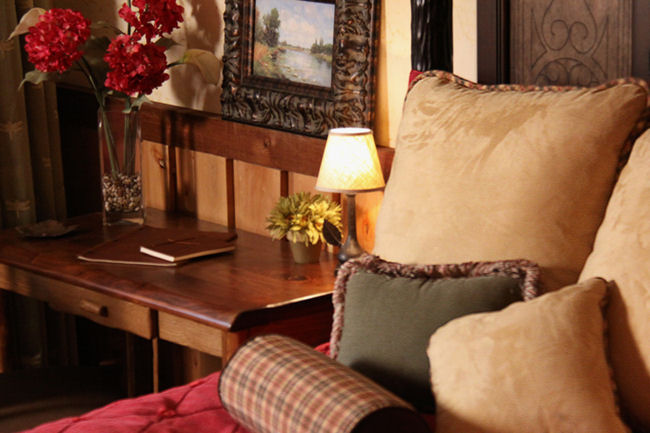 The walk-in shower is so luxurious, I found myself dancing with joy under the rainfall shower! The bathtubs are heavenly "bubble tubs" perfect after a day of activity and adventure.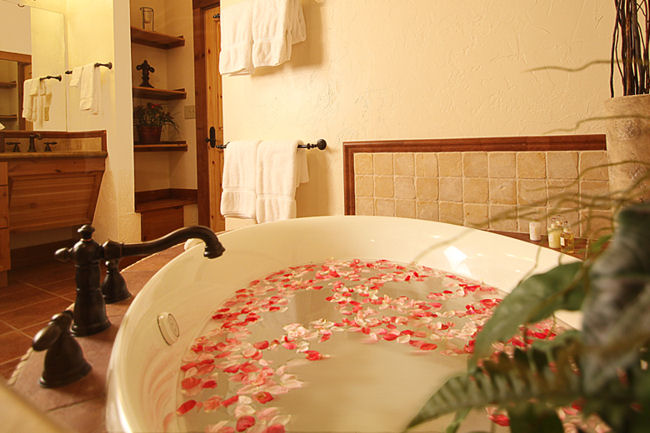 I try out an ATV tour through the forest including swinging through the trees on zip lines. This is great fun, but it's more my style to take a leisurely hike or get in a kayak on the lake. The property is so large (500 acres) that if you prefer peace and quiet, you'll never know that there are motorized vehicles roving the land or lake.
There are several different boats and luxury watercraft available for touring excursions around the 900 miles of shoreline, for bass fishing or waterskiing. You can also bring your own boat if you're within driving distance of the resort.
Other activities include archery, skeet shooting, skating on a synthetic ice rink, cooking classes or pampering massages and spa treatments.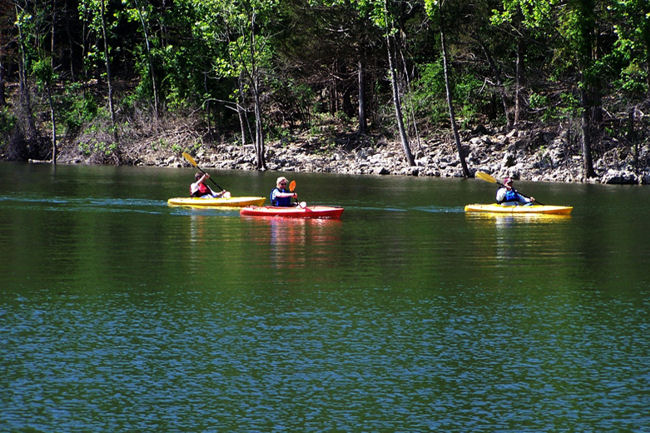 The dining room, located in the upper level of the lodge, is relaxing with an awe-inspiring view of the beautiful lake and sunset or the fog lifting off the lake at sunrise.
Meals are "gourmet comfort food" served family style, so you can choose your own portion and try some of everything. Because of the resort's remote location (the nearest restaurant is over a half hour away), the chef prepares a new, eclectic menu each day so you can enjoy plenty of variety throughout your stay.
The breakfast menu is hearty to fuel you for a day of activity including Texas-style French toast, omelets and eggs made to order, eggs benedict, pancakes, biscuits, gravy, sausage links, bacon, assorted fruits, breads, pastries, and more.
One evening for dinner I had a fantastic 'onion au gratin' soup with a choice of baby back ribs, chicken and shrimp skewers, and southern fried catfish. I try a little of everything! Sides included Texas-style baked beans, Southern-style baked potato salad, jalapeno and green chile cornbread and garlic French bread. Dessert was a decadent 'brownie pile up' served elegantly in a martini glass.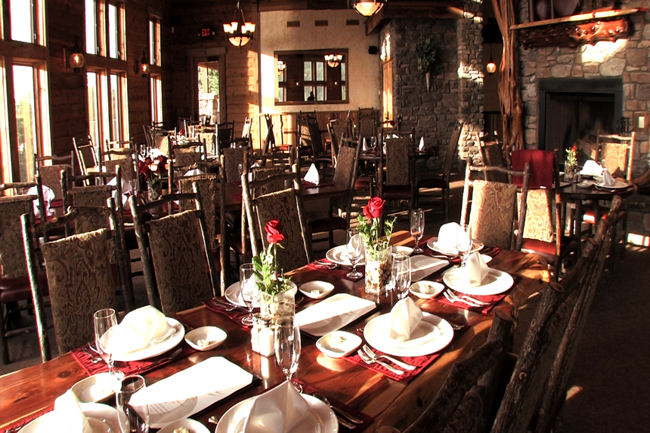 After dinner, retreat to 'The Lounge' on the lower level of the lodge. This area is supremely comfortable with a huge fireplace and sofas that you sink into, full bar, chess and backgammon tables, and a media room with giant screen TV that can also be used to watch movies or play Nintendo Wii games -- we tried golf and bowling.
The sunset is stunning with shades of pink, violet and indigo, and the stargazing was fabulous in this remote area of wilderness.
I love everything about this place! Missouri may not sound like an exciting or luxurious destination, but this special corner in the Ozarks on picturesque Table Rock Lake in Mark Twain National Forest packs the WOW factor.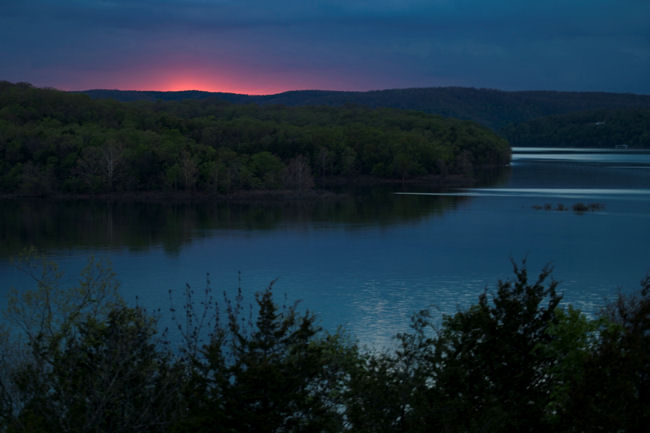 (Stonewater Cove Resort is a seasonal resort open April 26th - November 17th)