Taking into account the last two years, it's no surprise that 2021 saw a record-breaking 71% surge in superyacht sales and unprecedented demand in yacht investments. More and more, people are looking for safety and privacy, without wanting to compromise on comfort and luxury: this is exactly why yacht holidays might just be the perfect solution to the peculiar and timely issues posed by the Covid-19 pandemic.
Crewed yacht charters, in particular, provide unparalleled grandeur together with the opportunity to bask in the beauty of remote natural spots that remain inaccessible via foot or car. Hosted by High Point Yachting, a leading UK yacht charter company operating for over 20 years, I recently had the chance to experience the holiday of a lifetime: while sailing around the Croatian coast to discover the islands of Hvar, Brač and Vis, I learned what makes or breaks a yacht holiday and why private yacht charters are such a popular option.
Here's how to best combine beautiful destinations, luxury travel, and absolute privacy, in order to plan the ultimate yacht charter break.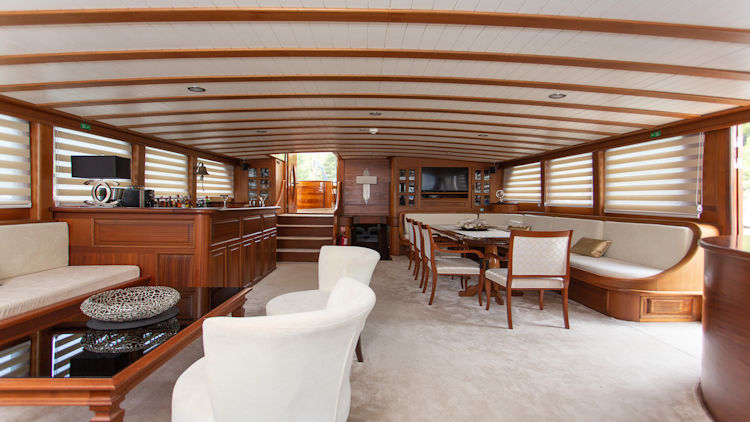 How to choose your yacht
Besides personal preference, some factors to consider when choosing a yacht include the size of your group, your preferred water toys selection, and how much time you're planning to spend onboard versus how much you'd rather see on shore.
I divided my time in Croatia between the beautifully classic Dolce Vita gulet and super-stylish 32m motor-sailer San LiMi. Dolce Vita comes with a dedicated crew, generous deck space and luxury accommodation for up to ten guests in five en-suite cabins, including two master cabins. Her wooden structure gives her a really warm feel, with dedicated sunbathing and socializing space as well as a Jacuzzi and ample outdoors dining area. San LiMi, on the other hand, has a modern and elegant feel thanks to a complete refit in 2018: with accommodation for up to eight guests, including one gorgeous VIP cabin with a king size bed, she has a large top deck with a Jacuzzi and a water toys selection to match a super yacht's. Because sustainability is an ever-growing concern in the yachting industry, which relies on the health of our oceans and seas, she pioneers self-sufficient methods to produce her own water and electricity.
When it comes to water toys, you might need a license for something like a jetski, but the crew will happily drive you if you don't have one. Or you could opt for one of the other many options, like water skis, wakeboards, kneeboards, seabobs, paddleboards, kayaks, or some snorkeling! Same as the jacuzzi, they're always readily available for your unlimited use throughout your stay. Should you choose to take your diving up a notch, or learn from scratch, you could visit secluded dive locations and explore stunning tourist-free spots. Otherwise, just bring a really good book and relax on the sunbeds with a cold drink!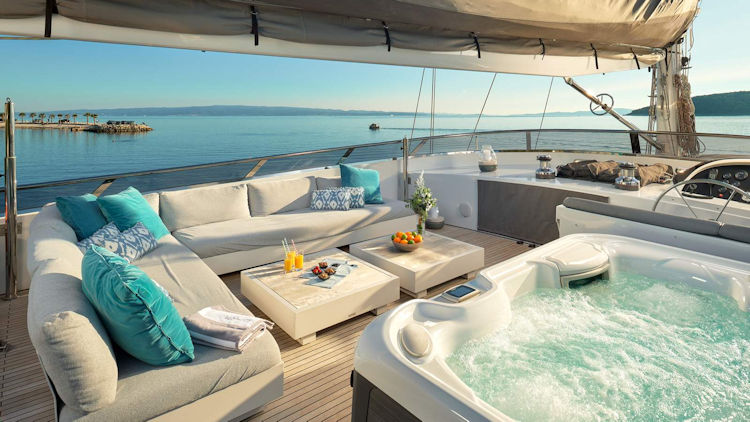 San LiMi yacht
How to choose a destination
Along with Turkey, Croatia was recently named by Bloomberg as the up and coming destination for international super-yachts. Other popular destinations in the Mediterranean are Greece, Italy, Spain and France, while elsewhere in the world Florida, the US Virgin Islands, the Caribbean and French Polynesia are all yachting favorites.
While the choice is ultimately down to personal preference, do research the best time of the year to visit each location and make sure to take into account that high and low season prices may differ, with summer months always busier than autumn and winter ones.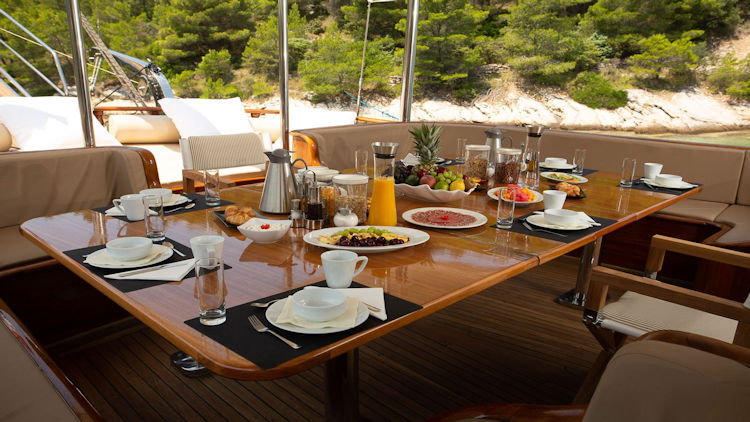 Dolce Vita yacht breakfast
How to choose an itinerary
Itineraries can make or break a holiday, and a yacht one will be no different. That's why charter companies will be able to help plan a bespoke route around your needs, recommending activities and local sights for larger family groups or smaller adult-only escapes. That's the beauty of yacht vacations: they're entirely customizable and tailored to your wishes, so planning ahead is vital.
High Point Yachting did a truly incredible job, arranging for us to see as much as possible of the beautiful Croatian islands in just a week, without overwhelming or rushing us from one destination to the next. That is sometimes the danger of wanting to see and do too much.
Instead, it's best to focus on one specific area or region and truly experience everything it has to offer.
We were accompanied by a gourmet concierge and local consultant, Robyn, who is an expert at building itineraries with a focus on sustainability, Croatian cuisine, wine tours and cooking schools, meeting local artisans, walking and jeep tours and. She even introduced us to an Adriatic skincare with essential oils harvested and distilled locally in Croatia, a very special personal touch.
Starting off in Split, which is serviced by an International airport, we visited Diocletian's Palace, a Unesco World Heritage Site and one of the world's most impressive Roman monuments. Setting off on the turquoise waters of the Adriatic, we then stopped on the island of Vis, an ex-military masterpiece that only opened to tourists in the 1990s: after a stop at the Blue Cave, we gained a fascinating insight into the role the island played in WWII on a round-the-island tour with Goran, our guide, reaching the island's highest peak and areas not accessible by foot.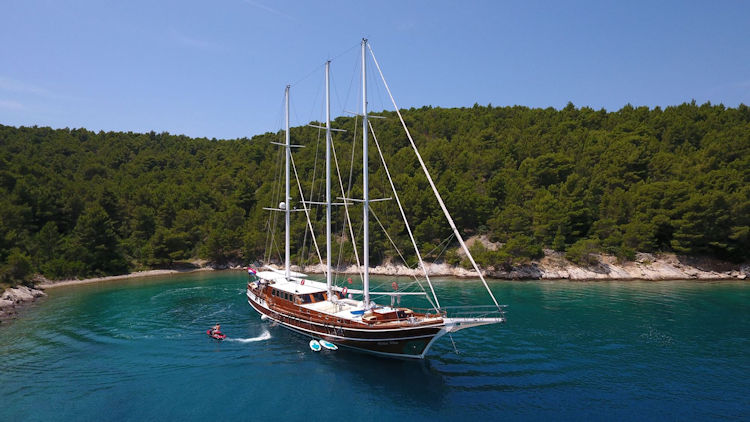 Dolce Vita Gulet, Hvar Island
In the hedonistic haven of Hvar, we took in a thriving art scene and an abundance of bars and fine-dining restaurants, including the exceptional Palmizana Meneghello on neighboring St Clement Island, a botanical sanctuary serving delicious local specialties and fine wine. Our final stop was Brač, an olive oil oasis and the largest island in Dalmatia, where we had a taste of authentic local life, a slower pace, and an unbelievably flavorful olive oil tasting at Muzej Uja. Lastly, we topped the trip off with lunch and a massage at Maslina resort, stretched across two hectares of lush pine forest and specialized in restorative experiences with a garden-to-skin inspired wellness menu.
What would have already been the trip of a lifetime was made all the more unique by the care and dedication of our host Sasha, founder of High Point Yachting, the crew, and the variety of sights, food, wine, and special local tips. During our week aboard Dolce Vita and San LiMi, we were able to gain an appreciation of the natural and cultural treasures that Croatia can offer, and that's the main thing I would recommend when looking into charter companies: ask how they can help you learn about the heart of your destination, because it really does make a difference.
High Point Yachting understands that "post-pandemic travelers will want to reconnect with their destination in an entirely new manner: one that is deeper, purposeful and consciously led, with itineraries that are abundant in authenticity, inspiring moments and transformative experiences."
And they must be doing something right, because their bookings come in large part from word-of-mouth and returning guests excited to come back for a new adventure! Completely effortless and entirely bespoke, sailing on a private yacht charter truly is the ultimate luxury break.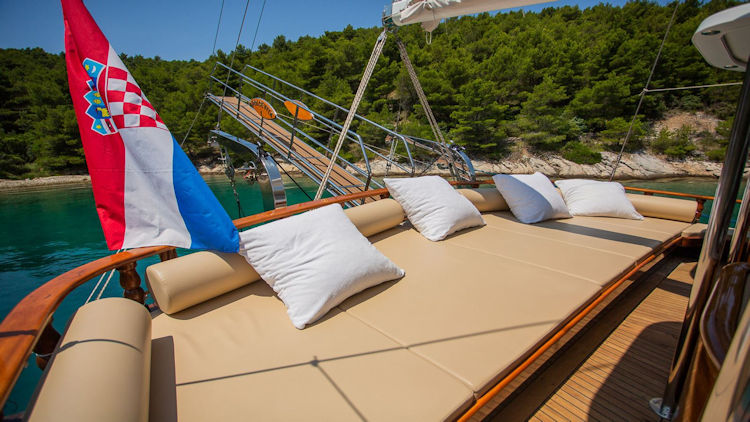 About High Point Yachting:
High Point Yachting are UK based luxury yacht charter specialists offering hand-picked crewed itineraries to an international audience. With over 20 years of experience, their fleet includes sailing yachts, super yachts, catamarans and gulets across the Mediterranean, Caribbean and French Polynesia. Professional, dedicated and reliable, they offer the latest models suited to each client's needs. Croatian born founder and managing director Sasha King established the brand in the late 1990s, it is her first-hand knowledge and industry contacts that ensure High Point Yachting is in a league of its own.
Weekly rates for SAN LIMI start from €35,000 and weekly rates for DOLCE VITA start from €29,500. For more information and to book a yacht charter in Croatia or one of the other destinations High Point Yachting specialise in visit highpointyachting.com. For latest updates follow them on Instagram @highpointyachting.
Article by Anna Myers
Image credit: High Point Yachting