Adventure travelers can always expect the unexpected with Hurtigruten, offering guests:


A record number of authentic local Norway excursions covering wide-ranging topics from nature-based to urban exploration, and energetic hikes to gentle strolls – by ship, on ship and on shore


Professional expedition teams interpreting the nature, culture and wildlife along the coast


Tailored Young Explorer activity programmes for children on selected ships and sailings


A locally sourced, sustainable menu, mirroring the rugged Norwegian coastline


"Whilst this coastline is our home, innovation is our tradition. We have been sailing the Norwegian coast since 1893, yet we are reinventing how guests experience our unique voyages through the introduction of Norwegian coastal expedition teams and even more unique excursions," says Hurtigruten CEO Daniel Skjeldam.
Customized coastal expeditions
The coastal expedition excursions accommodate all ages and activity levels, ranging from the popular midnight concert in the Arctic Cathedral in Tromsø, to exploring the mountains outside Kristiansund by dogsledding with Alaskan huskies. In the very northernmost part of Norway in the deepest of winter, adventurers can even chase the Northern Lights during a snowmobile safari between the ports of Mehamn to Kjøllefjord.
"An expedition sailing with Hurtigruten is about exploring, not cruising. Whether it is under the Midnight Sun or the Northern Lights, we offer a premium floating basecamp that works as a stepping stone to adventurous and educational experiences with Norway's unparalleled natural sites as the majestic backdrop," says Skjeldam.
Among the other excursions highlighted on Hurtigruten's daily sailings from Bergen to Kirkenes, are: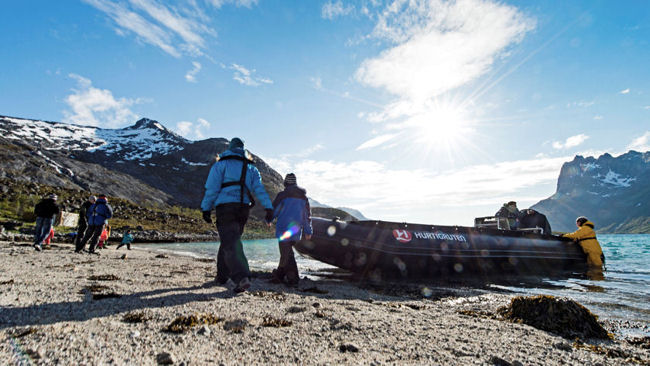 Expedition hosts of the coast
Available on nine out of eleven ships, on-board experts in the expedition teams share their first-hand knowledge about wildlife, natural phenomena, history and landscapes. They pursue adventurous detours when opportunities arise and have one single mission: To enhance the guests' experiences by leading activities and interpreting the cultural and natural treasures encountered.
"Hurtigruten encourages all guests to interact with the spectacular Norwegian nature, and with our distinctive culture and history. A Hurtigruten coastal expedition sailing is an active learning experience which gives immediate and lasting meaning and value to your travels," says Skjeldam.
The teams offer both on-board and on-shore excursions and activities such as lectures and presentations, gatherings and story-telling, historical plays, guided tours, and voluntary environmental activities such as beach clean-ups.
On land, the range of adventurous experiences offered is seemingly endless. Guests can immerse themselves in mainland Norway by adding stays of three or four days in one of six featured cities, before or after their Hurtigruten expedition sailing.
In Trondheim, Brønnøysund and Tromsø, voyagers can also take "naturban" mini expeditions by explorer boats while their Hurtigruten ship is in port.
"Gliding through the fjords in an inflatable boat powered by an outboard motor, is as close as you could possible get to nature. You'll hopefully get wet. As you explore, trained boat drivers will teach you about the nature, history and culture you encounter," says Skjeldam.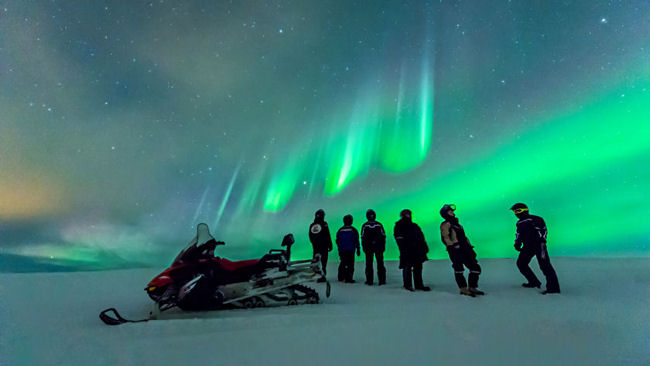 Over 35 of the excursions for the upcoming season are brand new, along with existing excursions with added activities. Just some of the new excursions include:
• Sami Adventure in Tromsø
- An authentic experience with the indigenous Sami people of Europe's most northerly regions, Norway, Sweden, Finland and Russia. Guided by Sami hosts, participants explore the nature reserve of Dankarvågvatn, close to Tromsø, and are taken to a frozen lake either by reindeer sledge or snow mobile, depending on the snow conditions. Experience ice fishing, learn about the Sami culture and finish the tour with a hot drink and a bonfire to warm up.
• Silent Whale Exploring
- Experience the magic of whale watching on the eco-friendly hybrid electric schooner Opal, allowing guests to get close to the action with minimal disturbance to marine wildlife. Watch orcas and humpback whales gracefully swim by while listening to the sounds of the whales surfacing and spraying water from their blowholes and, if lucky enough, the Northern Lights might make an appearance with their colourful dance across the sky.
• Winter Expedition in the Arctic Wilderness
- This 24-hour excursion includes a night's stay at the Kongsfjord guest house, with sweeping views of the fjords and countryside. Adventurers then embark on a day filled with adventures, including guiding their own dogsledding sledge led by three to four huskies, snowmobiling and ice fishing.
Visit website:
www.hurtigruten.us/‎