Nestled on a rolling hillside between the villages of Saanen and Gstaad, the seven-story, 136-room traditional wooden-clad chalet transcends simple Swiss hospitality and strikes a delicate balance between a restful retreat and a community hub for likeminded explorers and adrenaline junkies. From the adventure lounge, restaurants, spacious spa, and fully fledged family area, to the all-inclusive activities and complimentary equipment hire, the year-round hotel is the sheer embodiment of Bernese bonhomie. www.designhotels.com/huus-gstaad
Built in the classic Swiss chalet-style, the original building has undergone a complete renovation that was placed in the accomplished hands of Erik Nissen Johansen—the visionary architect and designer behind Swedish design studio Stylt Trampoli. Johansen's first move was to replace walls with enlarged windows, flooding the rooms and guest areas with natural light. "We want guests to feel like they are staying with a friend," says Erik Nissen Johansen, "a friend with a gorgeous home who takes you on incredible outdoor experiences and then serves you a delicious meal by the fireplace."
A Window to the World
The heart and soul of the hotel is The Livingroom, where over 400 square meters encompass a lounge, a bar—boasting the highest bottle wall in the region—an extensive library, and a terrace. Furnishings are a mix of contemporary materials and styles which evoke a sense of familiarity and warmth, while the floor-to-ceiling windows ensure guests have one foot firmly placed in the mountains at all times. The Livingroom is also home to the hotel's very own Mountain Concierge, Thomas Rügger, who is on hand to advise guests on all on- and off-piste pursuits, from skiing and snowboarding in the winter months to hiking and river rafting during warmer seasons.
Global Gourmet
With award-winning gourmet Guiseppe Colella at the helm, Huus Gstaad's four restaurants easily carve out a name for themselves in the region's highly competitive culinary scene. Colella brings with him 24 years of experience working in some of Europe's most exclusive hotels (including the Grand Hotel Park Gstaad and the Four Seasons Milan). Colella's food style is very much family-focused, with sharing platters and tapas a staple across all of the hotel's menus. Wherever possible, produce served in the restaurants is organic and sourced locally from farms in the Gstaad/Saanenland region.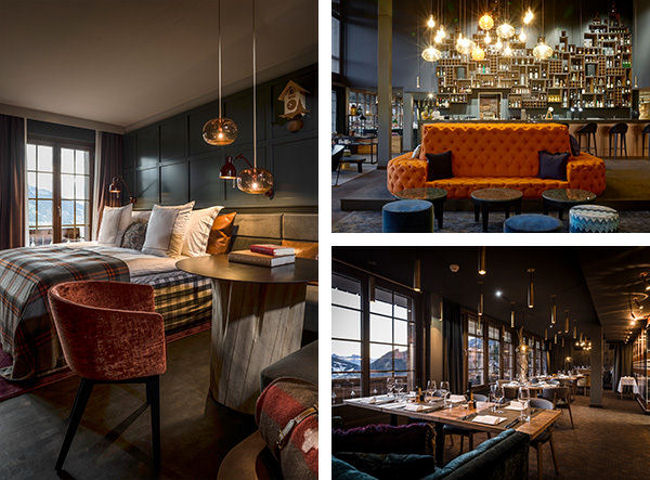 Original Craftmanship
All of Huus Gstaad's 136 rooms and suites have been furnished with large, inviting beds by Swedish brand Hästens, while natural woollen blankets and warm pendulum lights add to the cozy chalet-like atmosphere. The four room categories all feature a balcony or terrace with either north- or south-facing views so guests can sit and soak up the mountainscape. Specially crafted storage units have been installed in every room, each featuring a mirror and a mini bar. Backpacks from climbing stalwarts Mammut, an aluminium water bottle, and binoculars by the traditional brand Zeiss, have all been provided so guests have everything they need to explore their new home. Bathrooms are fitted with oak shelves, slate-black hexagonal tiles, and gray pebbles, that offset the copper fixtures. A window, positioned for views out to the room and through to the surrounding woodland, allows natural light in. The hotel's own brand of amenities has been carefully selected to compliment the aroma of the local flora and fauna. Mixing blends of premium organic plant oils and mineral extracts with natural fruit acids, the products radiate a fresh, zesty fragrance. Each room also comes with its own SuitePad Samsung tablet, which features more than 150 complimentary newspapers and magazines.
Wellness Within
Spread across 2,000 square meters and three floors, the hotel's spa takes the concept of relaxation to another level. Here, the Finnish sauna offers panoramic views of the gardens below, while the aromatic sauna allows guests to unwind after a long day on the slopes. Other offerings include an ice fountain, a herbal steam bath, a panoramic swimming pool, children's spa, and yoga classes. The two treatment rooms offer invigorating massages to rejuvenate weary bodies and minds.
Neighborhood Experts
With just 7,000 inhabitants, Gstaad-Saanenland is known for its secluded, relaxing retreats, yet it is its world-class cultural programs, outstanding skiing, and "chalet-chic" exuberance that makes it one of Switzerland's premier destinations. The area around the hotel offers 250 kilometres of slopes and trails for skiers of all levels and a full immersion into nature through river rafting, family canyoning, rappelling, rope park adventures, bike tours, and more.
Made By Originals
Men from different mountains will always have different perspectives. Luckily for Günter Weilguni and Marwan Naja, they both have the same soaring ideals that have led them to open Huus Gstaad together. It seems that the pair realized their compatibility early on, which ensured that the conceptualization process of Huus could be long and thoughtful, leaving no stone unturned. "We wanted to come up with a concept that was different" explains Weilguni. "We wanted people to feel at home." They decided to include a variety of additional "add-ons" in the room rate, such as guided winter hikes, canyoning, climbing, and mountain biking, by working closely with the Alpine Centre Gstaad and another ski school in the area. This led to the pair settling on a concept that can be neatly summarized in two words: adventurous hospitality.
Visit website:
https://huusgstaad.com/