Architecturally stunning Casa Monica Resort & Spa is the historic, iconic choice for luxury accommodations from which to explore America's first city, St. Augustine, FL. Upon check-in, we were promised this Kessler Collection property is at the city's epicenter and very walkable to key sites.
A few days later, with miles of wandering in a fascinating city behind us, we had to agree. The Kessler name made Casa Monica an easy choice for us as we've previously adored our stays at sister properties The Grand Bohemian, Asheville, NC; both the Bohemian Hotel Savannah Riverfront and Mansion on Forsyth Park, Savannah, GA; and The Bohemian Hotel Celebration, near Orlando, FL. (We're excited that the company has new properties coming to Charlotte, NC, and Greenville, SC, and is adding another in Savannah).
A property tour of the romantically elegant property with Spanish flare took us inside all the common areas including the popular outdoor pool with cabanas plus allowed us a peek inside the three-story, two-bedroom Flagler suite with amazing rooftop views out its original stained glass windows of colored panes checker boarded alongside clear ones.
It's fitting that such a historic city is home to such a historic property, lovingly saved and restored. St. Augustine's claim to fame of course is as America's "first city" – dating to 1565 – the oldest in North America to be settled permanently by Europeans and continuously operating.
Casa Monica opened New Year's Day 1888 with impeccable Moorish Revival and Spanish Baroque Revival architecture. Our first view of today's restored version is mouth dropping.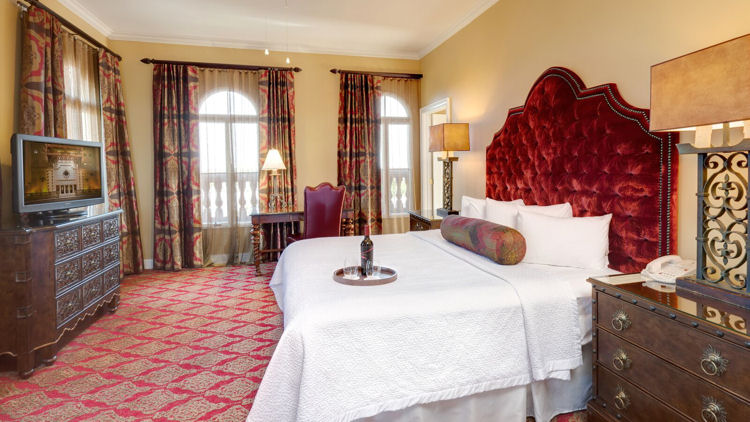 The original architect, however, had to sell his creation a mere four months later, for financial reasons. The buyer? That name synonymous with Florida development: Henry Flagler, who in turn named it Cordova Hotel. Flagler also owned the exquisite Ponce de Leon Hotel across the street, which is now Flagler College where student-led tours of its striking buildings are still offered, including amazing Tiffany windows in the dining hall.
The then-Cordova Hotel closed post-Great Depression but in the '60s was remodeled into a county courthouse. Flash forward to 1997 when it underwent a two-year, $10-million renovation under the Kessler brand, which carefully preserved the original building's Moorish Revival style and returnied its original name.
Today's Casa Monica Resort & Spa attracts visitors, whether staying in the hotel or dropping by for a drink in the Cobalt Lounge just to see the property's majestic balconies, ornate chandeliers, and hand-painted Italian tile and red-tile roof. Its 138 rooms and five suites (some two and three stories) have attracted many well-known guests. For instance, 2001 marked the first time Spain's ruling royal couple visited the city since the Spanish founded St. Augustine. They dined at Casa Monica with 175 guests, including area dignitaries and members of the city's oldest families.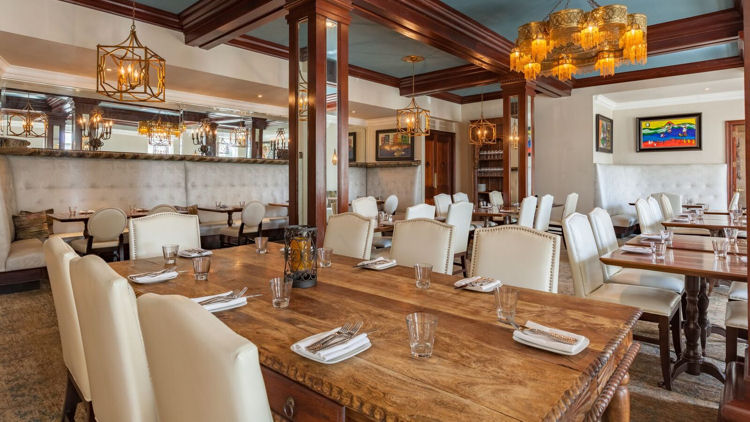 The Costa Brava on-site restaurant promises dining as an art form – a nod perhaps to Richard Kessler's amazing art collections throughout his hotels. Coastal cuisine is the go-to on the meze-style menu, great for sharing. The restaurant is indeed art with 24-karat gold leaf dappled arches, antiques and intricately detailed ceilings that are hand-painted.
The lobby lounge's intimate candlelit tables are perches for enjoying live music along with handcrafted cocktails and creations from a martini menu.
For a quick Starbucks fix, luscious dessert or lunch sandwich, there's Café Cordona with indoor and outdoor setting, the latter a terrace great for people watching on a main promenade in the heart of the city. It's known for its Cuban sandwich, plus it offers wine, beers and teas and light breakfast options.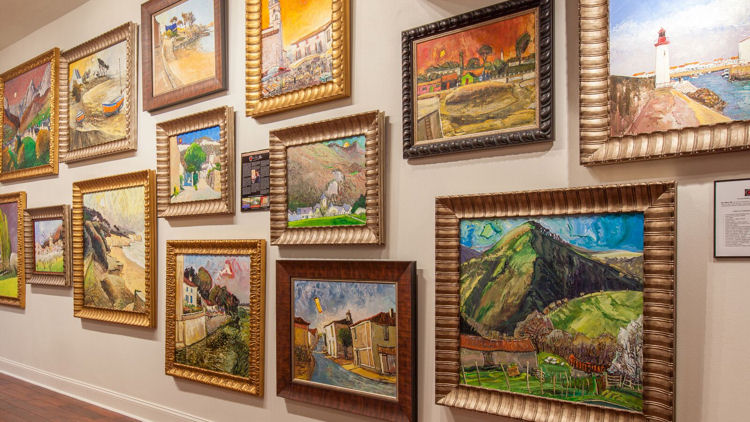 Art Everywhere
We love Kessler properties for their renowned artwork, and Casa
Monica is no exception. Richard Kessler is quite the collector. Here, the street-side Grand Bohemian Gallery is a colorful plethora of paintings, sculptures, art glass, ceramics and jewelry from local, regional and internationally known artists. The gallery also hosts periodic exhibitions and artist receptions.
Steps from the gallery is the small Poseidon Spa. While time didn't permit our sampling it, we did visit its counterpart in Savannah and loved the hues of the healing oasis. Among treatments here are the hot stone silvretta massage, herbal poultice massage, lavender peppermint scalp treatment and aqua gel facial masque. Separate is a 24-hour fitness center with cardio machines and custom-programmed music.
Our large king room featured a tall, red-velvet, tufted upholstered headboard double trimmed in brads; the comfortable bed was outfitted in all white. We immediately turned on the bedside Bose sound system knowing a trademark Kessler CD of "bohemian" tunes awaited (a feature at each property). A sizeable desk area with chair worked well for us, and for additional seating, there was an oversized leather chair. A flat screen TV with many entertainment choices sat atop an antique dresser. Our friendly room attendant offered chocolates and bottled water along with the evening turndown service. The in-room coffee maker featured Starbucks.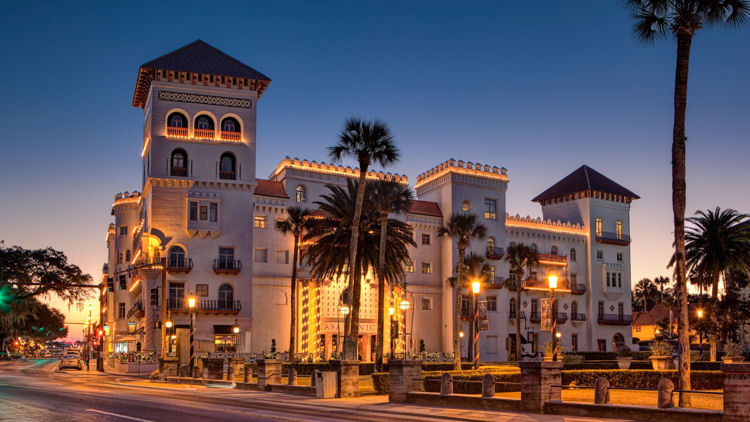 So Much to See
Working with the St. Augustine, Ponte Vedra & The Beaches Visitors & Convention Center (FloridasHistoricCoast.com), we were able to squeeze a lot into our short, two-night visit thanks to Casa Monica's location in the Historic District. We suggest:
The oldest masonry fort in the continental U.S., Castillo de San Marcos National Monument, which is very popular and walkable from the property, or hop on the Old Town Trolley Tours for multi-stops around the city;
A scenic river cruise took us past the black-and-white, spiral-striped St. Augustine lighthouse; dolphins greeted us on our near-dusk return;
Moorish Revival style Villa Zorayda, built in 1883 and steps from the hotel, is a "Gilded Age house museum" overstuffed with the wealthy original owner's collection of art and antiques. The audio tour is self-guided; the collection both quirky and interesting;
The legacy tour of Flagler College, across the street from Casa Monica, is a look inside another Flagler luxury hotel. The college is the former Hotel Ponce de Leon, circa 1887, and students now dine beneath a wall of extraordinary, original Tiffany stained-glass windows;
Lightner Museum, located beside Casa Monica, is described as Florida's Smithsonian. It's housed in the former Alcazar Hotel built in 1888, yet again thanks to Flagler. It featured the world's largest indoor swimming pool at the time, a grand ballroom, sulfur baths, a steam room, massage parlor, gymnasium, bowling alley, archery ranges, tennis courts and a bicycle academy;
For a holiday season trip, consider St. Augustine's Nights of Lights (mid-November through January) where three million lights decorate nearly everything in sight in the historic district from tall trees to landmarks to inns and restaurants to bayfront bridges, as well as all the sites listed above. (Casa Monica is beautifully lit in every season.) Visitor-filled trolleys and trains circle constantly blaring holiday music and encouraging all to yell out Christmas greetings to passers-by.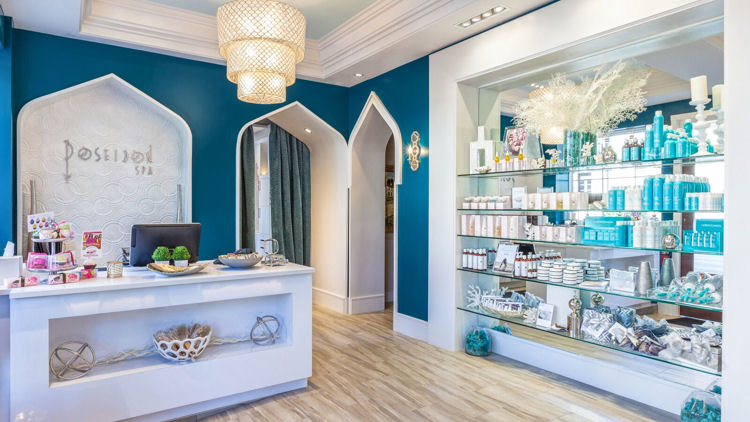 Casa Monica is a AAA Four-Diamond property and part of Marriott's Autograph Collection of independent boutique hotels. For more, visit casamonica.com or kesslercollection.com or call 888.213.8903.
Photos courtesy of The Kessler Collection