The concierge desk at Four Seasons Hotel Gresham Palace welcomes guests with a 'Budapest Bucket List' pamphlet that features some of the city's top attractions. Indexed are items that highlight the best of this 'Pearl of the Danube,' such as where to enjoy local wines, how best to view the city's vantage points, where to hear live music, and how to tap into Hungary's famed fountains of youth. The hotel staff clearly know every heartbeat of their home base, and each suggestion is not to be missed. But the truth is, the Four Seasons Hotel Gresham Palace Budapest itself is THE destination, and a stay here provides full access to the best of this magical city.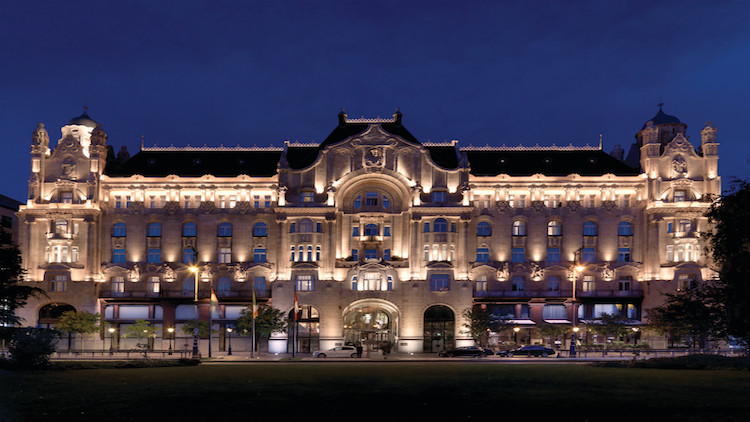 Grand, elegant, and historic – like the city itself – the Art Nouveau hotel overlooks the Danube, Széchenyi István Square, the Chain Bridge, and the Castle District. Choose one of 19 suites (the hotel is home to 179 rooms total) for stellar views; each is poised towards the Buda side of the city where historic buildings and monuments sparkle brilliantly at sundown. No other European city is as charmingly illuminated as Budapest, and the Four Seasons Hotel Gresham Palace provides a front row seat. The sumptuous Royal Suite in particular (pictured below) is perfectly positioned for optimal vistas. Featuring a walkout balcony, a working fireplace, separate living and dining rooms, luxurious Acqua di Parma amenities, and soothing hues of blue and gray, guests in this suite might find little reason to leave the premises.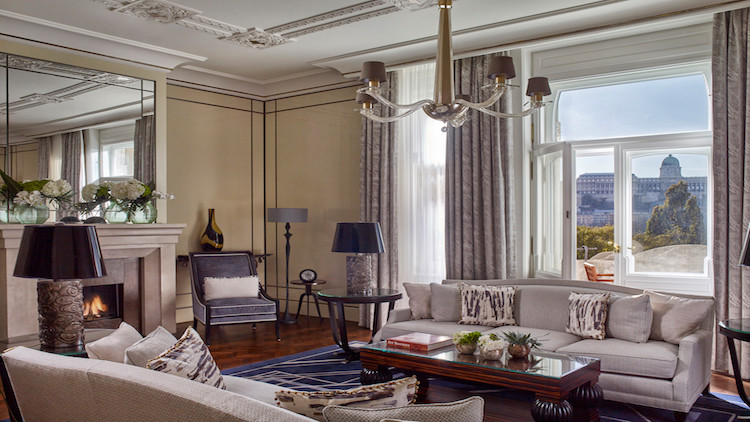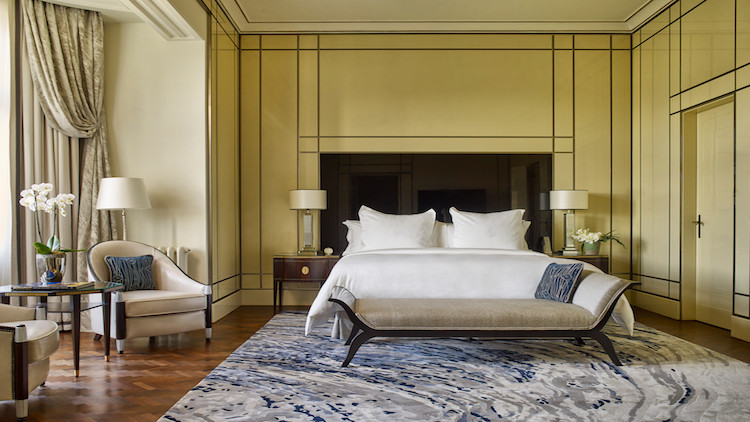 Budapest is well known for its epic spas and thermal baths, and the concierge can direct guests to any number of popular spots throughout the city that promise to tap the fountain of youth. But the hotel's own 5th floor spa can be easily accessed in robe and slippers. A full menu of rejuvenating therapies – most utilizing authentic Hungarian products by Omorovicza - promote the same relaxation and renewal as promised by the larger, famed spots throughout town. (Try the signature Hungarian Moor Mud Therapy or the Touch Of The Earth utilizing authentic Hungarian ingredients such as lavender, grape seed oil, salt and Omorovicza Hungarian moor mud. A state-of-the-art fitness center and an infinity lap pool and adjacent hot tub provide further impetus to remain on site.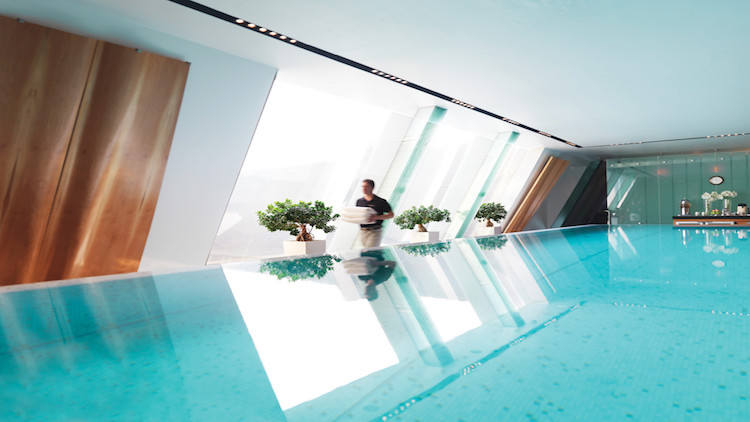 Interested in exploring Hungary's incredible wines? The concierge will gladly plan a day trip to Etyek, a verdant, vineyard-filled village just a few miles outside Budapest. Or, settle in at Kollazs Brasserie & Bar, the hotel's signature restaurant, and allow head sommelier Gabor Becker (pictured below) to lead you through the Hungarian varietals and labels that make their mark on the worldwide wine map. Becker's status has allowed him to secure collaborations with some of Hungary's most popular vintners, resulting in varietals that bear the Kollazs label. So delicious are these particular wines that Becker can barely keep them in stock. But he saves a few bottles especially for Four Seasons guests. Pair your tasting with selections from Kollazs' French and Hungarian inspired menu, such as foie gras terrine, beef bourguignon, French brioche, or goulash.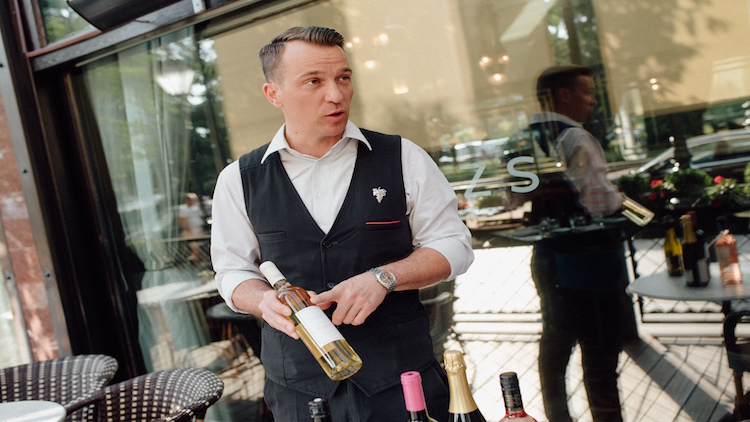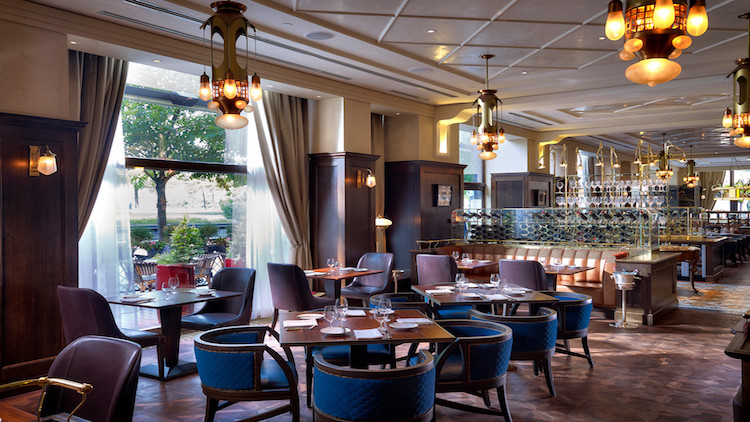 The hotel's fabulous Art Nouveau building, once the home of the Gresham Life Insurance Company and later converted to apartments, was built in 1906 and lovingly restored as a luxury hotel in 2004 by the Four Seasons. Glass ceilings, ironwork gates, stained glass, floor mosaics, and dramatic chandeliers are highlights deserving of further inspection. An ideal way to take-in the majesty is via the lobby lounge's Herend Afternoon Tea service. Bountiful bites and a variety of teas are served on the hotel's exclusive, hand painted Herend china as live piano music soothes.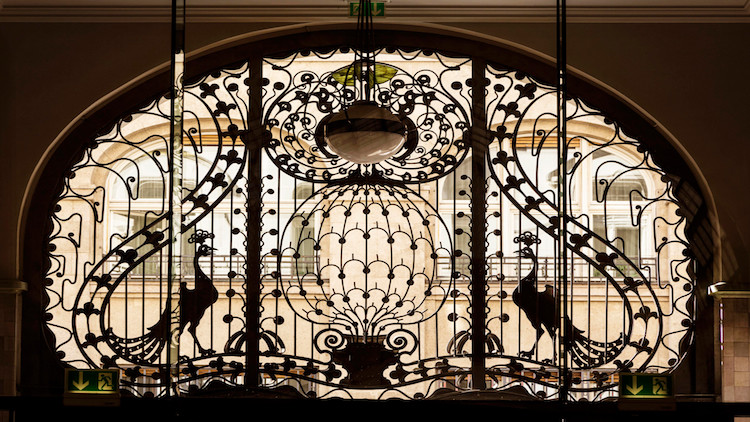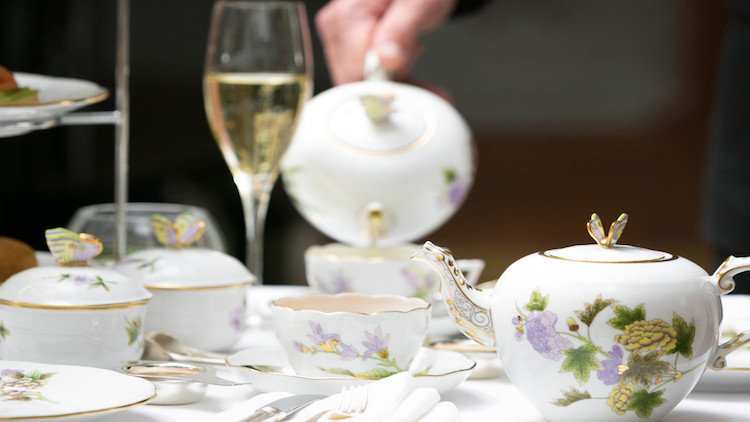 And finally, though your Four Seasons Hotel Gresham Palace concierge can recommend any number of boutiques and high-end shops in which to purchase the requisite souvenir, one need look no further than the hotel lobby's Chrisand Fur where every soft-to-the-touch style and color are yours for the precious taking.
Photos by Paul Thuysbaert