SONG SAA PRIVATE ISLAND – Cambodia
From May through October 2015, Song Saa Private Island is implementing a
Journeys of Change
initiative that will donate the profits from three guest stays each month to benefit the Song Saa Foundation. The foundation is dedicated to preserving the Koh Rong archipelago, the resort's island home, and educating guests about its delicate ecosystem. The all-inclusive resort features five-star accommodations in over-water, ocean view or jungle villas, plus kayaking, sailing, snorkeling, island tours (both by land and water), massages, and all meals, beverages, laundry, etc. All-inclusive rates begin at $1,117 per person per night.
Located in the pristine Koh Rong archipelago only 35 minutes by boat from the coastal town of Sihanoukville, Song Saa is Cambodia's first luxury private island resort, positioned on two side-by-side islands and surrounded by lush virgin rainforests, coral reefs, white sand beaches and sapphire waters.
Accommodations include 27 over water bungalows, jungle and ocean view villas, and a two-bedroom Royal Villa each with its own private plunge pool and built using sustainable materials. Guests can dine at the over-water Vista Restaurant and Bar and enjoy 360-degree ocean views or at the beachside Driftwood Bar. Leisure activities include bespoke treatments at the spa and Wellness Sanctuary, infinity pool, yoga and meditation on the beach, water sports, hiking in the rainforest, ecological tours and more. Since opening in 2012, the protection of the natural environment and support of local communities has been at the heart of Song Saa's operations through the Song Saa Foundation.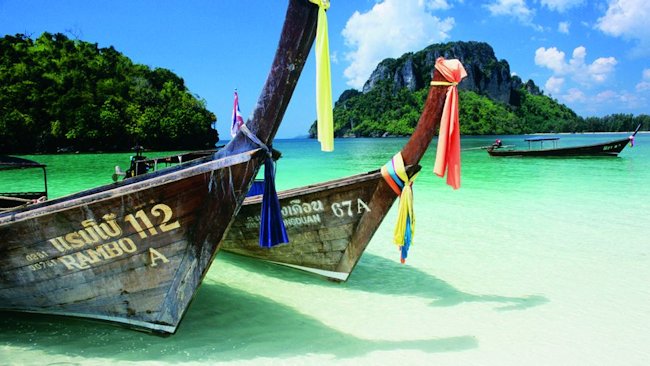 PHULAY BAY, A RITZ-CARLTON RESERVE – Krabi, Thailand
In Thailand's scenic Krabi, Phulay Bay is offering an "Off the Beaten Path" package including five nights in luxury accommodations, plus a private yacht excursion through the Andaman Sea's pristine Trang Archipelago, often referred to as the "last secret of Thailand." At the tucked-away resort, guests can luxuriate in privacy with swimming, snorkeling, baking, Thai dancing, yoga and explorations of the surrounding rainforests, powdery beaches, waterfalls and more. Rates begin at $2,350 per night.
Phulay Bay, the world's first Ritz-Carlton Reserve property, is located in Krabi, Thailand set along the scenic shores of the Andaman Sea. Phulay Bay represents a departure from the ordinary and is designed for travelers seeking rare, exotic and authentic experiences in the most remote corners of the world. The property features 54 spacious villas with private plunge pools, rainforest showers, indoor and outdoor baths and showcases scenic tropical garden or ocean views. Amenities include an 11-room treatment spa, a selection of formal and casual dining options, infinity pool, 1,400 square-foot meeting and event space, and an array of local attractions, including white-sand beaches, coral reefs, lush rainforests, caves, waterfalls and exploration of the nearby Similian Islands.