Yannis Sergakis
studied gemology and design at the Gemological Institute of America. After concluding his studies, he worked as a diamond trader alongside his family until 2004, when he decided to set up his own business. After a few years, he started collaborating with renowned jewelry houses in Greece and abroad. Over 30 collections later, he says "I believe I took the most important step in my career – creating my own signature line, COMMITMENT."
What is your favorite neighborhood in Athens?
The neighborhood around the Acropolis and Thisio. It makes me feel that I don't live in a big city.
If you were hosting foreign visitors who had never visited Athens before, how would you spend the day?
First of all a visit at the Acropolis Museum would be almost mandatory! It's a magnificent museum. Then I would take them to the fish market which I find very authentic and finally to Vouliagmeni, a beautiful suburb at the south end of the city, next to sea.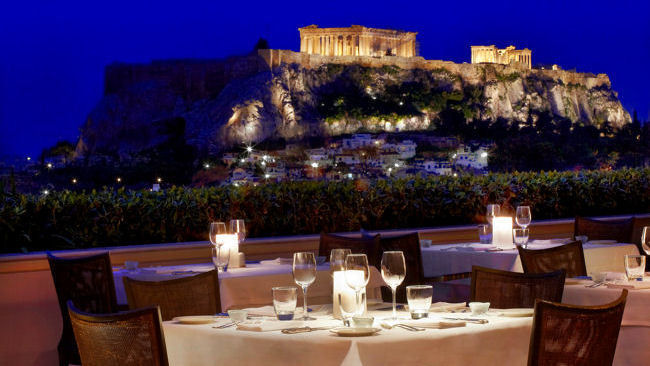 Hotel Grande Bretagne dining with Acropolis view
What is your favorite hotel?
The Grand Bretagne Hotel for its history. It has "lived" alongside this city all the major moments of contemporary Greek history.
What is your favorite restaurant?
Café Avissinias at Monastiraki. Fresh-cooked, home-style dishes, Cretan raki & Greek music in a restaurant combining old & new. Kinetou 7, Athina 105 55, Greece
What is your favorite museum?
The Museum of Cycladic Art. I especially admire the marble figurines that are the most remarkable samples of Cycladic art.
What is your favorite getaway outside the city?
The island of Hydra. It's close to Athens and I love its scenery and architecture.
What are some other of your favorite places?
The flea market near the Ancient Agora and the art scene in the historic center of Athens.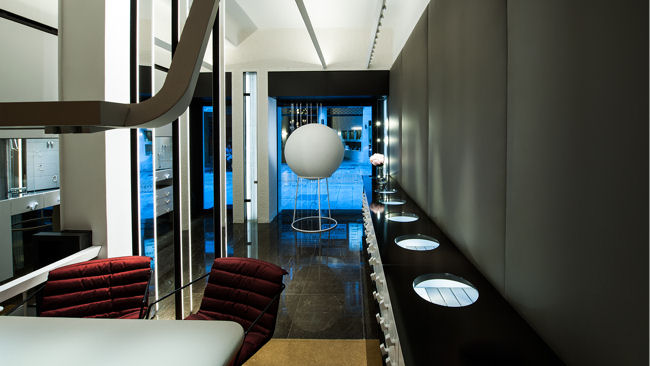 Tell us about your jewelry store, Yannis Sergakis adornments.
I wanted to create a luxurious space with a store-like window. The space was found on the ground floor of a 1933 listed building on Valaoritou str. It was a difficult project as everything was custom made. The marble from the island of Chios was especially cut for the store. A "soft" table was constructed, where the jewelry floats, creating an environment of its own within the store. Turning mirrors create a private section, taking advantage of all the games one can play with light. The chandeliers, designed by the architect who created the store himself, Aris Zambikos, and hand-crafted by the best craftsmen in Athens, shed their light in a cinematographic manner. In combination with the staircase from metal and marble and the sense of the carpet across the floor, I believe the result is compelling. The jewelry is displayed on recesses on the walls that are covered with Pierre Frey fabrics, while they are showcased in specially designed trays.
Visit website:
yannissergakis.com