Floating meals on a personal tray may not be the newest trend and luxury offering, but it's definitely the most Instagrammable. Amazing food, and beautiful views from a turquoise pool make for some catchy photographs that friends and family are sure to love, so why not combine the two.
Banyan Tree Ungasan | Bali, Indonesia
Enjoy the romance the pool cliff edge has to offer. A cliff-side luxury villa with clear, panoramic views of the ocean and untamed nature, creates a world of romance for you and your loved one. Add to the romance and special moment by ordering your breakfast straight in the pool. Banyan Tree Ungasan has been serving over the top breakfasts in private villa pools with ocean backdrops since 2017. Menu items include fresh orange juice, truffle lobster scramble, tropical fruits, homemade pastries and more.
Banyan Tree Lang Co | Central Vietnam, Vietnam
Known for its world-class services and pristine nature, Banyan Tree Lang Co redefines the concept of luxury by launching the "floating breakfast" which is promised to bring travelers stylish yet unforgettable relaxing moments of a dream vacation to tropical paradise. Just a call away, guests are able to enjoy a sumptuous meal with fresh and delicious food and drinks on a beautiful sedge tray while swimming in their private pool or at any of the other pools for that matter overlooking the stunning East Sea.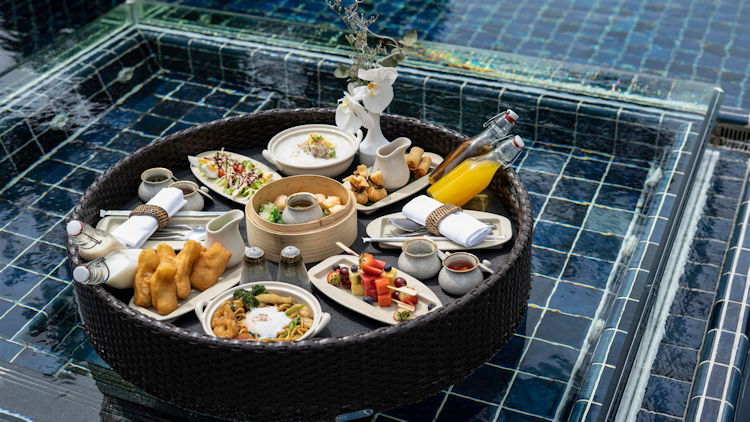 Banyan Tree Phuket | Phuket, Thailand
Set amidst the lagoon and gardens of Laguna Phuket, Banyan Tree Phuket awaits with its exclusive all-pool villas where you can get your floating breakfast brought to you without even having to step out of the pool. You can choose between an Asian or Western inspired menu and even elevate your experience by adding champagne to your morning feast.