The half-day experience includes visits to some of the resort's leading purveyors on a traditional Thai "Tuk Tuk" auto-rickshaw, followed by a specially prepared lunch by Chef Luke, using the freshly bought ingredients. Guests also have the opportunity to get behind the professional open-plan kitchen at the resort's Amber restaurant for an exclusive cooking class with the Chef followed by a sumptuous lunch to sample the fresh wholesome dishes which is Chef Luke's signature cooking style.
The day starts with a consultation with the Chef over coffee to discuss what the guests would like to see, and cook. To the surprise of many of the guests, the organic tour begins right on the resort's doorstep where they are shown around the organic herb and aromatics garden by the resort's resident Gardner, Khun Pravit.
From here, guests board the customised Tuk Tuk and are taken to Kasem organic chicken farm, located just 250 metres from the resort. Guests are able to select the fresh free-range eggs, and poultry also can be bought at the farm, depending on the chosen recipes.
Other stops on the tour include roadside fruit supplier with fruits harvested from a local garden, an organic salad and herb farm, and a local Gardner's pick at a road verge, followed by a stop at Lipa Noi just 10 minutes from the resort for the fresh catch of the day.
"Fresh and quality ingredients is fundamental to cooking. No matter how skilled of a chef you are, you simply have to work with good ingredients, using fresh local produce which are well-balanced and full of taste" said Chef Luke.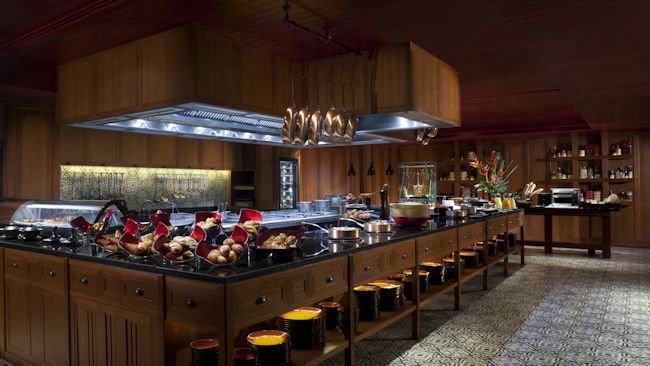 He adds, "Anyone can fly ingredients half way across the world, to cook with ingredients they are used to and work within their comfort zone. But when you have such amazing local produce, it's a crime not to make the most of it! I'm just happy to share my passion and experience in working with these wonderful ingredients and the amazing people who are behind them!"
Executive Chef, Luke MacLeod took helm of InterContinental Samui Baan Taling Ngam Resort's kitchen in May 2012, following his tenure at renowned Michelin starred Chef, Pierre Gagnaire's eponymous Pierre Restaurant at Mandarin Oriental Hotel, Hong Kong. Since joining the award-winning property, Chef Luke continues to elevate the resort's culinary experience with its guests full of accolades for his clean-tasting and wholesome cuisine.
"We continually strive to provide the highest quality gastronomic experience at the resort, and Chef Luke's Tuk Tuk Tour provides us with an opportunity to share our passion with our guests. It allows us to showcase the importance of food provenance, highlights our commitment to sustainability whilst providing guests with a cultural and an epicurean experience!" said the General Manager of the resort, Mr Arnaud Girodon.
"We have a dedicated team here, starting with our Executive Chef Luke and his culinary team, to our Resident Gardner Khun Pravit, who oversee our organic herb and aromatics garden here at the resort. We have had a tremendous first year, since opening in February 2012, with much praise received for our work. We look forward to continue providing more to our guests in 2013 and beyond!"
At InterContinental Samui Baan Taling Ngam Resort, he oversees the food menu of Amber, Flames, Air Bar and Serene, as well the banqueting menu for Weddings and events held at the resort.
Chef Luke's Organic Tuk Tuk Tour and Cooking Class is priced at THB 3900++ per person for a minimum number of 2 persons, and a maximum number of 4 persons for a half day experience from 10am – 1.30pm inclusive of lunch.
More information:
http://samui.intercontinental.com/