What was your reaction to New York Hilton's announcement that it would be cutting its room service offering?
The news did not entirely shock me, as it is known throughout the industry how costly the in-room dining operation can be to a hotel.
What do you consider the do's and don'ts of room service at a luxury hotel?
In a luxury hotel, in-room dining will always have a place as travelers to five-star hotels expect the service. To be successful, hotels must stay current with the menu offerings, following guests requests and needs such as for items that are healthier and meet certain specifications like being gluten-free. Furthermore, a successful luxury hotel will provide quality food no matter what the meal time. Travelers expect the best and while they may want to stay in their room, they expect the same quality of food and service as if they visited a restaurant.
I understand that Trump SoHo recently revamped its in-room dining menu – can you explain what was changed and the reasoning behind this decision?
Our new in-room dining menu expands upon the traditional fare typically found on in-room dining menus to meet the needs of discerning global travelers who frequent Trump SoHo. We actively collected feedback from our guests and revised the menu to best address their desires. The concept behind our new menu was to draw inspiration from the rich culture of our surrounding neighborhoods, transcending the standard in-room dining experience and making each guest room and suite feel like a unique restaurant with a fabulous view. We want guests to feel as if they have traveled to various parts of Manhattan, such as China Town and Little Italy, – or even another country with our international breakfast fare – without ever leaving their rooms. Whenever possible, the menu takes advantage of locally-sourced ingredients. We also took special care to note gluten-free items as that is a frequent request.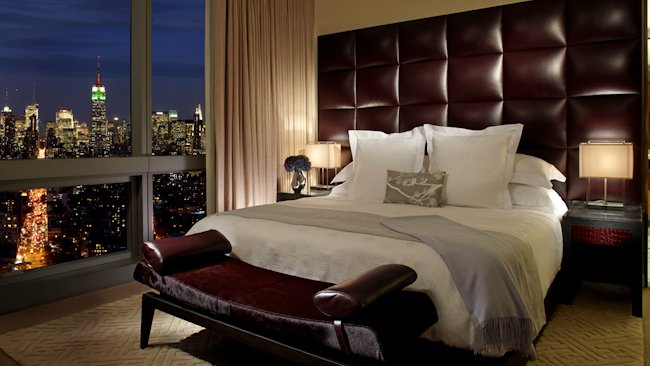 In addition to the expanded menu specifically at Trump SoHo, we also just launched two programs that have been debuted throughout the entire Trump Hotel Collection, Quick Bites and Nourish. Quick Bites is an express in-room menu that includes health-wise and delicious options that are guaranteed to be delivered in 15 minutes or less. Nourish is a selection of menu items that show complete nutritional value.
What do you see as the future of room service – types of offerings, how it's ordered/delivered/etc.?
I believe that in the luxury sector in-room dining will become stronger to meet guests needs, similar the new menu that we just launched, featuring items to meet all dietary and cultural preferences.
Do you think the Hilton announcement is just the beginning of a bigger trend?
I do think that for all other segments of the industry outside of luxury, traditional in-room dining will start to disappear in favor of grab-and-go concepts in common areas that guests can purchase at their leisure, or mobile apps that provide delivery from any neighborhood restaurant.
What do you think the perks of room service are from the guest's perspective?
Guests enjoy the convenience of in-room dining, knowing they don't have to seek out a nearby restaurant. There are times when after a day full of meetings a business travel just wants to catch up on email and enjoy a glass of wine and dinner without heading outside, or the family on vacation can eat breakfast in the morning while each of them are taking time getting ready for the day of adventure. At Trump SoHo, in-room dining comes with a spectacular view of Manhattan in the privacy of your own room or suite.
What type of feedback have you received regarding Trump SoHo's new menu – did anything surprise you?
The feedback has been fantastic. The smoothies on our breakfast menu have been one of the biggest hits. Guests have also shared with us that they appreciate the variety of the breakfast options from different cultures, and the fact that gluten-free and vegan options are noted so they do not have to guess.
###
Andreas Oberoi brings over 25 years of devoted hospitality experience working with some of the world's finest hotels to his role at Trump SoHo New York, the first Trump Hotel Collection property in downtown Manhattan and the neighborhood's only AAA Five Diamond rated hotel.

Before joining Trump SoHo, Oberoi spent 10 years managing iconic, luxury properties for St. Regis Hotels & Resorts and Luxury Collection, most recently serving as general manager of The St. Regis Bangkok, which he opened in 2011. He also managed Hotel Romazzino in Italy's Costa Smeralda and oversaw the opening of the St. Regis Mardavall Hotel in Majorca, Spain. Prior to working with Starwood Hotels & Resorts, Oberoi held senior-level roles with Kempinski Hotels in Beijing and Munich. He also assisted in managing The Waldorf Towers in New York and the San Juan Hotel & Casino in Puerto Rico.

A Munich native, Oberoi launched his career in 1985 at The Kempinski Hotel Vier Jahreszeiten Munich, where following an apprenticeship he became front office manager on a task force team to open the Mansion Kempinski Bangkok in 1991. Oberoi earned an Executive Master of Business Administration degree from Reims Management School in France and currently lives in New York City with his family.