What is your role at von Essen?
Before I joined von Essen I worked as an architect in New York, Berlin and London. I joined von Essen 13 years ago just when it was starting off. Most von Essen hotels are in the countryside so it was quite a change in direction for me. With our most recent addition, Hotel Verta, I feel like I've come full circle, back working in an urban context. As an architect I am involved in all aspects of each hotel because everything is visual in one way or another. We commission external architects for the many ongoing refurbishments. I like to get surprises from them but ultimately anything visual is signed off by me. As well as my work with von Essen, my own practice AEON Architects recently completed two hotels for Relais & Châteaux.
Who influences your work?
It might be a bit of a cliché but I really admire Frank Lloyd Wright. I love his considered use of high quality materials and his well crafted furniture. That's something we aim to replicate in all von Essen hotels. Less well known is Carlo Mollino, an Italian Architect, but more known for his furniture and set designs. He is cited as saying "Everything is permissible as long as it is fantastic." A saying that is close to Onraet's own feelings.
How did the latest von Essen hotel come about?
The opportunity to create Europe's first and only hotel with an integrated heliport was too good to miss. Weston Homes were developing the adjacent site for a luxury residential scheme. We purchased the lower half of the building next to the heliport. And bought the heliport itself. It's been there for 50 years. Al Fayed owned it at one stage. Von Essen Aviation is now the largest helicopter charter company in UK. Von Essen has country house hotel provenance.
Hotel Verta
is a departure in every sense! It's my baby. The hotel is 'beyond boutique'. Ironically despite having a heliport it's the quietest hotel in London thanks to quadruple glazing and sound insulation!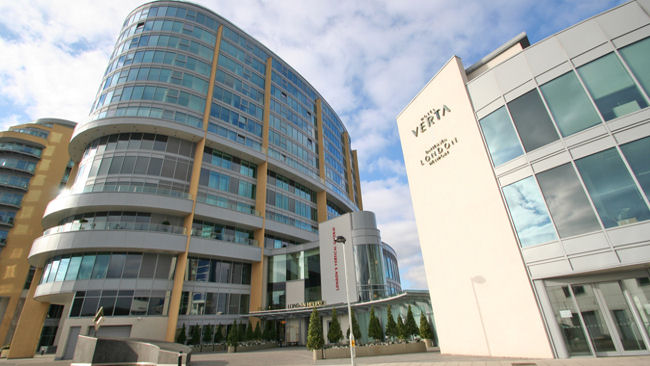 Where exactly is Hotel Verta?
Hotel Verta is in Battersea in the southwest of the English capital. London hasn't woken up to this stretch of the Thames. In 10 years' time people will look back in amazement that it wasn't better known. We're proud to be trailblazers for the area. It used to be best known for power stations. Battersea Power Station, one of the few left, is due to be redeveloped shortly. The American Embassy is relocating to Battersea. On the opposite side of the river, Chelsea Harbor was one of the first exclusive developments in the area. The 'Chelsea Harbor effect' has crossed the river nearer to Hotel Verta.
What are the decorative themes of its interior?
The main theme is the golden age of aviation – the Thirties – when flying was glamorous. This theme is on two levels: a propositional language and a photographic language. From the beginning we set out to take the hotel experience to a 'higher level', reaching 'new heights' to create 'uplifting experiences'. The photographic language originated from a mid 20th century Donovan image of an elegant lady with her leather luggage. The hand carved swirls in the Vertilon Bar carpet represent helicopter ripples. A to Z maps folded into paper planes are set in mirrors in the 70 bedrooms. Dashes of red refer to red landing flags. The grit of the Heroic Thirties is a contrasting theme. Think social realism, the Rockefeller Centre and so on… The brutalist painting of Battersea Power Station over the stairs sums it up. It's the tension between grit and glamour that creates the hotel's unique style. Just like Battersea with its industrial past and prestigious future.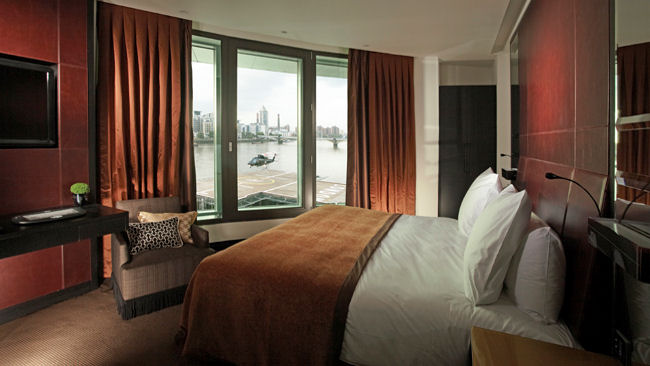 Apart from the interior what are the other areas of design in Hotel Verta?
The staff uniforms – early 1940's cuts and a red dog tooth pattern again reflect the golden age of aviation. Cravats continue the theme. We used London fashion designers Wardrobe Junkies. Nuances of flying are everywhere, even the food service. Bedtime treats are labeled 'Chocs Away'. Business lunches are served on 'In flight Trays'. We even came across a Battersea typeface which we've used along with our own inverted V for A on signage. We're creating a Verta brand.
What is the spa like at Hotel Verta?
A spa should focus on three fundamentals: water, heat and essential oils. At this spa we've gone back to the basic rituals of bathing. The hydro vitality pool is inspired by Roman baths; the sauna, by Turkish hammams. It's pure subterranean heaven. We use Anne Sémonin, Comfort Zone and Mamma Mio products.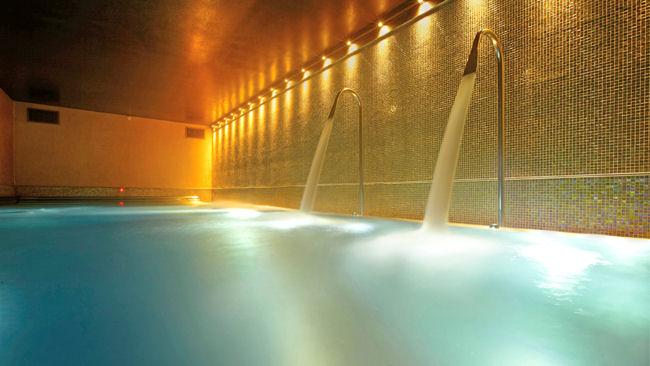 What style of food is served in the restaurant?
The Patrisey Restaurant – named after the Anglo Saxon word for Battersea – specializes in contemporary British lifestyle dining. The chef came from Cliveden and trained under Heston Blumenthal. Highlights include goats' cheese soufflé, Torbay lemon sole and Battersea honey pannacotta. Washed down with a Jet Set cocktail of course!
What clientele are you attracting?
The beautiful people! [Laughs]. So far we have everyone from international highfliers to Russian oligarchs and pop stars who like using the heliport. The X Factor team flies in here during filming. You never know who you'll see! The hotel is a 10 minute limo drive to Knightsbridge. On the other hand it's next to 'Nappy Valley', an area with lots of families because of the large number of schools. It's ideal for the 'Yummy Mummies' to call in for a day spa. Our conference facilities are high end corporate. We're just a few minutes on the train from major venues like Kensington Olympia.
Which von Essen hotel is your favorite and why?
They are all like family members to me. I'd find it impossible to choose between them. All of our hotels bake their own bread. I love the foibles in all of them. Von Essen is about the art of hospitality. We sell excellence and deliver experience.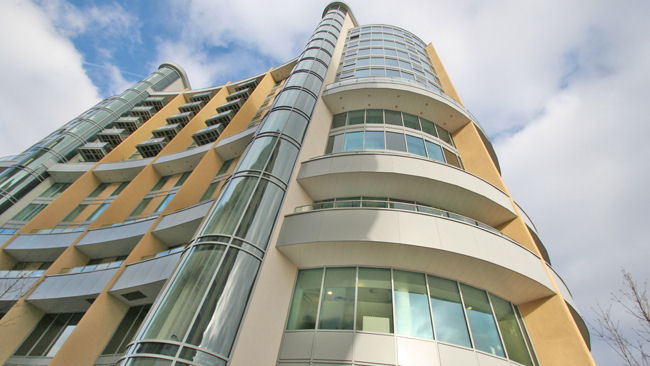 What does the future hold for the von Essen group?
We currently have 31 hotels divided into five sets: Continental, Country, Classic, Family and Metropolitan. Up until now we have doubled in size every two years and we want to continue that growth model. We want 75 hotels across Europe. I can tell you we are progressing deals on two hotels in the French Riviera and are also looking at converting an Art Deco building to a hotel aimed at London city types. We are in talks about the possibility of acquiring part of the Orient Express but that's another whole new interview…
More information:
von Essen Hotels
About the author:
www.stuartblakley.com