From multi-million dollar treasures, to truly bizarre collections and one-of-a- kind artifacts, Strange Inheritance tells the stories of how families decide what to do with their newly acquired possessions. Shocking secrets are discovered, gut-wrenching decisions are made about priceless heirlooms and fascinating histories are uncovered along the way.
What are some of the most interesting things you've uncovered in Strange Inheritance?
In our fourth season we found a long lost Rembrandt in a New Jersey basement! A previously unknown ring of Jane Austen! Classic car collections that exceed any car enthusiasts expectations and as an attorney I was really intrigued this year by an heir who wrote us, he had the original law enforcement documents that took down infamous mobster Al Capone. Even stranger? An insect collection worth millions, a lost cassette containing a song written by Roy Orbison for his sons and a 1967 prized corvette ordered by a veteran while serving in Vietnam that sold at auction for $675,000. The beauty of our show? Every discovery comes with a trip to a location I might not otherwise have ever visited where locals connected to the story are anxious to show us where and how they live.
What has it been like traveling all over the country?
This season alone we traveled to 38 states. In prior seasons, we've crossed the pond twice first to interview an heir who inherited Winston Churchill's dentures and then to the English countryside to visit romance novelist Jane Austen's home to see what is rumored to be her engagement ring. Traveling ten months a year for work has become a unique way of life for me. It's quite different than the 10 years I practiced law from a corner office or the next 10 years I anchored news in a studio. The upside? Sacrificing time at home and lugging multiple suitcases (180 pounds on average) means traveling with an incredibly talented team while having the opportunity to sample local cuisines and culture. For someone who enjoys travel and adventure, it's been the greatest field trip and work experience ever.
Which destinations have stood out?
The nighttime skies of Montana always take my breath away and I will never forget the first time the crew and I arrived and witnessed it. Most unique after hours destination? Check out Great Falls Montana's Sip 'n Dip a friendly bar with live mermaids in huge tanks behind the bar!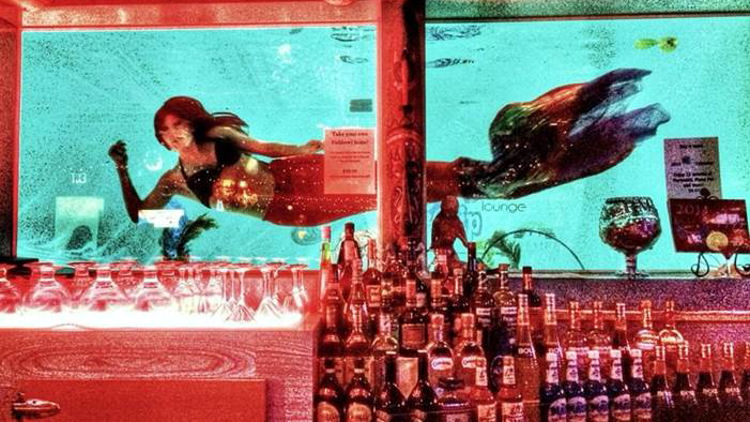 Live mermaids greeted us at the Sip 'n Dip in Great Falls Montana
I've become a huge fan of Oregon and all of its scenic beauty plus I had the chance to discover Willamette Valley and its wonderful wines while shooting an early episode about an eight-year-old boy who inherited his father's winery after he sadly passed away. Vancouver is another city we visited that was a spectacular backdrop for our episode. Savannah recently was charming. Visiting Gettysburg when we learned of the inheritance of a bloody Civil War uniform sleeve of General Pickett was an extraordinary experience I wished I had had years earlier.
What is it like traveling out of a suitcase 300 days a year?
It probably took me a year or two to learn how to truly accomplish this! You need to be so organized! I'm fortunate to travel with Christina Johnson my full-time hair and makeup artist so at least I am spared having to carry all of that gear. We do try to dress in line with locals so some of what I need to pack is episode specific and doing laundry on the road can be a challenge. Because I only get home for a day or two at a time it's always a mad dash to unpack and repack and I probably get to do that about once a month. Carrying all that luggage all year has certainly strengthened my core and upper body so I guess that's a plus!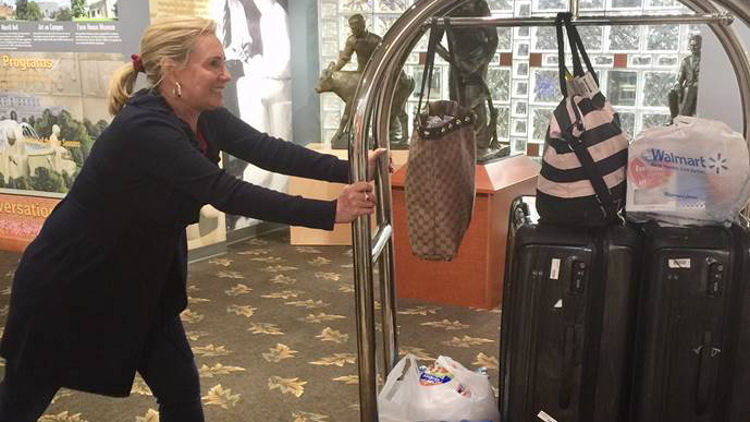 How do you choose where you are going to film the episodes?
Our show has been so wildly successful that many of our episodes are now submitted by viewers who love the show and want to participate. Each season we line up 26 different families and each one becomes the focus of a half hour show. They've often seen a collection they think theirs rivals and want to one up it so the caliber of what we get to see is always top-notch. In addition, we have an amazing story development team that researches some of the most interesting, bizarre or historically significant collections and I am blessed to have the opportunity to discover everything about them. I think one of the strongest features of our show is that we do true storytelling. I hear from many people that our show is the one show their entire family can watch together and producing wholesome, compelling programming is very important to me. I remember growing up how my family would gather to watch shows like Mutual of Omaha Animal Kingdom or Charles Kuralt who traveled and told incredible and heartwarming family stories. I'm so often stopped in airports by folks now who tell me I've provided a much needed break from all the reality shows that are not positive and inspiring.
What have been some of your favorite hotels?
If I can tell you about the one I am staying at right now it truly has to be one of the most beautiful in the world. We recently wrapped up our fourth shooting season after 10 months on the road and believe it or not the first thing I wanted to do was…travel! I don't really have as much time to visit with my close friends during the shooting season so two girlfriends of mine and I have taken off on a Backroads Travel biking trip to Thailand and we are currently staying at the Four Seasons Chang Mai. In a word, WOW! Backroads is great because like my producers do for me during the shooting year, everything is organized and all we have to do is show up every day for a great adventure that's both cultural, relaxing and athletic.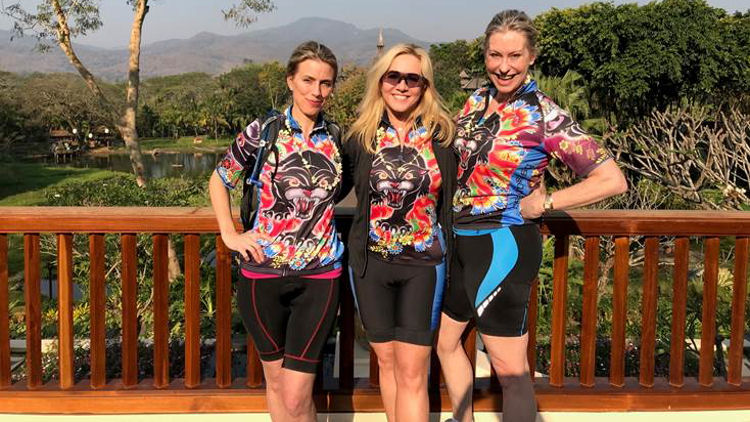 (Apple executive Missy Pool, Fox Business host Jamie Colby and Interior designer Liz McDermott in Thailand with Backroads Travel for R&R and professional inspiration.)
I can't really brag about accommodations during the shooting season as we most often have few choices in tiny towns and only moderate chain hotels. In big cities we will occasionally upgrade to better accommodations but I have to say it's my vacation travel including the current trip I'm on in Thailand and also a recent stay at Jumby Bay in Antigua that allow me to experience true luxury!
What are some of your must-haves when traveling?
Siri! Imagine being in a different city every week and not knowing where the heck you are. Siri has been a lifesaver although because I'm far from home and single now I have to admit I've changed my phone to the British male voice and call him Kenneth! He's been everywhere!
My Tumi luggage has been an essential and the polycarbonate cases are really the way to go. A newly gifted pair of wireless Apple Airpods are wonderful for losing myself in great music on airplanes and during long car trips. As an experienced traveler, I board every flight with one of my cuddly Hermes or Loro Piana cashmere scarves, my Rosehip oil to moisturize morning, noon and night, a great pair of polarized sunglasses, my EltaMD sunscreen and a custom designed on the road workout program from my trainer Maxx Holdrieth. Another must? A ton of protein shakes and bars from my New York Nutritionist Jairo Rodriguez. It's really tough to eat right on the road when so many offerings are refried, chicken-fried and deep-fried. Staying fit has been a big challenge!
What we can look forward to in the upcoming episodes?
Suspense and adventure! Beautifully told stories of great families and hard to imagine Americana. I thought when I started hosting Strange Inheritance it would mostly be about jewelry and art, maybe stamps, comics and coins but it has evolved into so much more than that. This season's upcoming episodes include a real French château unexpectedly in New Jersey, a bizarre yet valuable handcrafted mask collection, a previously lost Norman Rockwell painting, a massive model train collection in Dallas and a one-of-a-kind set of opera gongs commissioned by the great Puccini!
The new episodes air Monday nights from 9-10PM/ET on FOX Business Network.