Tinkerbelle and Belle are one of the hottest pet influencers and biggest trendsetters. Whether it is on Instagram, TikTok, or their popular Youtube channel, they showcase their luxurious lifestyle, cool fashions, and jet-setting adventures for their 3M+ followers to be envious of. It is even giving us a serious case of FOMO.
Being world class influencer pups, What do you love about travel?
We love walking through new cities, immersing ourselves in their individual charm, and finding unique dining experiences that are not available in New York. We also enjoy looking at the latest fashion and serving our mother Sam Carrell, puppy eyes to persuade her to buy it! Travel is not just a shopping spree but an opportunity to learn about the people and their history. In addition, It is amazing how pet friendly the world is!
Where have you traveled lately?
Once the Pandemic hit, mom put a hold on travel and gradually began to allow road trips to strengthen our family bond and maintain our mental health. However, this past December allowed us to resume traveling and we visited: Boston Massachusetts, NYC, Charleston, South Carolina, Lake Placid NY, Salem ,Massachusetts, Vermont, Montauk, Mystic CT, Woodstock NY, And now Denver Colorado! We are happy to be back on airplanes with better food options and a view from the sky.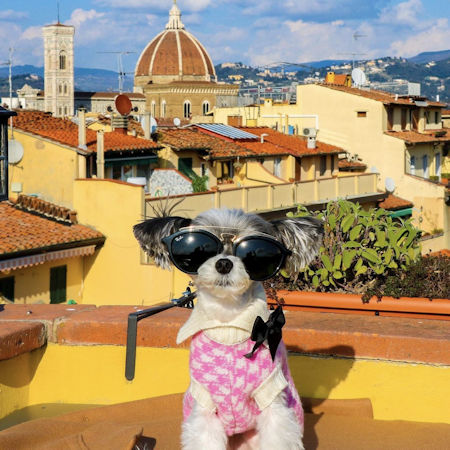 What were some of your favorite places you have traveled? And why?
Some of my absolute favorite places that I have traveled to are Paris, France; Venice, Italy; Florence Italy and London England. My sister Belle has not been abroad yet - but hopefully we will be returning and I can't wait for her to try the deserts. The architecture, the people, the quaintness and handsome-well groomed pups are things that you can not put a price tag on.
What are your favorite things you have done while traveling?
Our favorite thing to do while traveling is to walk! There is nothing like getting dressed up for a girl's night out on foot, exploring the city, it is the only way you truly get to learn about a city and fully immerse yourself in it with the locals. In addition to walking, I love to visit historic places like Notre Dame Cathedral, The Louvre Museum & Ponte Vecchio with mom; she loves sightseeing. My all-time favorite thing I did while traveling was walking in a fashion show in Paris!
What are your top 3 hotels and why should people visit them?
The top hotels that you must go to are: The La Clef Tour Eiffel Hotel, in Paris; Venezia Palazzo Barocci, in Venice Italy; and The Whitney Hotel in Boston. You can see the Eiffel Tower from The La Clef Tour Eiffel Hotel, which is priceless! At the Venezia Palazzo Barocci, you are literally on the canal with amazing views and the best location in all of Venice and The Whitney Hotel has plenty of charm with magnificent amenities for pups and humans.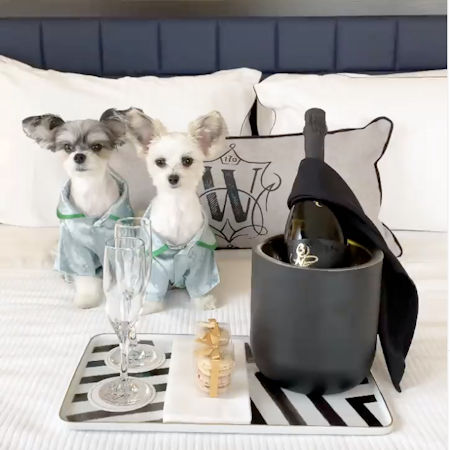 What's next on your travel bucket list?
Our travel bucket list includes going to Germany, Austria, Switzerland, Vail, Colorado, Australia, The Grand Canyon and Hawaii but our next journey will be where fashion takes me and Belle
How did you get into modeling and acting?
One day while walking with my mother, a NYC Animal Agent noticed and approached me. Soon after, I was booked for a Ralph Lauren campaign where I became the face and I've been working ever since. My agent also saw something in Belle and helped her land her first commercial for an eyewear company. I'm so proud of my sister!
What has been your favorite TV or film projects you have done?
My favorite was working for an entire week on the Google Pixel 6 commercial and short film and Belle's favorite was appearing on Saturday Night Live!
What is your dream vacation?
Our dream vacation is somewhere tropical. Warm, sunny, breezy oceanic and peaceful are words that describe that dream perfectly. Mostly, me and Belle just want to enjoy family time and look fabulous doing it and give something for followers to appreciate!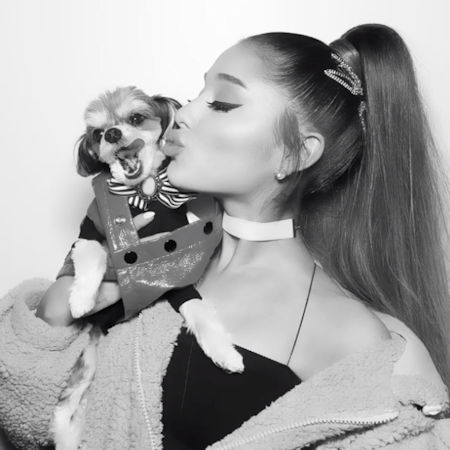 If you could travel with a celebrity anywhere in the world who would it be and where would you travel to?
Me and Belle are huge Taylor Swift fans and would love a girl's trip with her. There would definitely be songwriting, cooking, baking, storytelling on this trip. I think the destination would be Hawaii, where would definitely shake off the stress dancing to: Shake it Off & Style to show our followers how to vacation in luxury.