Brandon has been in the luxury hotel industry for ten years, spending most of his career making-it-happen for his guests as a concierge at Beverly Wilshire, a Four Seasons Hotel. He is a proud member of Les Clefs d'Or USA, as well as the Los Angeles Concierge Association, where he was nominated for "Concierge of the Year" in 2010. Keep your finger on the pulse of LA and enjoy his concierge adventures by following Brandon's tweets. @BWconcierge
Why should travelers visit your destination and your hotel right now? What is new and exciting?
Beverly Wilshire, A Four Seasons Hotel: A hotel icon in the heart of Beverly Hills. Since 1928, we've hosted presidents, royalty, the Hollywood elite and tourists from all over the world. All are here to enjoy the famous LA attractions and landmarks, world-class entertainment, trendy restaurants and shopping, beautiful beaches and parks, museums and galleries, and of course, the wonderful accommodations and impeccable service that Beverly Wilshire has been offering our guests for over 83 years.
Enjoy our exceptional dining options within the hotel, including our main restaurant, The Blvd, which offers Seasonal American cuisine, a stylishly sophisticated ambiance and nightly entertainment – and great outdoor patio overlooking Rodeo Drive. Also, you won't want to miss our Michelin Star steak-house and culinary crown jewel -- CUT by Wolfgang Puck. For a little relaxing, be sure to lounge by our beautiful Mediterranean-style pool (designed after Sophia Loren's) or visit our luxurious Spa, where you'll enjoy an aromatherapy crystal steam room, ice fountain, experience shower and treatment of choice. For more pampering, head to our newest addition, The Nail Bar, for a mani and pedi -- champagne included, of course.
Beverly Wilshire has, hands down, the best location of any hotel in LA. It's a shopper's paradise, with an address that's just steps away from the legendary Rodeo Drive, where you can experience the best in luxury shopping -- Fendi, Prada, Tom Ford, Louis Vuitton, Cartier, Dolce & Gabbana...and the list goes on! We also have many wonderful restaurant options within walking distance, including the famed, Spago and and the always sceney, Mr. Chow. Beverly Hills is also the perfect city in terms of accessibility to the rest of LA. It's just a short drive from the eclectic beach communities of Santa Monica and Venice, the coastal beauty of Malibu, the sightseeing of Hollywood and the cultural richness of Downtown LA.
Please tell us some specific unique experiences and special access can you provide to your guests outside the hotel to make their visit most memorable?
We have 13 concierge on staff at Beverly Wilshire. That's double any hotel in the city, which means double the contacts and resources. You dream it, we'll do our best to create it. And between the entire staff, we usually can. Custom-made tours, backstage access, private concerts, culinary adventures, VIP shopping excursions, red-carpet movie premieres and after-parties, helicopter or private jet charters, etc. etc. Seriously. You name it.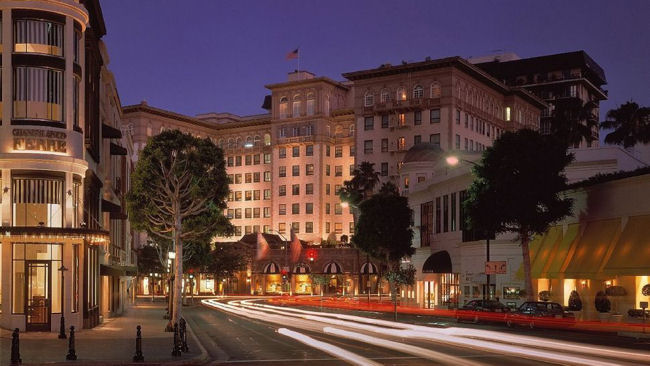 What are the most worthwhile sights and activities at your destination?
It's hard to narrow it down to just a few. My recommendations are always tailored to each individual guest. But generally speaking, these are my top three for first time visitors:
1) Tour the City: Avoid the headache of navigating through our often traffic filled streets and take a private tour of LA. It's a perfect way to kick off your trip and cross a lot of must-sees of the list. It's pricier than the popular group tours bussing around LA, but so much better and well worth the money. It's fun, informative and a super efficient use of your vacation time.
2) Cruise to the Beach: Rent a car (convertible suggested!) and take a scenic drive through the west side to Malibu. Take in the coastal beauty, peruse the quaint shops at Malibu Country Mart and enjoy a beautiful view and relaxing lunch at the quintessential Malibu lunch spot, Geoffrey's. While you're west side be sure to visit the vibrant communities of Santa Monica and Venice too. Here, you'll find great shopping, wonderful restaurants and an entertaining group of muscle heads, fitness freaks, beach bums, tourists and surfers.
3) Enjoy the Art Scene: There is so much amazing art to experience in this city! From the enormous Getty Center Museum, featuring a large collection, impressive architecture and eye-popping views, to the much smaller Getty Villa in Malibu, showcasing Greek and Roman antiquities. From the Los Angeles County Museum of Art (LACMA), displaying works from ancient times to present, to the Museum of Contemporary Art (MOCA), offering contemporary works in all artistic mediums. There are also hundreds of galleries to choose from, including an old rustic train station transformed into a popular gallery in Santa Monica called Bergamont Station, and my favorite -- a truly impressive private collection on display inside the private Beverly Hills estate of art enthusiast and collector, Frederick Weisman.
What are the top restaurants? Which restaurants are most requested by your guests?
From celebrity chefs to Michelin star restaurants, LA has made quite an impression on the culinary scene the last few years. Whether you're looking for fine dining, hip and trendy or just a casual, local spot, this city has something for everyone. I go to almost every restaurant and if it's good, I'll go again and again. Some of my favorite new hot-spots include Sotto, Red O, Playa Rivera, Son of a Gun, Picca Peru, Red Medicine, Spice Table, Cleo and Scarpetta. Other favorites are The Bazaar, Spago, Pizzeria Mozza, Via Veneto, Comme Ca, AOC, Craft, Rivera, Melisse and of course, CUT. I could seriously go on!
Have new technologies affected how guests can interact with you?
The internet has made our guests more savvy and educated. Websites like Trip Advisor and Yelp, as well as the numerous travel blogs out there have made it possible for travelers to have advice and information at their fingertips. However, combing through these websites is a lot of work and it's hard to distinguish the good advice from the bad. Quite frankly, I've noticed that my taste often has nothing in common with the many "reviewers" posting their thoughts and opinions. I think our guests realize this, so they tend to prefer to rely on us for our trusted guidance. Nothing beats the personal insight and touch of a good concierge!
I'd say our concierge desk is pretty cutting-edge when it comes to technology. We were one of the first hotels to use ipads to enhance our guest experience. We use to it to showcase PDF menus and beautiful pictures of our favorite restaurants. Many of our guests love to peruse through to get a better idea of the cuisine, ambiance and decor of each restaurant. It's helpful, informative and fun! We also use it to display our concierge DVD collection via a photo gallery. And yes, of course we have Pretty Woman!
Another way we connect with our guests is via social networking sites like Facebook and Twitter. Beverly Wilshire was actually one of the first hotels to create a position for Social Media. Handled by Lauren Breuning (a former Concierge here); she connects with guests, promotes our venues and keeps our presence strong on the world wide web . I tweet all my concierge thoughts and opinions too. It's a good way for our guests (current and prospective) to stay in-the-know and also offers another helpful form of communication. If they don't feel like calling or stopping by the desk, they can just tweet me! @BWconcierge
What are some idiosyncrasies about your destination that visitors should know? Do you have any Do's and Don'ts for travelers?
Here are three helpful tips:
1) Quality Not Quantity: Some guests try to do everything while they're here -- see every museum, visit every tourist attraction, go to all the top restaurants. This is a mistake. LA is a huge city and there is a lot to see and do. Trying to jam-pack everything into a short period of time can often be stressful and exhausting. My advice: Speak to your concierge and figure out your "LA musts" and spread them out nicely over your vacation so you're not rushed. One or two activities per day is enough. That way, you're feeling relaxed and really get to savor each experience.
2) Walkers Beware: LA is spread out. You will most likely need to rely on a rental car, chauffeured vehicle or taxi to get you from place to place. Oh, and there's always going to be traffic, so plan for it.
3) LA Closes Early: This is a shocker to many. Unlike NYC and other metropolitan cities, LA shuts down --especially Beverly Hills. Stores on Rodeo Drive typically close at 6 pm and some restaurants will even shut down around 9:30 pm during the week. Most nightclubs close by 2:00 am which means last call is at 1:30 am. Contrary to what many people think, LA is not an open-late, party-all-night kind of town.
What are some in-room surprises you can provide?
Whatever you desire! It could be as something as simple as champagne and strawberries or as elaborate as a string quartette -- yes, that's been done! Recently I had a mother that requested a Justin Bieber birthday surprise for her teenage daughter. She wanted anything and everything Justin Bieber. I decked out the room with over 300 balloons, flowers in Justin's signature color purple, a cake (and cupcakes) with his image on each, Justin themed gifts (hats, bracelets, books, framed pictures, foe tattoos) and finished it off with a huge cardboard cutout of Justin. The teenager entered the room with his music rocking in the background and his "Never Say Never" DVD playing on the TV. She was absolutely thrilled with the surprise. She said the only thing better would have been Justin himself. Maybe next time.
That's what I love about my job -- creating those special memories. One moment I'm simply booking dinner reservations for a guest and the next, I'm throwing a life-size Justin Bieber cardboard cutout into my car!
Can you give us advice for tipping the Concierge for services rendered?
Believe it or not, this is a question I get from travelers a lot. This is what I always say: Although gratuity is never expected -- If a concierge makes a positive impact on your stay that exceeds your expectations, a nice gesture is always appreciated, even if it's just a heartfelt "thank you."
Hotel Profile:
Beverly Wilshire, A Four Seasons Hotel