Why should travelers visit your destination and your hotel right now? What is new and exciting?
This is New York City, which means that there are always lots of new and exciting reasons to visit. I'd say that the best reason to visit right now, though, is that there's a great new batch of Broadway shows that either have just opened or are opening very soon; they all want to be considered for the 2011 Tony Awards, of course. So far the biggest hit and critical favorite seems to be
The Book of Mormon
, an outrageous and hysterically funny musical from the creators of South Park and Avenue Q. It's definitely my favorite as well, although one should be prepared for explicit language and all-around offensiveness. If you are more in the mood for drama, don't miss Frances McDormand and Estelle Parsons in Good People, an intriguing new play by David Lindsay-Abaire.
What unique experiences and special access can you provide to your guests outside the hotel to make their visit most memorable?
We can arrange for behind-the-scenes tours at most of the major museums here, and I most recently arranged one at the
American Museum of Natural History
. The guests are given a private tour before the museum is actually open, and getting to see things like the famous dinosaur collection with no other visitors present is a magical experience.
Visits to New York are always memorable, but if you would like some help we can arrange anything from personal shoppers to backstage tours of the
Metropolitan Opera House
. How about a private yacht cruise past the Statue of Liberty and under the Brooklyn Bridge? If you prefer more of a bird's eye view, we'll book a private helicopter for you.
The best way to get to know New York is definitely by walking, and even a quick walk around the block is a culturally enlightening experience. There are many walking tours to choose from as well;
Big Onion
does some very interesting group tours with various themes every week, and if you would like to learn about to New York City's history, there's nothing better than a private tour with
Joyce Gold
, who will leave you more knowledgeable about Gotham than most Gothamites.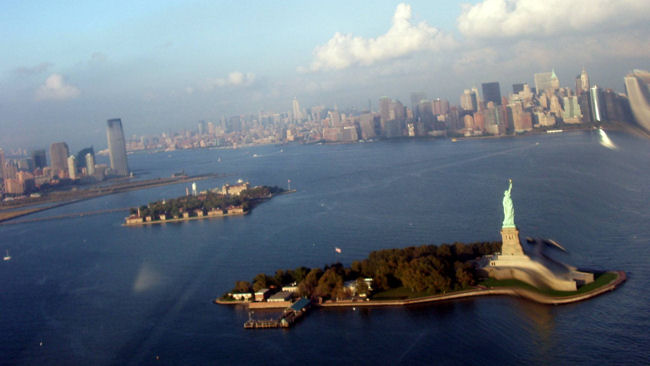 New York City view from helicopter
What are the most worthwhile sights and activities at your destination?
The challenge here is narrowing it down! Almost everyone can list a top ten, including the Empire State Building, Central Park, Rockefeller Center, Times Square, etc., etc., but there are some wonderful places that may not be quite as well known. In my opinion the most impressive new attraction is the
High Line Park
, a new outdoor space that was built atop an abandoned elevated freight railroad. The last train that travelled the tracks was in 1980, and the railroad had become an enormous eyesore that ran from Gansevoort Street to 34th Street. Plans had long been to tear it down, but it was always too expensive, and a few years ago someone came up with the seemingly ludicrous idea of turning it into a park. The first phase opened a couple of years ago, and the second phase (all the way to 30th Street) is opening this spring. The park itself is spectacular, and the views of the city and the Hudson River are breathtaking. If you time your visit right, you might be treated to some impromptu musical theatre presented by residents of one of the neighboring buildings.
My favorite shamelessly touristy attraction has to be the
Circle Line
. Don't try to cut it short and do the two-hour cruise though; find the three hours and go all the way around the island of Manhattan. The views of the skyline are spectacular of course, but perhaps less expected are the breathtaking views as you round the northern tip of the island and see the Palisades and cruise under the George Washington Bridge.
What are the top restaurants?
The answer to this question depends entirely on which New Yorker you ask, and I can only tell you which ones are my favorites. I'm generally partial to non-trendy sorts of places where one will have a memorable meal without being confronted by the latest food fad.
Le Bernardin
,
Daniel
, and
La Grenouille
are three of my favorites, and you can't make me choose (I listed them in alphabetical order.) Breakfast or pre-theatre dining? Your best bet is the Pembroke Room on the second floor of the Lowell. Our chef prepares some of the best breakfasts in New York City, as well as a wonderfully convenient pre-theatre dinner.
If you're in the mood for more exotic fare, though, try the Korean barbecue at Won Jo on 32nd Street–they use real charcoal. Dim sum at Ping's Seafood on Mott Street is one of my favorite meals, and the chili garlic oil there is addictive. If you're ready to venture out to the other boroughs, don't miss
Sripraphai
in Woodside, Queens, the highest-rated Thai restaurant in New York City. Or go to Astoria, also in Queens, for Brazilian at
Malagueta
or a whole grilled fish and other Greek specialties at
Taverna Kyclades
. (Save room for galaktoboureko!) And I almost forgot
Hangawi
, an exotically serene Korean vegetarian restaurant also on 32nd Street. It doesn't matter that you love steak as much as I do; have the tasting menu here and you won't miss meat. Seriously.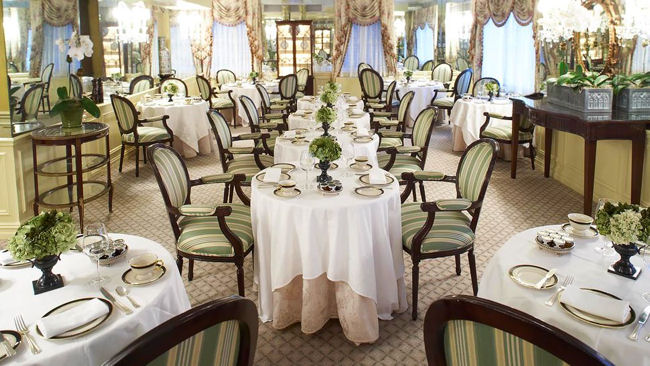 The Lowell, Pembroke Room
Which unique shops and boutiques do you recommend?
It's pretty easy to find good shopping in New York, and the Lowell couldn't be better located. The designer boutiques of Madison Avenue are just steps away, and while you're exploring them make sure not to miss the magnificent collection at the Chanel Fine Jewelry boutique at 64th and Madison. If you still have energy left after shopping both sides of Madison Avenue, you may want to head down to the Meatpacking District, or you can experience one-stop shopping at one of our exclusive department stores; Barneys New York, Bergdorf Goodman, Henri Bendel, Bloomingdale's and Saks Fifth Avenue are all convenient to the Lowell.
Some of the shops I think of as unique to New York City are
Pearl Paint
(an amazing amount of artists' supplies and more), Pearl River Mart (a fun Chinese department store), Tender Buttons (pretty obvious, but you've never seen so many of them in one place),
Maxilla & Mandible
(the place to go for ostrich eggs or skeletons), Gracious Home (where everyone on the Upper East and West Sides goes when they need anything for their condo or townhouse), B&H Photo (definitely the best place to buy a camera or anything electronic), and Paragon (the largest and best sporting goods store in town).
What are some idiosyncrasies about your destination that visitors should know? Do you have any Do's and Don'ts for travelers?
People come to New York with all sorts of preconceived notions, some of which we reinforce, but others we prove wrong. New York is a big city, but it is a very safe one, and New Yorkers are surprisingly friendly and helpful. We're very proud of our city and we want you to leave with a good impression of it. It is true, however, that we are usually in a hurry, so don't stop with your family in the middle of the sidewalk. Sidewalks for us are like freeways: if you're in the center lane and have to stop, pull carefully over to the side after checking the traffic behind you. When you cross the street, the color of the traffic light isn't very important here, but paying attention to cars (and bicycles) most definitely is. Look both ways and make sure that drivers and riders see you. Don't try to pay bus fare with paper money; city buses only take coins, not bills.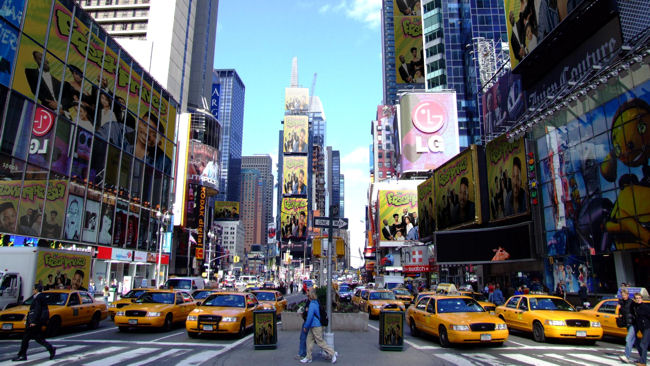 New York City yellow taxi cabs
Keep in mind that taxis cannot be "called" in New York City; they can only be hailed in the street or taken from a designated taxi stand. Always ask your driver for a receipt. If you happen to leave something in the taxi, the receipt will have the taxi's medallion number. All taxis here are yellow; there are hundreds of different taxi companies and individual owners, and they are all yellow. And if you plan to catch a taxi back to your hotel around 4:00 p.m., you should know that that's the time when the drivers' shift change happens, and available taxis can be very difficult to find. If you haven't booked a car and driver, you should prepare yourself with directions back to the hotel via public transport. And if it's raining at 4:00 p.m., the subway will definitely be your best friend.
What are some of the best requests you have fulfilled?
I have to confess that no request seems unusual to me anymore. I've accompanied three guests to the emergency room so far, once in an ambulance; all three stories had happy endings. One Italian girl was feeding a squirrel in Central Park and the impatient rodent nipped her finger; the girl didn't speak English, so I went along to interpret. (I'm embarrassed to say that I've forgotten the Italian word for squirrel though!) I've planned several small weddings. One of my guests had a very well-worn sable hat of which she had become very fond; it was actually so worn that it was starting to fall apart and she wanted another one just like it custom made. It wasn't particularly difficult to make that happen in New York, and my guest was thrilled. I translated medical files from Portuguese for one of our Brazilian guests so that his doctor here could read them. The owner of an art gallery in Geneva asked me to find a French-speaking secretary for him, but it turned out that all he needed was to dictate an important letter. I asked him to have a seat and typed up the letter myself in less than ten minutes.
Some of the fun things happen after I've gone for the day: my colleague Philip got a last-minute call from one of our regular guests whose friend was having an engagement party that evening and a very specific gift had to be delivered to the party right away. Philip had no problem arranging the delivery, and the inflatable doll complete with ball and chain was the hit of the party.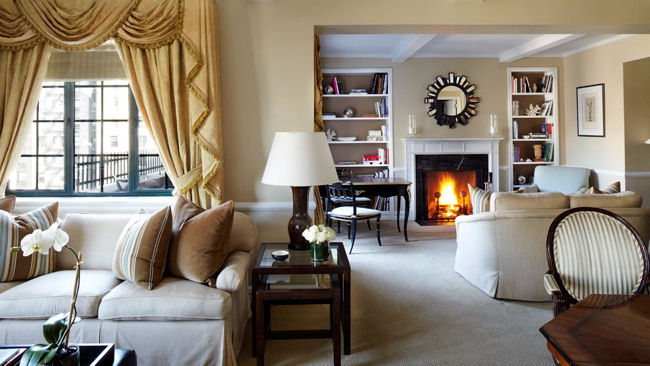 The Lowell Suite 12B livingroom
What are some in-room surprises you can provide?
We can arrange just about anything in the room, as long as it's legal and doesn't violate fire code: flowers, balloons, champagne, chocolates, our chef's wonderful homemade cookies; if you're traveling with your canine companion, our room service department can have the food, bowls, treats and a bed ready. We can transform your suite into a winter wonderland for the holidays, and our housekeeping staff will be delighted to arrange rose petals in the shape of a heart for Valentine's Day – or any other romantic occasion. The most fun so far, though, was one of our favorite guests who wanted to surprise his wife on her birthday. He ordered some spectacular flowers and Dom Pérignon to be waiting in their suite for a start, but he also sent ahead a stunning sheared mink coat which we hid in the closet for her to find. She was thrilled.
Can you give us advice for tipping the Concierge for services rendered?
I wouldn't dream of it. We are always happy to be of assistance. If a guest wishes to express appreciation with something besides a "thank you" we will be very grateful, but I would never think of giving a guest advice in that area.
Hotel Profile:
The Lowell, New York