What is unique about your hotel's location?
Our resort is located in the exclusive Riviera Nayarit, known for its wide, clean, sandy beaches. Here you can enjoy the beauty of the Mexican Pacific in a secluded, private area.
What authentic local experiences will guests have access to?
The charming Centro of Puerto Vallarta is just 25 minutes away, with our mile-long boardwalk, sand sculptures, iron sculptures and the Cathedral of our Lady of Guadalupe.
What are some amazing things that your Concierge can arrange?
Our concierge can arrange trips to the jungle canopy, whale watching voyages, sunset cruises across the bay or a romantic private candlelit dinner on the beach. We even have a private yacht at your disposal.
Does your hotel have a philosophy?
Our philosophy is "The Magic starts here" and it is part of our mission; "In Grand Velas we create magic, marveling and captivating the senses, with a luxurious unique guaranteed experience" to provide the absolute best of everything, exceed the expectations of each and every guest, and create the ultimate vacation experience.
What makes your hotel memorable and unforgettable?
Aside from our beautiful award-winning suites, excellent dining experience and world-class facilities, our warmth of service and true Mexican spirit of hospitality makes our resort memorable.
What will guests rave about to their friends and family?
Our guests mention that here at Grand Velas they were treated like royalty. From the moment guests arrive we make sure that each aspect of their stay is perfect. We also receive many comments about our redefinition of the term "all-inclusive". We are proud to say that our dining experience and activities included are top of the line.
What is the atmosphere of your hotel? What types of guests does it attract?
The atmosphere of the hotel is tranquil and luxurious. We attract guests from all over the world who enjoy world-class service and fine dining, and who are looking for a luxury vacation experience in a beautiful setting.
What makes your hotel a destination within itself?
Our resort is the ultimate experience of relaxation and enjoyment. Our infinity pool and Jacuzzi, Leading Spa of the World, beautiful sunsets and ocean-view restaurants make it a destination within itself.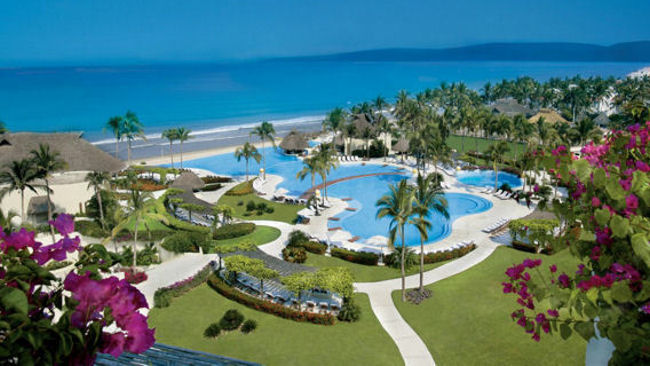 What is the signature dish in your hotel's restaurant?
Our abundant culinary variety includes fresh regional seafood creations like Scallop and Seabass Ceviche marinated in sour orange, or the harmonic Shrimps "Aguachile" with avocado and banana chips, best to combine with one of our signature Margaritas like "Cilantro Coriander" or "Clamato Soft Chili Pepper" in our Mexican restaurant "Frida". Or feel like dining in Toscana by enjoying fresh homemade pasta with smooth Chianti in "Lucca" restaurant, or be delighted by fluffy hot Soufflés in our French gourmet restaurant "Piaf". These three fine dining restaurants are each rated Four Diamonds by AAA. Our Food and Beverage Director and Executive Chef was awarded the Bronze medal at the Culinary Olympics in Frankfurt, Germany and possesses a Master Chef Diploma from the Culinary Institute in Vienna, Austria.
What is the best way for guests to "arrive in style" to your hotel?
Guests can fly by private jet to the Puerto Vallarta International Airport, or arrive by yacht to the Puerto Vallarta Marina, where we will have VIP transportation service waiting to bring them to the resort.
Do you provide any welcoming or parting amenities to guests?
Upon arrival all guests are treated to a cool moist towel, refreshing Hibiscus beverage and a neck and shoulder massage to begin the relaxation process and welcome them to Grand Velas. We pride ourselves on being prepared for our guest's arrival, and ask that they complete a short pre-arrival survey so that we can equip their suite with the perfect wine, music, pillows, honeymoon décor, birthday or anniversary surprise.
Can you recommend other destinations/hotels nearby (within 300 miles) that your guests should consider combining into a trip?
A trip to this area would not be complete without experiencing the natural beauty of the area. Our concierge can advise guests as to the best options for jungle tours, seeing the remote beaches on the south end of Puerto Vallarta, snorkeling or diving.
Hotel Profile:
Grand Velas Riviera Nayarit