The sky, as we deplaned in Ireland, was deep gray and portending rain at any moment but the guide who met us allayed our weather worries by saying that it only rained twice last year – once for five months and once for seven. Alrighty then. But just think: if Ireland weren't so rainy it wouldn't be so green. And green is good! Whatever the weather – fair or foul - one is warmed just basking in the hospitality, friendliness, and good cheer that is a trademark of the Irish. Erin go Braugh!
Our trip concentrated on the West of Ireland as we traveled from the stunning Ring of Kerry and up along the coast to the exciting city of Galway. We began our journey on the Dingle Peninsula, the most westerly point in Europe and an area with a wealth of historical monuments, Gaelic culture and literature. The mountains here are lofty and brooding, and the Conor Pass is the highest mountain pass in all Ireland. On the morning of our drive to the Gallarus Oratory, the atmosphere was dreamlike. A fine, milky mist enveloped all and the landscape, divided by 400 year old hedgerows, gave the fields a look of giant green checkerboards. Cheerful yellow grouse grew everywhere and all was covered by fat, white clumps which, on closer inspection, turned out to be hundreds of sheep.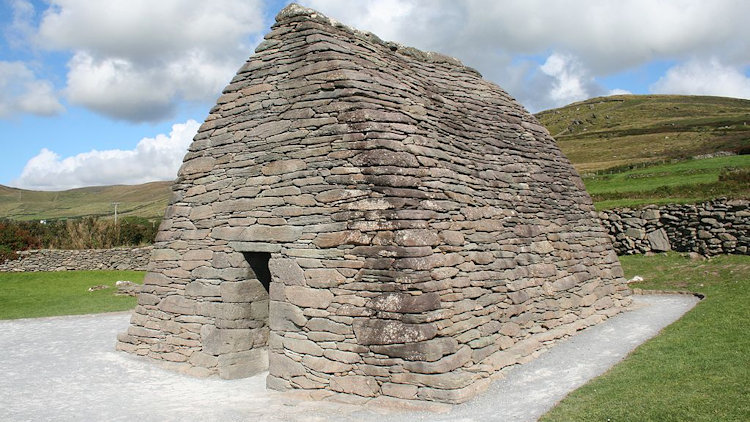 Image credit: Wikimedia Commons
Searching for Fairies
Perched on a windswept hill covered with wildflowers, we arrived at the awe-inspiring Gallarus Oratory, a 1300-year old stone building still in perfect condition and one of the finest examples of an early-Christian church. The Most common feature of the Irish landscape, and which we saw in abundance, was the ring forts or human settlements. Irish folklore tells us that the fairies were believed to inhabit these forts. Sorry to report, after an extensive survey of the area – no fairies! (I've heard they're terribly shy).
Gone but not Forgotten
On the blustery and chilly tip of the Dingle Peninsula we toured the Blasket Center which celebrates the story of the Blasket Islanders. Here a stone fort still stands, proof of its possible occupation 2,000 years ago. After the Great Famine (1845-48), the young people left, mostly for America, and by 1953, the once vibrant population had vanished. Today, on a visit to the deserted Great Blasket, you will see stunning scenery and if lucky, maybe even glimpse a dolphin or whale. The profoundly moving photographs, artifacts, documents and utensils preserved at the Center are a true testament to these unbelievably hearty people and the unique literary achievement of the island writers who have preserved a lifestyle that is no more. We dined that evening at The Chart House, Jim McCarthy's attractive, stone-built restaurant that has been a Dingle favorite for over 10 years. A particular hit with our group that night was a specialty of the house, the Black Pudding; another, the lamb, totally organic and so fresh we could taste the heather. After dinner, bowing to an old Irish saying: Luigh leis an uan agus eirigh leis an ean: Lie with the lamb, and rise with the bird, we did precisely that at the cozy Dingle Benners Hotel.
Into the Woods
Waking to birdsong, we were off to Killarney to visit the Killarney National Park in County Kerry. Driving into the town of Killarney, we passed scores of fresh and tidy pastel colored gingerbread-style houses which gave the village a rainbow-hued effect. The town looked like it belonged in Disneyland, but in a good way – happy, peaceful, a place where you'd like to hang out. Killarney National Park is 10,236 glorious woodland acres replete with mountains, lakes and waterfalls. Once in the park, we engaged the services of a horse-drawn jaunting cart whose driver, Billy, embodied droll and hilarious Irish humor, keeping us in stitches the entire ride. He asked, "What do you call an Irishman buried 2,000 years?" Dunno. "Peat!"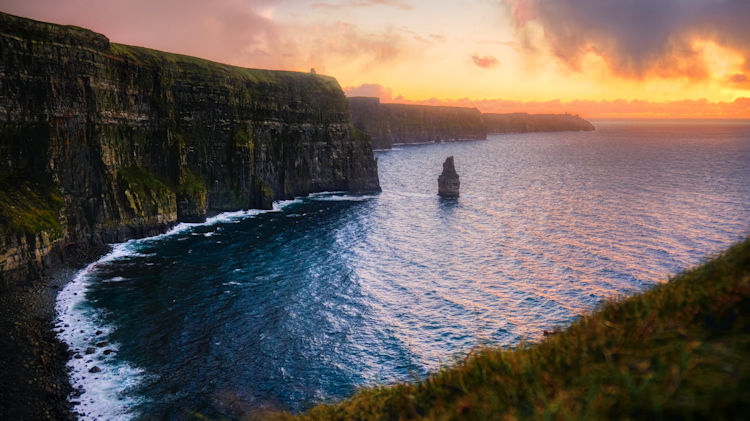 Moher Excitement
After a particularly memorable, restoring sleep at The Killarney Park Hotel, sinking into deep down, we set off for County Clare and the Cliffs of Moher. The Cliffs are perhaps Ireland's most renowned attraction. They face out onto the Aran Islands, and stand 5 miles long, towering above the wild and roaring Atlantic below. Live, traditional Irish music played as we hiked pathways with heart-stopping views over the 700 foot tall cliffs. There's a very good, award-winning exhibition at the Moher Visitor's Center called The Atlantic Edge. It's a virtual reality, cliff-face journey which allowed us to experience a Birdseye view of life on the cliffs, both above and below sea level.
Make Way for Galway!
Though not the largest city in Ireland, Galway may be its most interesting. It is medieval and intimate with narrow streets and lanes bulging with shops, pubs and restaurants. Here is where the Irish language is the strongest with bilingual signs on all shops and roads. It's also home to the striking G Hotel designed by Philip Treacy. The public rooms are wildly glamorous and evoke old Hollywood. It is like no other hotel I've ever experienced and has been designated as one of the top three hotels in the world by Conde Nast Traveler. That evening we enjoyed dinner at the well-known Kirwan's Restaurant and I topped off the evening with a visit to the hotel's G Spa, contemporary, elegant, a place where absolutely nothing has been spared in design and quality. I enjoyed a massage that kneaded away all my bodily knots acquired from days of walking. Spring was restored to my step and I was once again ready for whatever was to come.
The Castle Rocks
What was to come was the sprawling and spectacular Ashford Castle, located in County Mayo just a half hour from Galway and dating back to 1228. The Castle eventually became a summer home of the Guinness family until it opened as a hotel just before the start of World War II. Ever since, guests have delighted in rooms tucked away in turrets, two restaurants and a range of country sports including falconry, horseback riding, golf and clay pigeon shooting.
Falconry…. hummm…. it sounded exotic and intriguing. I thought it would be fun to watch but noooo, that wasn't in the cards. I was cajoled and shamed into joining in, donning a thick, weird looking leather glove and yes, allowing a falcon to rest on said glove. When it flew off to a faraway tree, a bit of meat was placed on my glove, and this dear bird, with phenomenal vision, zoomed back onto my arm and whoosh! both meat and bird were gone. This was a completely memorable experience, one that wimpy me was ultimately glad I had.
We had high tea in one of the glorious castle rooms amid towering ceilings, glorious boisirie, cascading red velvet draperies, suits of armor and period furniture. Make no mistake about it, we were in an honest-to-goodness, real-life castle whose lifestyle I could quickly get used to. Ashford Castle is one of the most luxurious resort hotels in the world – a legacy 700 years in the making.


Last Stop, Lasting Memory
We ended our Ireland fantasy at Adare Manor in the county of Limerick,
a singularly special place consisting of 840 acres of sweeping parklands, cultivated gardens, mature trees and the river Maigue, one of Ireland's finest trout rivers. The Manor House was once owned by the Earl of Dunraven and was built in the 1830s. Among the many eccentricities of the house: there are 52 chimneys (one to commemorate each week of the year, 75 fireplaces and 365 leaded glass windows (one for each day of the year). Adare Manor offers world class facilities including two top restaurants, an equestrian center, fitness room, indoor heated swimming pool, a spa, fishing, clay pigeon shooting, and a Robert Trent Jones designed golf course.
Well, all good things must sadly come to an end, and ending with two of Ireland's most famous and beloved castles is as good a way as any. In closing, let me pass along some old Irish advice: to ward off those cute but mischievous fairies when visiting, take a bit of the foxglove flower, aka Dead Man's Bells, and rub some of the sap on your clothing. Guaranteed, you'll see nary a fairy! What you will see, however, is this magical, mystical land, and that alone is worth the trip!
Ireland 411:
www.discoverireland.ie