Tsara Komba Luxury Beach and Forest Lodge is a handpicked member of
National Geographic Unique Lodges of the World
and with good reason. Approaching the island in a speedboat from the port of Hellville on Nosy Be, the six Ocean View and two Suite Ocean View Lodges are visible only as woven palm-branch roofs, amidst lush greenery. Despite minimum interference with the indigenous nature, an appealing Garden of Eden has been fashioned, where totally non-venomous weird and wonderful creatures like butterflies, skinks and lizards abound. I stroll across golden sands to be greeted warmly by casually elegant staff that carries my dive bag and suitcase to my private suite.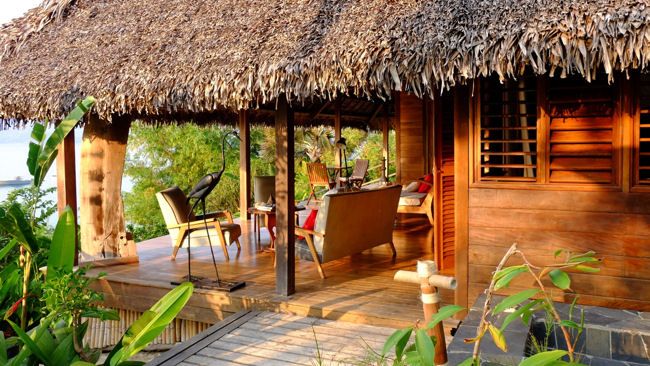 Totally secluded, with a Zen garden next to the suite, I have a bedroom, indoor lounge – which has two daybeds, so suitable for two extra guests or family – bathroom with shower and two basins, plus a spacious verandah. To my delight, I discover an outdoor shower, made of hollow bamboo. Left alone I simply sit, sip my welcome drink of fresh juices while gazing at the view, mesmerized by the view of azure water with fisherman in bobbing traditional pirogues, a Catamaran berthing and village women with baskets on their head walking lazily on the beach below, where the tide is low. I can see the tiny island of Tanikely, where I will be scuba diving in the marine nature reserve.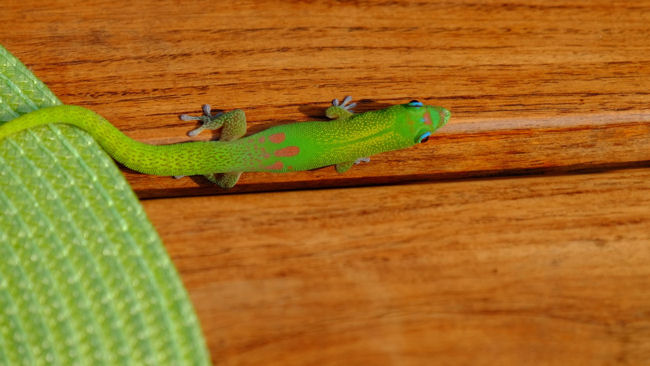 My reverie is interrupted by the arrival of a dayglo-green Madagascar Day Gecko, with pink markings - a
Phelsuma
species - so I rush to get my camera. On the wooden wall of the verandah, I spot another species of gecko, strategically situated near to the outside light, where it surely hopes to catch insects in the evening. Up some stairs of stone, towards the dining area of Tsara Komba, I find a nursery garden where endemic baobab and Pachypodium species are being nurtured. Reaching the wide deck of the communal lounge and dining spaces, I am freshly overawed by the spectacle of the open ocean. Fellow guests excitedly point out a turtle nearby, which is gliding over sea grass. When a pair of Humpback whales appears, we abandon our lunch to rush down to the shore, hop into a motorboat, and follow the breeding whales. They oblige us by breaching and tail slapping, to our roar of approval.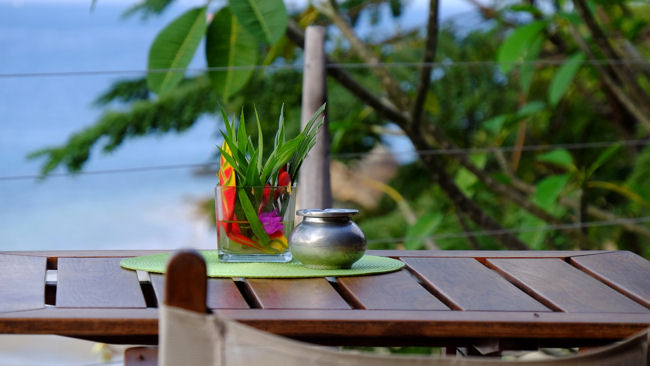 After our spontaneous excursion we settle again at neatly set tables, to savor the prettily presented gourmet fare, created from locally sourced ingredients, using slow-food inspired techniques. Expect a variety of three course meals, with an abundance of fresh seafood, delectable duck or local Zebu beef, in creative sauces and reductions. Desserts include a choice of French-style tortes, cakes or homemade exotic fruit sorbets, served graciously by staff recruited from local villages. They share with me that Tsara Komba Luxury Beach and Forest Lodge has helped to provide local communities with shelter in restored traditional wooden houses, clean water, a maternity clinic and classrooms for schooling.
Ready for some action, I use one of the lodge kayaks to paddle to a nearby snorkeling area. Resting the kayak on a deserted beach, I don my mask and fins, to discover a parallel universe under the waves, where a diversity of hard and soft corals are in surprisingly good condition, sustaining a healthy population of vivid tropical fish. On a still, cerulean ocean, I kayak back to the beach just below my suite, as the sun sets in a gentle haze of pastel pinks, casting a lambent glow on the water.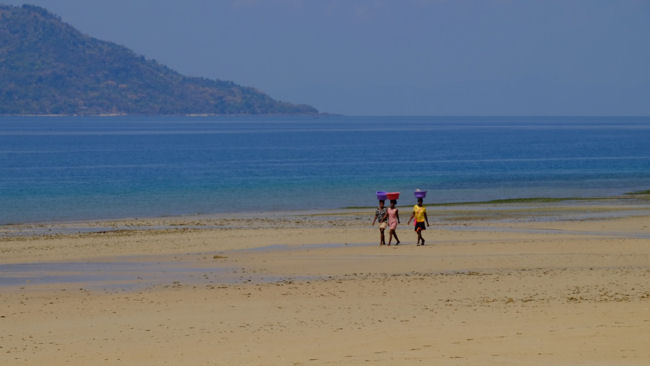 After a pleasant sleep, beneath draped mosquito nets, in a fan-induced gentle breeze, I get up early to trek up through the forest. I hear a Madagascar Coucal's emptying-bottle-of-water call and the high-pitched chee-chee of Suimanga, then – to my delight - I manage to spot these birds. After my hike and a leisurely breakfast, I join Nosy Komba divers, to head for the protected waters around Nosy Tanikely. Snorkeling and diving in the sites here have the reputation of being absolutely fantastic, so I have high expectations. It is a shallow, easy dive and we see many kinds of wrasse, parrotfish, lionfish, grouper and Giant moray eel, a Blue-spotted ray, turtles and my favourite: colourful nudibranch. Corals are beautiful and varied, including Yellow Gorgonian fan and Table coral. As the sea is calm, we chat on the dive boat for our surface interval - sipping hot Malagasy tea and enjoying the extra-sweet small bananas - then we dive again. Exhilarated by the wonder of Tube and Vase sponge, Titan triggerfish and vast shoals of Yellowback fusilier, I return to my suite to read a book that I find in the bookshelf assembled from an old pirogue, placed upright.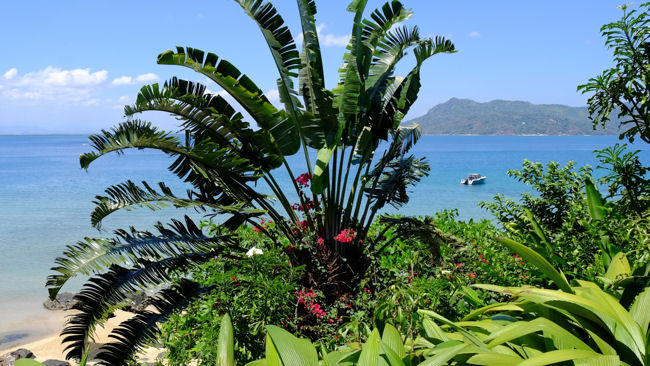 Treading lightly on the island, working to conserve the tropical vegetation, serving local communities and providing excellent hospitality to guests, Tsara Komba Luxury Beach and Forest Lodge is an outstanding lodge in Madagascar. Intimate and exclusive, it sports an unforgettable view that will 'flash upon that inward eye' in future moments of solitude.
Visit website:
www.tsarakomba.com/uk
Getting there:Airlink
flies daily from Oliver Tambo International Airport to Antananarivo, in Madagascar. The Business Class is a significantly more comfortable choice, where you will be served a tasty meal on white crockery, complemented by pleasant South African wines. Gear up for your stay in paradise, as you sip a Tanqueray gin and tonic. Airlink flies direct to OR Tambo International Airport to Nosy Be on Sundays at 09:30 to arrive at 14:00, with additional season flights on Wednesdays for the period of 13 December 2017 to 3 January 2018. Visit
www.flyairlink.com
Organizing your trip
:
ASISTEN Travel
is a reliable, specialized, 100% Malagasy destination management company that can organize your high-end experiential trip to Miavana Island Sanctuary and any other places you may wish to visit in Madagascar. Many of the best lodges are remote, so require charter flights – which only operate on certain days – so it is imperative to choose a reputable ground handler to help you design what you would like to do, plus to co-ordinate the logistics of your trip for you. ASISTEN guides are educated, speak several languages and drive carefully in luxury vehicles, to negotiate the busy traffic or challenging roads. Services of private jet, yacht and security detail are available.
www.asisten-travel.com
Other highly recommended accommodation:Mandrare River Camp
Set on the banks of a wide riverbed, under spreading Tamarind trees, luxury en-suite tents provide the perfect base to explore the surreal Spiny Forests of southern Madagascar. This intimate camp is close to the authentic Malagasy village of Ifotaka, and opposite the sacred ancestral forests of the Antandroy Tribe, with its diversity of lemurs and chameleons.
www.madaclassic.com/mandrare/home.htm
Manafiafy Beach and Rainforest Lodge
Six spacious wooden bungalows are positioned along the beach, under a canopy of indigenous trees, opposite a small island of littoral rainforest –home to an array of fascinating fauna - and close to a forest with lemurs, four species of chameleons and other endemic wildlife. Ideal for wildlife excursions, visits to simple fishing villages and beach relaxation.
www.madaclassic.com/manafiafy/home.htm
Sangany Lodge
Touchingly warm hospitality, consistently delectable food and the position of six villas on a stretch of private beach, close to snorkeling spots, make this a great choice in Nosy Be. The tree house - with a splendid view of the bay and ocean beyond to Nosy Fanihy – is romantic for a honeymoon or special anniversary.
www.madagascat.co.za/madagascat-holidays/2017/5/8/sangany-lodge
Masoala Forest Lodge
To trek in primary rainforest in north-eastern Madagascar, with its vast numbers of endemic species of plants and animals, to closely watch whales, swim in cool mountain streams, visit small fishing villages, pirogue in the mangrove area and have an adventure of a lifetime; stay in a tree-top tent at this exceptional lodge.
www.masoalaforestlodge.com
Miavana
Madagascar's most opulent and refined five-star eco-lodge on Nosy Ankao is in a league of its own, with exquisitely beautiful private villas and public spaces, fine dining on gourmet cuisine and prize-winning wine, helicopter flips to nearby islands and dedicated service from well-trained staff.
https://timeandtideafrica.com/miavana
Maki Cat – Catamaran Charter
Well-run 8-berth motorized catamaran - that accepts a minimum of 4 passengers - with shipshape crew to cook the fish that you catch, serve your caipirinha as you return from your scuba dive and spot whales and dolphin pods as you laze on deck. The very best of ocean living, this offers a painless way to explore tiny islands, to visit remote villages and to dive in the very best open ocean dive sites.
http://www.madagascat.co.za/madagascat-holidays/2016/6/3/maki-cat-from-1683-pp-nbd-005-minimum-4-people
Article and Photos by
Gillian McLaren, www.gillianmclaren.blogspot.com
, Instagram
@Jetset_Gillian