Use promo code LTM20 for 20% off your order.
Benefits of Reversible/Convertible Clothing for Traveling1. Space, Space, and more Space!
This one is kinda obvious, but having two or even four items in one piece is a real space saver!
2. Traveling Light
Lugging a 50 pound suitcase around on vacation is NOT our idea of a holiday. Airlines also charge crazy prices for excess baggage, so being able to travel light is always a great option. Whether you are going on quick a business trip, a short weekend away, or a longer vacation, packing and traveling is a breeze with reversible clothing because you can pack a whole week's worth of outfits with just a few items of clothing. That's a lot fewer pounds of luggage.
3. Go from Business to Happy Hour in a Snap
Ever wanted a quick outfit change before heading for after work happy hour drinks (first world problems right)? Well reversible clothing is the perfect solution. You can wear one dress to work and turn it inside before you go for some drinks with the girls and voila… you have a completely different look.
4. Fashion Envy
Of course you'll be getting tons of compliments and envious glances from your friends and peers who haven't been introduced to the wonderful world of multi-functional luxury. They'll be wondering how you continuously manage to buy knock-out fashion items, without even realizing it's the same piece.
5. Eco-Friendly
Buying one piece that can be worn in lots of different ways is also great for the environment! The Environmental Justice Foundation cited that it takes 2,700 liters of water to make just one t-shirt (cotton is one of the thirstiest crops on the planet – fun fact two)! That's a lot of water. So why not help save the planet and start doubling up your outfits?
6. Less Laundry
Having an item of clothing that offers many different looks means you will have less items to wash, which is not only great for lowering your bills, it's also good for the planet. So buying reversible fashion really is great for the environment.
7. Great Value
It goes without saying, but having one item that completely transforms into many different looks provides great value. Due to the nature of reversible clothing (they need to be able to be worn inside out) they are (or at least Jia Collection is) made with the highest quality materials. So you can be sure that you are getting the best quality, functionality and value for your money.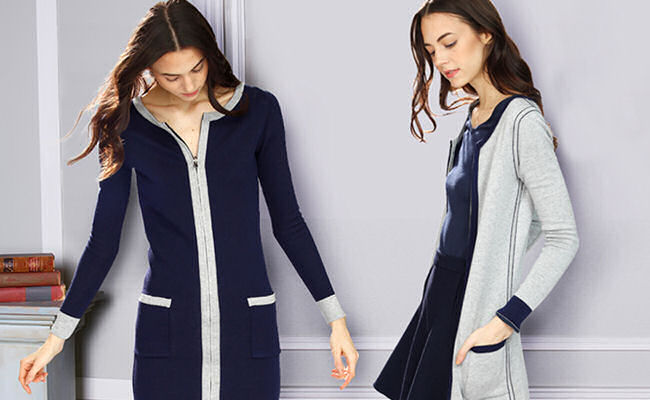 Inspired collections include:
New York to Naples
French Riviera Escape
Prague Romance
Collections for warm and cold weather include dresses, skirts, tops, outerwear, and accessories in 4 styles:
Everyday Style
Work Style
Cocktail Style
Travel Style
Jia Collection has been featured in Forbes, Travel+Leisure, InStyle, O, Lucky, Fitness, Elle...and more.
Visit website:
https://jiacollection.com/
Use promo code LTM20 for 20% off your order.