A private game reserve, patronized by A-list celebrities, the international jet set, and animal-lovers in search of the best, it's a magical slice of Africa, where the rawest strains of nature rub shoulders with true luxury.
Located one hundred miles inland from Port Elizabeth, Kwandwe was the combined dream of a local game ranger and an American investor – lured by the region's malaria-free status and its stark beauty. Its name means 'Place of the Blue Crane' in Xosa. Ten years of work and an extraordinary vision brought the dream into focus – resulting in one of the finest, most exclusive game reserves on the African continent, and a triumph of natural conservation.
The land on which Kwandwe is found was settled by Europeans in the 1830s, who used it for farming ostrich. The exotic feathers were the height of fashion a century ago, worn in voluminous hats by aristocratic ladies the world over. But, in 1911, by a curious quirk of history the Model T Ford changed everything. The revolutionary production car – available in any color so long as it was black – had a hard roof and a small doorway. This had never been a problem, not on the drawing board in any case. Alas though, the fashionable ostrich feather millinery creations couldn't fit easily inside. And, the Model T wasn't going to roll over and disappear, and so the hats had to go instead.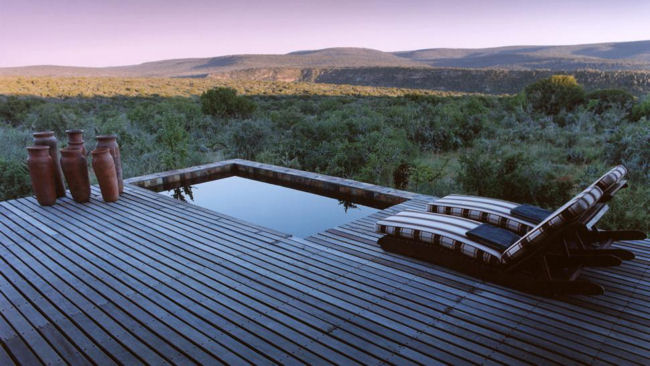 The result was devastation for the ostrich farms of South Africa. They never quite recovered, despite attempts to introduce ostrich eggs as novelties and the big bird's meat in gourmet cuisine. With little hope of farming the vast sweeping panorama, it lay pretty much dormant for decades.
Purchasing a total of nine huge farms during the last decade, the owners of Kwandwe, set about returning the swathe of African bush to nature. In what was to be a tremendous task, they removed more than two thousand miles of fencing, as well as buildings, water troughs, and dangerous farming machinery. Only then could they reintroduce big game to a region hunted bare by farmers and poachers for more than a century and a half.
The business of wild animal management is a precise one. The rangers had to make sure the natural environment could sustain specific numbers of individual fauna. With painstaking supervision they began with the big herbivorous mammals –elephants, Cape buffalo, giraffe, and the rare black rhino.
With the succulent thicket landscape of Kwandwe in good shape after decades of being left fallow, the animals thrived. Slowly, others were introduced, including the elusive wild dogs, lions, cheetah and leopards. And, for the food chain to be complete, these were complimented by a gamut of grazing herbivores – including zebra, eland, gemsbok, springbok and oryx.
There's a clear difference between Kwandwe and a great many other game reserves – and it's privacy. The celebrated public reserves found in South Africa and elsewhere have little or no restrictions on the numbers of visitors. The outcome is a free for all of vehicles chasing down animals.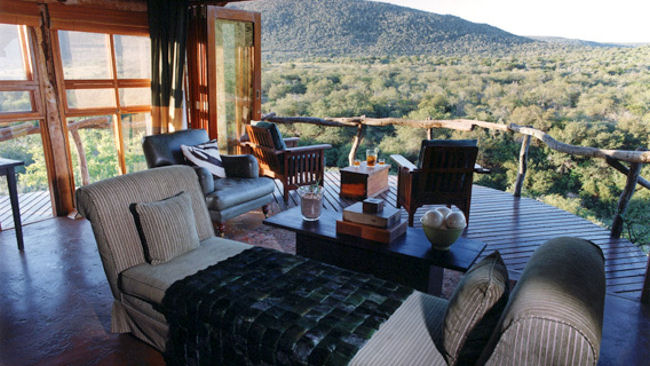 But, at Kwandwe, what strikes you is the extraordinary ratio of visitors to square miles of bush. You never see another vehicle, just animals galore. A favorite with Prince Edward, third son of Queen Elizabeth, who's visited three times, the reserve is the perfect family game-spotting environment. With two game drives each day – early morning and late afternoon – there's plenty of time to roam all over the vast reserve. Children are introduced to tracking, and get lessons in how to pick up a trail, as well as 'pooh safaris', learning about which droppings belong to which creature.
There are a total of four individual lodges at Kwandwe, each with a unique feel. A part of Relais & Chateux, and managed by the superlative &Beyond group, they offer a jaw-dropping level of service. It's one of those experiences that even the best traveled globetrotter hardly ever gets – one in which your every wish is catered for even before you've thought of it.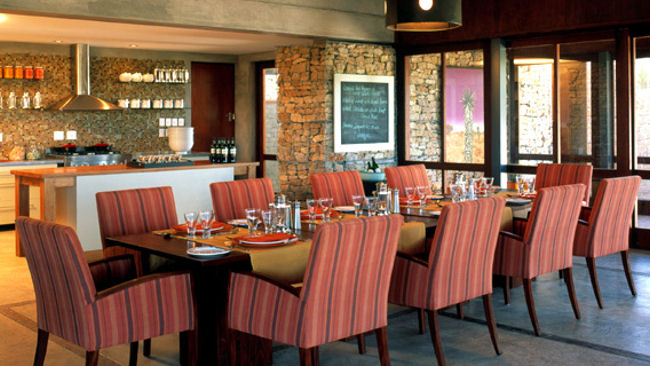 I stayed at Ecca Lodge, a retreat without equal from the trials and tribulations of normality. The six suites are located a few minutes' walk from the central lodge house, each in a building of its own. Each one is absolutely enormous, refined beyond description, adorned with bowls of glazed ostrich eggs (it was an ostrich farm after all) and, best of all, sprawling views over the reserve.
With its dining room and bar, luxurious salons, and refreshing plunge pool surrounded by decking, the lodge house is like something from Out of Africa – albeit a super deluxe version.
At Kwandwe the magic isn't rolled out all at once. It touches you bit by bit, just when you're least expecting it. After an early start for the morning game drive, you turn a corner and – in the middle of nowhere – there's a Champagne breakfast laid out beneath thorn trees. Or, just before the suns slips away below the horizon once again, there's cocktails and canapés at the edge of the reserve, in long shadows and syrupy yellow light.
But very best of all (there are a lot of bests here) are the animals.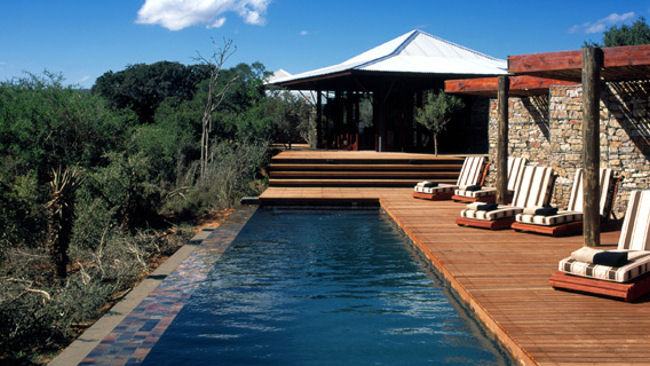 With expert rangers and trackers too, you're likely to see a full compliment of the Big Five, as well as some of the smaller marvels as well – meerkats and rarest of rare wild dogs among them. The knowledge of the rangers can answer almost any question posed and, during my visit, I felt that I was gaining the kind of first hand education that our virtual world could ever provide. I smelled the pungent scent of the succulent Hoodia flower, saw a ghost-like procession of a hundred Cape buffalo crossing a stream, and learned about the delicate lichens found on boulders at the edge of the Great Fish River.
The highest of the highlights came on the fading moments of light on my last day at Kwandwe. The ranger guide had spotted tracks. He was suddenly energized, but wouldn't saw why. A detective race followed, one in which the shadows were lengthening fast. Steering the open-top jeep to the far side of an acacia tree, the ranger pointed.
I squinted.
There, thirty feet away, were a pair of lionesses eyes half open, warming themselves in the last strains of golden light. Before them, squirming in a blur of playful movement, were a handful of cubs.
An animal magic the like of which only Africa can provide.
Hotel Profile:
Kwandwe Private Game Reserve