La Ferme des Petites Frasses (The Farm) is the ideal location for the winter ski season, it is an authentic 18th Century Alpine chalet that offers unparalleled luxury combined with three centuries of history.
Located on the heights of Megève in the heart of the French Alps, the chalet is nestled in nine hectares of pasture meadows with stunning views of the surrounding mountains and the magnificent Mont Blanc, Mont-d'Arbois and Rochebrune.
Dating back to 1736, the chalet has been renovated with sympathy to alpine tradition. Providing the highest standards of hotel and concierge services in an exclusive and private unforgettable location, guests can embrace the seclusion and remain blissfully unaware of the outside world but less than ten minutes down the road is the lively, cosmopolitan and elegant Megève.
Surrounded by stunning forests and two small rivers, the guests to La Ferme des Petites Frasses (The Farm) can arrive in style by helicopter thanks to the private helipad. The nearest airport is Chamonix a 35 minute drive or 10 minutes by helicopter or Geneva International Airport which is a 1hr drive or 20 min minutes by helicopter.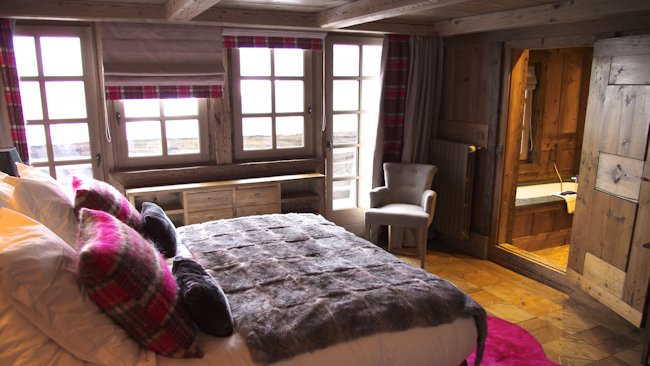 Guests can settle in to one of six stylish bedrooms (25m2 - 70 m2) that can accommodate up to 15 people on 3 floors. The Mini Frasses Chalet, next to the Farm, also offers extra accommodation for up to a further 6 guests.
All bedrooms are stuffed with home comforts (goosedown pillows and squidgy beds) and in such stylish surroundings guests will feel like they are in a chic but homely country alpine pad, furnished with exclusive materials and wool fabrics from French designers such as Yves Delorme linens, drapery fabrics and home Lelièvre and cotton house Linvosges.
When guests do get a bit peckish and want to try out some French delicacies prepared by the private chef, they can enjoy beautifully cooked gourmet seasonal dishes such as a Creamy Truffle Risotto, Fried Fera Fillet from the surrounding mountain lakes and Almond Millefeuille with Madagascar Vanilla sauce and fresh raspberries, all are locally farmed with fresh ingredients from the chalet's own kitchen garden.
These dishes can be served by private butler and eaten in the dining room, breakfast area or kitchen which opens out onto a large sun terrace with direct access to the surrounding striking scenery. Sit down and take stock or simply drink a glass of chilled white wine from the wine cellar or hot chocolate whilst reading a favourite book.
Ideal for skiers and ski boarders, the property has a ski room with ski equipment available for those who need it and an outdoor Jacuzzi for relaxing after skiing on the piste.
There really is no need to venture out or even move if you don't want to, TV, DVD, music and books are on hand as there is state of the art technology throughout the chalet including Wi-Fi, iPad, Satellite and TNT, 3D flat screens in each room, Blue Ray DVD players and Mirror screen TV in the lounge as well as a Bang & Olufsen sound system and Bose mobile station in each room.
La Ferme des Petites Frasses offers a truly French skiing experience and staying here really doesn't feel like being are away from home, with all the personal touches owner Julien and his team strive to create, they pride themselves on anticipating guests every whim – from hot water bottles on those cold winter evenings to a top notch breakfast by the private chef.
Other touches include champagne on arrival, floral arrangements, jeep with property driver and a concierge service that can organise activities and sports such as dog sledding, ice skating at an Olympic ice rink, racket, curling and indoor swimming during the winter.
During the Summer the concierge can organise golfing at the Mont-d'Arbois 18 hole golf course, shopping in Milan, hiking, mountain climbing, water sports, horse riding, mountain biking, SPA and wellness treatments, swimming in an Olympic swimming pool, piloting school, paragliding and a discovery flight of Mont-Blanc by helicopter.
Julien says 'La Ferme des Petites Frasses offers more than just a holiday in the mountains. This property is a hidden gem in the French Alps that no one else should be allowed to know about. A private retreat, offering a combination of luxury and tradition in a cosy environment and whether you are seeking an adventure or relaxation, you will feel right at home here'.
The Chalet la Ferme des Petites Frasses is open all year round and can be rented for the whole season as well as for weekends, seminars or for other special events. Prices range from 1,070 Euros a night during the interseason to 5,429 Euros a night during the high winter season.
When it's finally time to leave, like most guests they will wish they didn't have to go home!
###
For further information or requests please contact the team of La Ferme des Petites Frasses on +33 (0)4 50 21 22 22 or email info@fermedespetitesfrasses.com.
www.fermedespetitesfrasses.com
Chalet La Ferme des Petites Frasses, 4190 Route du Jaillet, 74120 Megève, France