Set in a 30-acre working farm in Franschhoek, in the Winelands of South Africa's fair Cape - surrounded by mountains with cornflower blue sky above - is La Residence. I drive through the estate's entrance gate up to the hotel, passing paddocks of miniature horses, pygmy goats and springbok. In this region, founded by French settlers, buildings are often traditionally decorated in white, so the nasturtium color of the hotel's walls are a refreshing surprise.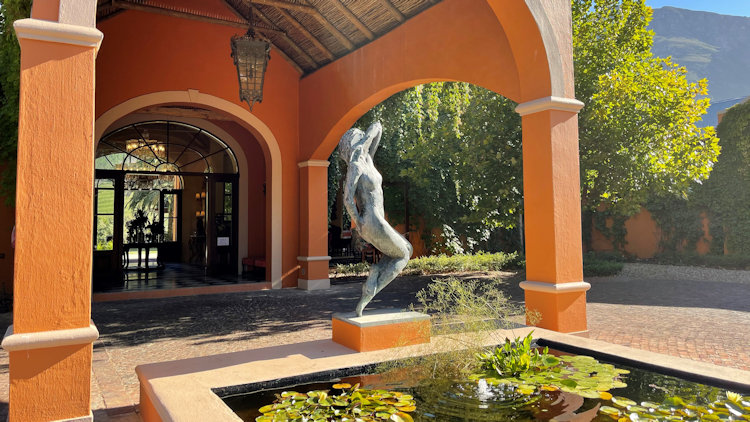 Met by the hotel manager and smiling staff, we stroll past a rectangular water feature displaying open water lilies of periwinkle blue and of light fuchsia. A metallic sculpture of a woman - by Dylan Lewis - seems to float above the water. Her likeness has been etched onto the frosted glass on the bottle of Rosemary Jane Rosé, made from Syrah, the Shiraz grape varietal grown among La Residence's own rolling vineyards. As I enter the Great Hall - with its palatial feel - I am served a glass of this chilled Rosé, which can be described as eminently quaffable. The resident florist hands me a posy of roses and impatiens. 'The Royal Treatment' at this multi-award winning hotel has begun!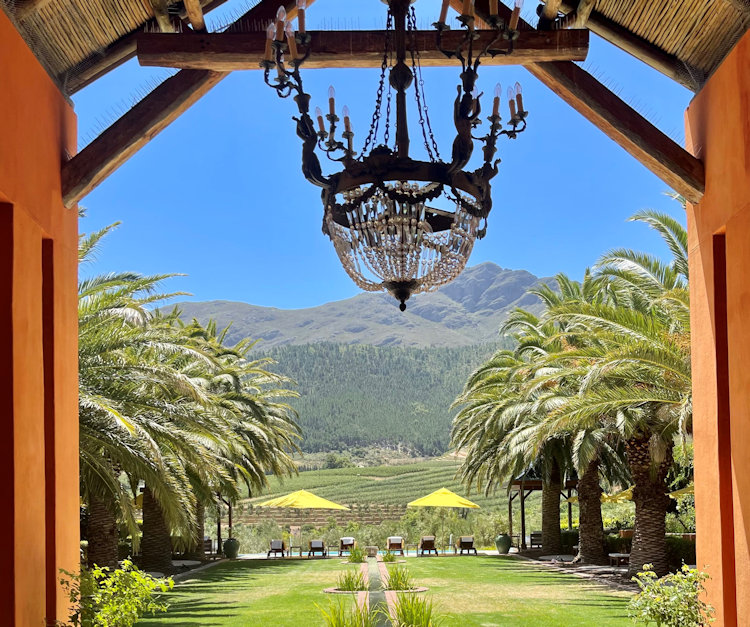 With pleasing Feng Shui principles in construction design, doors and windows are aligned for maximum air flow and to showcase the spectacular views. My gaze is drawn past verdant lawns, down to the swimming pool with open daffodil colored umbrellas, to olive groves, plum orchard and encircling mountains beyond. Below a glinting Indian chandelier, on the circumference of a finely crafted circular table, about ten vases of fresh flowers add to the opulence of this public space. This art of fresh decorating is one of the signature elements prioritised by Liz Biden, owner and interior designer of The Royal Portfolio hotels and lodges. Outside on the portico, each table decoration includes a transparent vase of flowers, which are refreshed daily.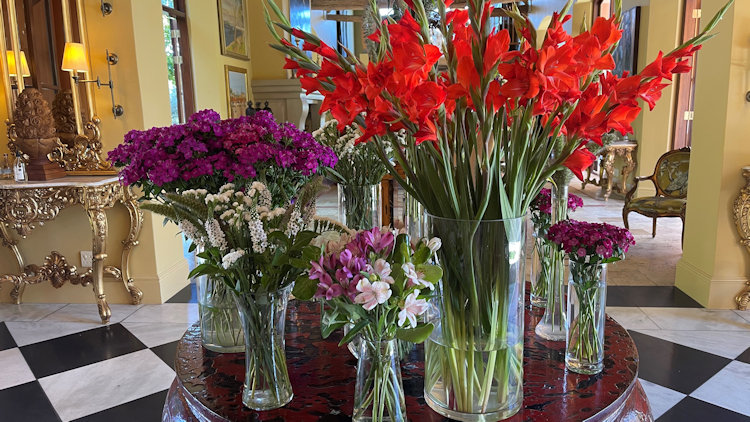 Each of the eleven Suites in the main hotel area - as well as the five Vineyard suites - has been uniquely curated, with original art, Persian carpets, an eclectic mix of vintage and modern furniture, objets d'art, desirable coffee tables books and - of course - a lavish bouquet of exquisite fresh flowers. My suite, the Armani Suite, has a theme of black and white, with witty touches of powder blue on the roof joists and beams, on the surface of the table next to and edging the display cabinets. Sizeable framed mirrors in the bedroom and bathroom reflect the view of a lake with Weeping willow, a Tea House - with oak wine barrels used as side tables next to a couch laden with cushions in fabrics - and blue-grey granite mountains.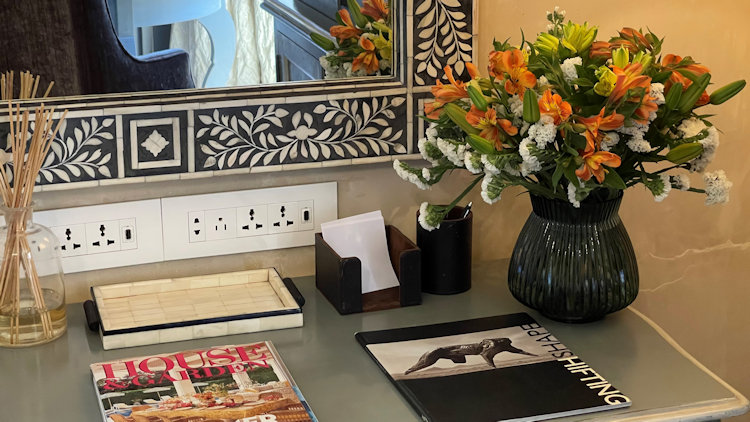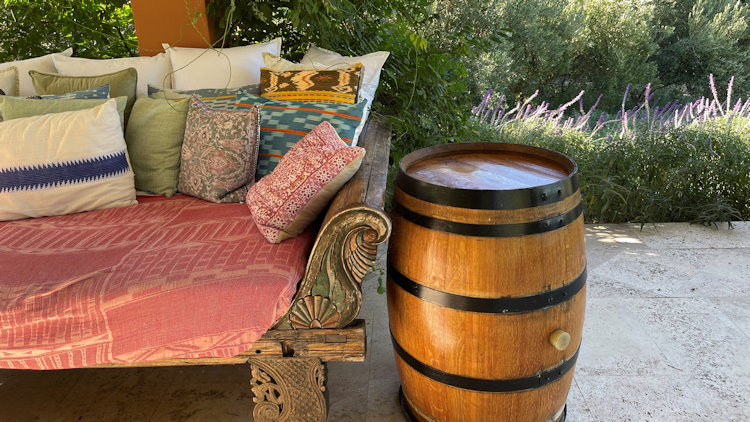 100% linen bedding, embossed with The Royal Portfolio logo, adds to the aesthetic of the bedroom decor. The surprises continue, with welcome gifts of a linen drawstring bag, plus a bottle of La Residence Red Blend - with 80% Cabernet Sauvignon and 20% Shiraz - named Nicole Alexandra after the Biden's two daughters. The freestanding bathtub, with lightly-lime scented amenities and an abundance of plush white bath sheets, adds to the romance of the atmosphere.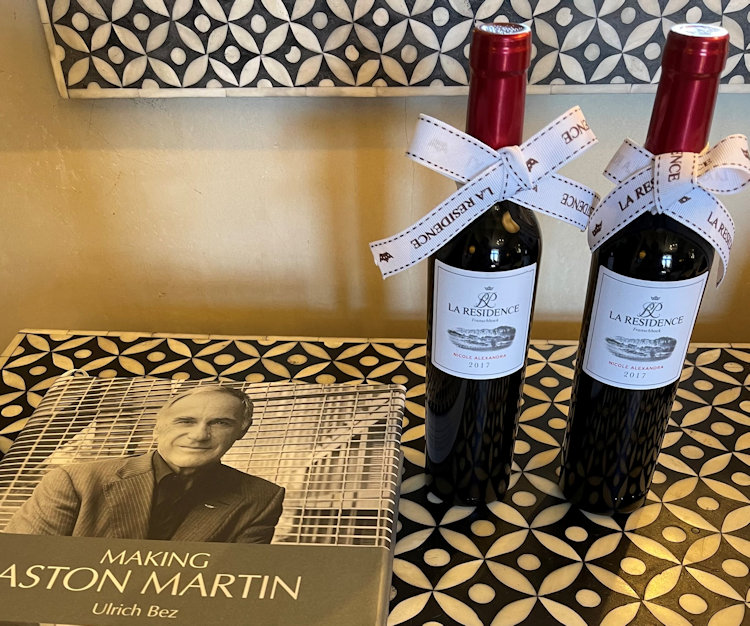 La Residence receives many repeat guests, including an impressive array of celebrities and illustrious personages. Sir Elton John and his entourage have joyed the slow luxury living and unobtrusive hospitality at each of The Royal Portfolio's hotels and lodges. In his favorite suite, named after him, Sir Elton has left a signed portrait to express his appreciation and to personally endorse La Residence. The guest book reads like a Who's Who, with generous comments from everyone.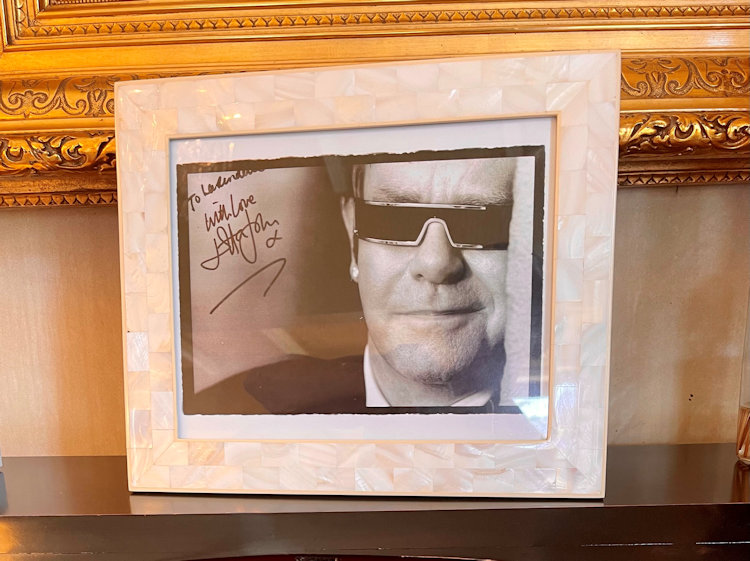 Each meal is a feast, with artistic impact. A lavish breakfast on the terrace - known as the Persian Alley - includes a tiered stand with plates of cheeses and figs, of charcuterie and one with cut fruit. Irresistible freshly baked pastries are presented on an antique porcelain plate, part of Liz Biden's extensive collection on display. Hot food is made to order, using local ingredients, many of which are grown on the estate. Black figs, pomegranates, artichokes, aromatic herbs and other delights are seasonally available.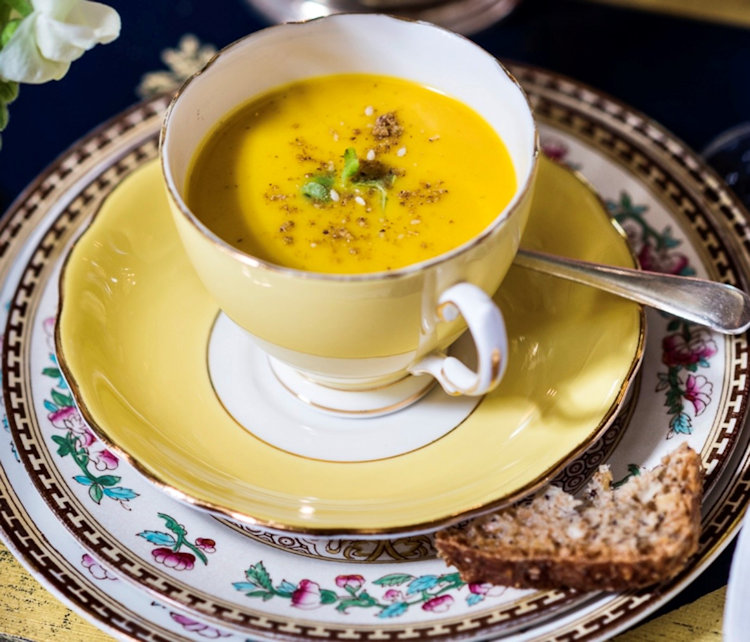 Image by La Residence
In consultation with the chefs, individual preferences and dietary requirements are considered when planning lunch and dinner menus. I enjoyed the chilled Avocado soup so much that I requested it for breakfast the following morning! With the ubiquitous inspirational views at La Residence, there are many sites to choose from for my table to be set up for private dining. Beneath the palm trees next to the sparkling swimming pool, is a blissful setting for my al fresco lunch. Facing the lake is perfect spot to watch the dramatic sunset, as I anticipate my four course repast, while sipping wine suggested to me by the sommelier.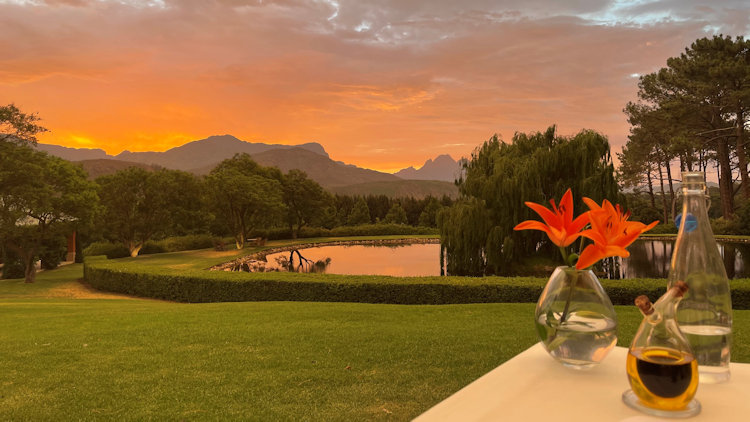 As La Residence is close to the row of charming shops and restaurants in Franschhoek, I take a morning meander past a local school - which is supported by The The Royal Portfolio Foundation - plus pretty houses, to explore the village. Not to be missed is a visit to one of the many reputable wine farms, to explore their gardens, to see various grape varietals and to experience a wine tasting. I select the nearby Mullineux & Leeu Family Estate, which produces highly rated hand-crafted wines from the granite and schist based terroir. In their refined Wine Studio - designed by Spanish architect Tomeu Esteva - I am hosted by a knowledgeable vintner, pouring each wine into elegant Gabriel-Glas glassware. The exclusive, yet comfortable space faces a Wine Room housing barrels in a climate controlled temperature and humidity. I order bottles of my favorites from the tasting that are still available. To be able to buy when the best bottles are released, I add my name to the list that keeps subscribed oenophiles informed.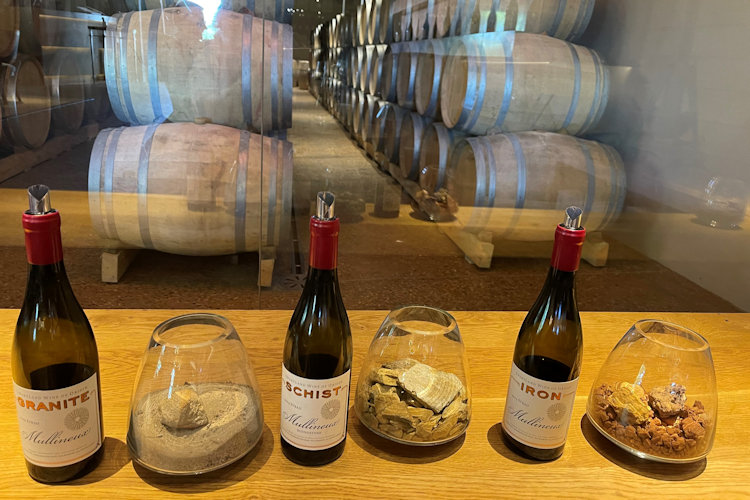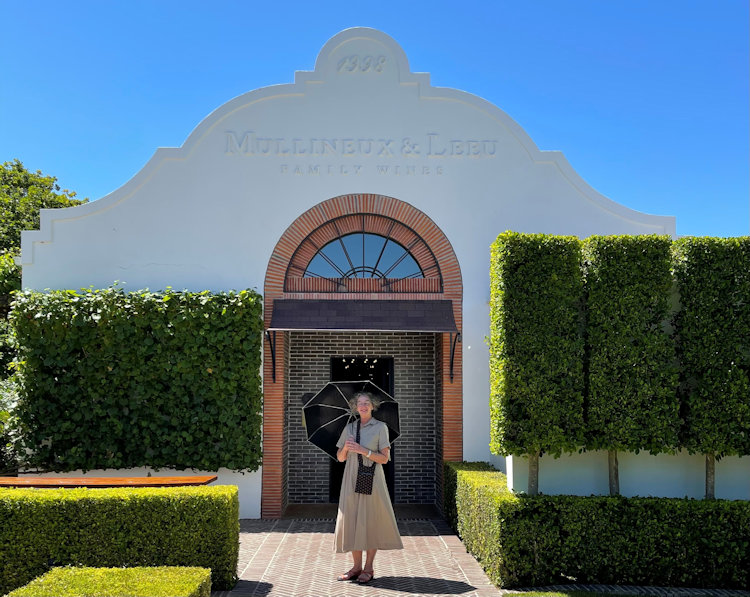 As I am passionate about cars, it is a thrill for me to spend time in the Franschhoek Motor Museum, where a sensational collection includes vintage, antique and classic vehicles. Each one has been lovingly and authentically restored to working order, then kept in immaculate condition. I fantasize about draping myself on the bonnet of a Rolls Royce Silver Ghost, à la the fashion models of Earl's Court Motor Shows in the 1970s… The Silver Ghost was crowned the "best car in the world" by Autocar Magazine in 1907.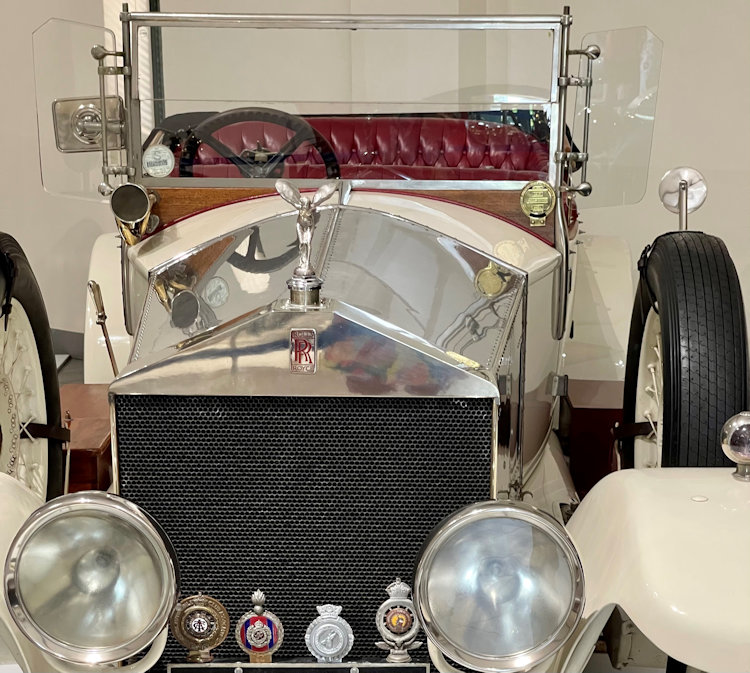 After my explorations in and about Franschhoek, I dive into the infinity pool at La Residence to cool off and to linger in the splendid surrounds. The tradition of 'Royal Pampering' continues when - in another surprise - a beaming waitron hands me a cone with scoops of home-made vanilla ice-cream.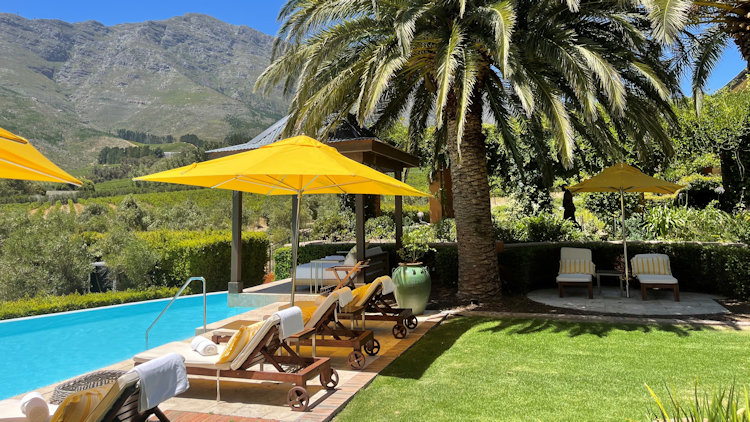 Enveloped by natural beauty and stylish decor, indulged with artistic gastronomy and fine wines - in RIEDEL, grape varietal specific glassware - time at La Residence is an aesthetic adventure.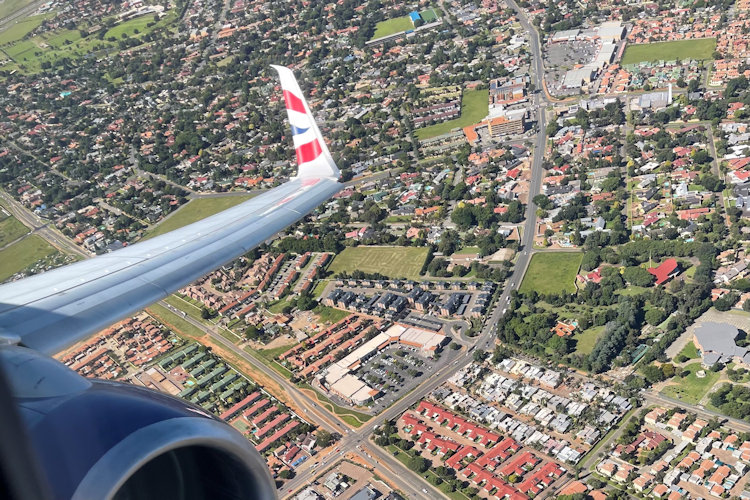 Getting There
British Airways (operated by Comair)
Comair Limited offers scheduled and chartered airline services within South Africa, Sub-Saharan Africa and the Indian Ocean Islands, under the British Airways livery, as part of a license agreement.
British Airways (operated by Comair), provides customers a full-service premium offering with a choice of cabins: Club (business class) and Traveller (economy class).
Club (business class) offers additional comfort and space to work or relax, dedicated check-in desks and priority boarding, access to the award-winning SLOW Lounges, a free carry-on bag at 7kg and free checked baggage allowance of two x 32kg per bag, a pre-flight welcome drink on board, a selection of complimentary meals and beverages, and awards British Airways Executive Club members more Avios and Tier Points.
Traveller (economy class) combines the British Airways' full-service offering with competitive fares. This includes personal space, a free carry-on bag of 7kg and a free checked baggage allowance of one 23kg bag, and a choice of complimentary, snacks and beverages.
British Airways' frequent flyer program, the Executive Club, allows customers to earn benefits and collect rewards. Executive Club members traveling within Southern Africa on British Airways (operated by Comair), earn tier points when they fly. These points determine their Executive Club status. Existing members also earn points when traveling on a partner airline, as well as when making use of the Executive Club partners. As members progress through the tiers they are rewarded with additional benefits and services, including entry into the award-winning SLOW lounges, fast-track check-in, free seat selection and meal preferences.
British Airways has an established presence in the corporate and public sectors, as well as in the inbound tourist markets. In addition to its extensive route network in Southern Africa, the British Airways' global network is enhanced through the oneworld® alliance.
britishairways.com

Text and images by Gillian McLaren (@Jetset_Gillian)
For more travel features by Gillian McLaren: www.gillianmclaren.blogspot.com