Décor elements of the suites boast classic contemporary touches with a hint of old-world charm, as the newest additions to the centenary palace.
Spearheaded by Italian designer Venelli Kramer in collaboration with the De Santis family, who manage the hotel today, the delicate renovation of the Rooftop Floor is evocative of the picturesque lakeside estate. The fifth floor of the palace now includes three Rooftop Junior suites, three Rooftop Corner Suites and two Rooftop Front Suites which can all be combined together to create an impressive Penthouse Floor featuring eight bedrooms.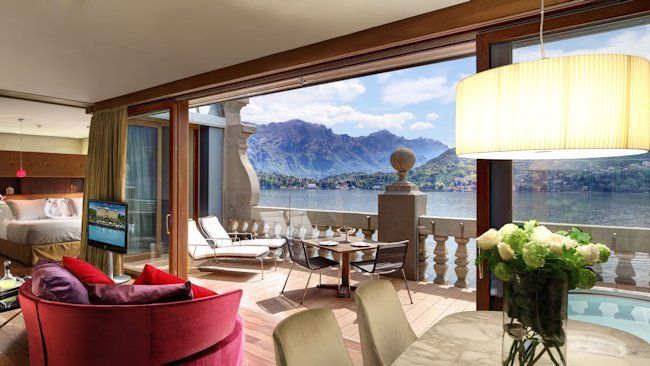 Taking inspiration from Italian classics and Lake Como itself, the color palette for the suites boast natural hues harmonized with precious fabrics and exclusive details. Each of the suites comes complete with their own private terrace, outdoor heated Jacuzzi pools, butler services and panoramic views of the lake. Luxury bathrooms throughout the floor feature Cedarstone and Imperial marble with double basins, luxurious bathtubs overlooking the room's views and a separate shower.
The iconic 98-room Art Nouveau hotel dates back to 1910, showcasing a rejuvenating spa and breathtaking views of Bellagio and the serene Riviera dell Azalee, tranquil flower gardens and an age-old park. Glitteratti and guests flock to the hotel's upscale restaurants and wine bars for culinary guest master-chef Gualtiero marchesi's authentic Italian fare.
Suite rates at Grand Hotel Tremezzo start at 480 EUR (approximately USD $627*) per night.
Hotel Profile, more photos:
Grand Hotel Tremezzo