The sweet, intoxicating fragrance of cedar and balsam pine is the first thing that hits you when you arrive at Lake Placid Lodge, a beloved 19th century mountain camp transformed into a lodge of unparalleled rustic splendor.
Lake Placid is the jewel of the Adirondacks, clear, cold in winter, strewn with leafy islands waiting to be explored in summer. This is a majestic hotel built by hand in the Arts & Crafts tradition, perfectly at home in its lakeside setting. There are thirteen sumptuous rooms and seventeen luxurious cabins at the water's edge. The woods and water enfold the Lodge, the sun warms its wide stone porches. Each room has a fireplace at its heart and wilderness visible through its diamond-paned windows. Above all, there is comfort and welcome, wherever you go.
Tucked in the mountains of the Adirondacks, one comes upon this exquisite Relais & Chateaux property, a nostalgic sliver of pleasures from yesteryear. It is here that the seasons are experienced at its purest. An authentic autumn hideaway, spend crisp days and enchanted nights curled in front of a crackling bonfire sipping hot cocoa before sinking into a cocoon of fairytale bedding.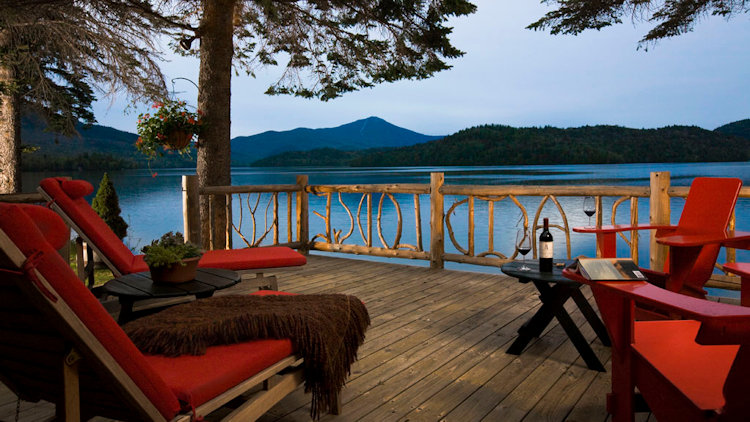 Corporate Retreats
Designed to be a retreat from the ordinary, corporate gatherings at Lake Placid Lodge commence for you and your guests in the fireplace-lit lobby with a glass of champagne and go from there through endless adventures and activities that the Olympic Region of these mountains offer. The Lodge's farm-to-table kitchen is glad to create menus hat will delight and inspire. They offer full meeting and activity coordination services. From planning through execution, experienced meeting specialists are on hand to anticipate and accommodate you every step of the way.
EVENT SPACE
The Adirondack Room
Huge French doors extend the meeting space outdoors to the massive stone patio where the Whiteface Mountain serves as a backdrop and two large wood-burning fireplaces blaze. This room, 4' by 26' is both grand and airy. State-of-the-art audio/visual equipment includes a high definition screen, surround sound with microphone, and high speed internet access. It can seat up to 70 guests for meals or 150 in rows for a presentation.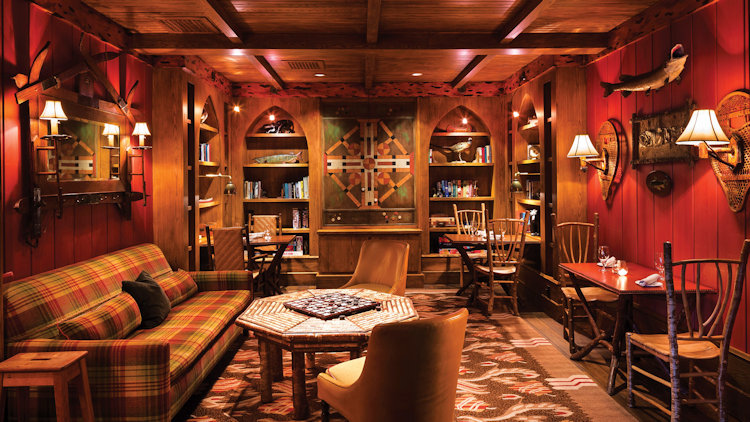 The Baby Bootlegger Room
Named after the gleaming, streamlined wooden boat that won the 1924/25 World Cup and cut a dashing wake in Lake Placid, the room is anchored by a stone fireplace and a huge outdoor fireplace just outside on the porch. The room, at 20' by 19' is ideal for small board meetings and private dinners for up to 14 people. A/V equipment is available upon request.
The Richest Season of the Soul
Now, as we leave this sometimes sweltering summer and look ahead to the freshness of autumn, the Lodge is offering a Columbus Day special package: (10/7-14), four nights in a luxurious suite or private cabin; breakfast and a $100 Lodge credit per stay. Hurricanes, tornadoes, repressive heat, be gone. Yes, we welcome the collapse of summer!
And daring to look ahead to the new year, for some truly golden moments - on Valentine's Day 2021 you may want to consider Lake Placid Lodge's Valentine's Day Special which includes, on arrival, champagne chilling in your room, daily made-to-order gourmet breakfast served in-room, a massage for two, private dinner in the wine cellar and a guided snowshoe, cross-c country skiing or downhill skiing day trip with packed boxed lunch.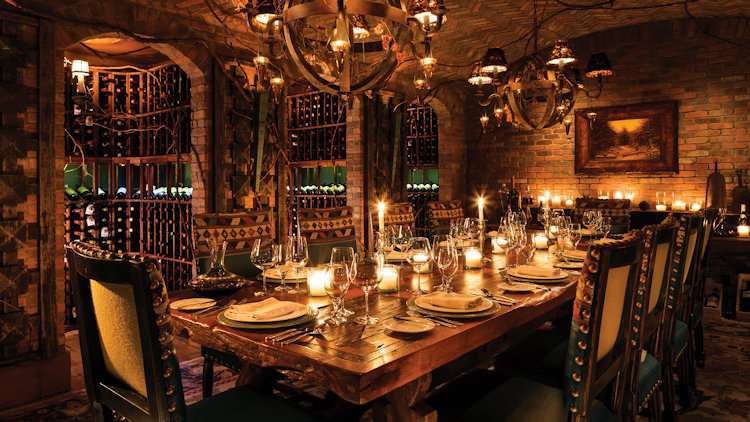 Fire on the Mountain
Just about 15 years ago, Lake Placid Lodge belied its name when, on December, 2005, disaster struck. An electrical fire started in an unused downstairs kitchen in the Main Lodge and swept through the historic wooden structure dating from 1882. The staff acted quickly to evacuate the building and no one was hurt –not even Steamboat, the cat. With the Main Lodge all but destroyed and the adjacent Cedar Lodge heavily damaged, there was nothing left to do but carry on and rebuild. That's just what they did, and, amazingly, rebuilding and renovation took less than three years. In September, 2008, the Lodge reopened. Very similar to the original buildings in structure and style, the new lodge is blessed with a number of "corrections" from modern electrical and technological updates, so despite this devastating blow, the Lake Placid Lodge has been re-created – now even better than ever!
IF YOU GO:
For more information:
www.lakeplacidlodge.com;
(877)523-2700
Transportation:
Driving: 5 hours from NYC
Flights:
Private jets can fly directly into the Lake Placid airport
Commercial flights: fly into Adirondack Regional Airport (ADK)
Photos courtesy of Lake Placid Lodge